Q School Blog: Day four, Dundonald, Fleesensee, Chart Hills
First Stage dreams die as some young guns fire on all cylinders.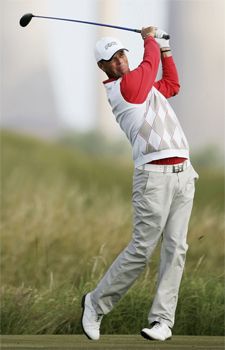 The dreams of nearly 300 aspiring European Tour pros died today (Friday) when the First Stage of Q School ended at tournaments in Kent, Scotland and Germany. And among the disappointed was the most recognisable name of the 393 who started this week with high hopes.
Forty-eight-year-old Gary Wolstenholme has just turned pro after 25 years as an amateur so that he can enjoy the Senior Tour in two years time, but failure this week was not on his agenda. However, the heavy winds of Thursday sent him crashing to an 80 and his round four 72 was still not good enough to make up the lost ground. He missed the mark by one, as did former British Amateur champ Warren Bladon who also suffered on day three with an 82.
The winner in Dundonald was a very focused Euan Little (who features in Golf On The Edge: Triumphs & Tragedies Of Q School) whose 67 sneaked him past Craig Goodfellow by a single shot. Craig had led for the first three days, but Euan looked incredibly focused all week and justified my pre-First Stage predictions that he would feature.
But as an elder statesman like Gary bowed out, the young guns were blazing at Chart Hills and Fleesensee. Yorkshire s Danny Willett kept his third round lead after a final 69 to win in Germany by three. You have to think he can go all the way and get a Tour Card.
And the same could be said of the Swede Oskar Henningsson who was easily the pick of the field in Kent; he was peerless and could be a tip to become the Next Big Thing from Scandinavia. Second was Paul Maddy from Gog Magog who chased all the way, but his 68 today was the same score as the Swede.
I followed Stourbridge s Darren Prosser hoping that him or one of his threeball partners (he was with American David Gossett and Ryan Harrison from Surrey) would be the ones to charge through the field to make it. Someone always does, but in the end, the good weather kept scores too low for any of them to progress to Second Stage. Darren finshed on 3 under. The honour of the late-late charge went to three 67s shot by Finland s Joonas Granberg, Denmark s Brian Akstrup and Australia s Alistair Presnell. They all finished on the mark at 6 under after beginning the day on 1 under.
The biggest sob story from Chart Hills was Robert Watkins from Bush Hill Park GC in Enfield shot 78 when 76 would have been enough.
Now the First Stage Q School circus moves to Oxfordshire, France and Italy next week where Open Championship silver medal winner Chris Wood is on view. Expect more tragedies mixed with the triumphs.
Q School First Stage Leaders after 3 rounds
Dundonald 1st, Euan Little -4; 2nd Craig Goodfellow -3; selected: tied 32nd Gary Wolstenholme and Warren Bladon +14. 31 players progressed on +13 or better.
Fleesensee 1st Danny Willett -21; 2nd Jens Dantorp -18. 31 players progressed on -7 or better.
Chart Hills 1st Oskar Henningsson -21; 2nd Paul Maddy -19; selected 4th Rhys Davies -16 ; tied 10th Guy Woodman and Jamie Moul -12; selected: tied 61st Darren Prosser -3. 31 players progressed on -6 or better.
Click on the link for more on Ross' book Golf On The Edge: Triumphs & Tragedies Of Q School