Golf's new tennis star
GM editor at large Bill Elliott is pleased to see Rory McIlroy at the top of the world. Where will the young Ulsterman, who recently put on a show playing tennis with Maria Sharapova and his tennis star girlfriend, Caroline Wozniacki, go from here?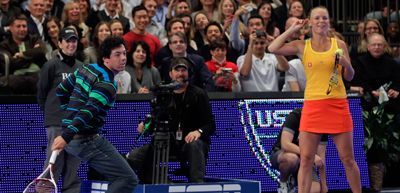 It's not always been easy to be Northern Irish but for now it is. Rory McIlroy's ascent to the top of the world rankings is not only important to him it is reasasuring to the Norn Iron population - all 1.6 million of us - that the recent run of major successes was definitely not a flash in the pan.
Well, maybe it was abit of a flash where big Darren Clarke is concerned. Since winning The Open last summer Clarke has returned to the game's top plateaux...and mostly played like a drain. Can he come back again? Yes, he can but I somehow doubt anything special. Mind you, I hope I'm wrong. At his best, he is one of the best but time seems now to lie rather wearily on those broad shoulders.
Graeme McDowell, too, is in need of a bit of a comeback. The effort he put in to win the US Open in 2010 and then the Ryder Cup clearly has drained him, an exhausting run that probably has not been helped by the demands on his time from sponsors, media and the rest.
So today's question is: Should high-achieving players go for everything while they are hot or should they take a step back, turn down a few invites and save themselves for what they do best which is to play the old game so well?
The answer, as ever, is both yes and no. McDowell would, I believe, benefit from a quiet period and this, to be fair, is what he presently seems to be doing. Clarke wants to involve himself in everything and this is not likely to change. Nor should it for he is a man determined to wring every last enjoyable ounce out of life and after what he has been through who can blame him.
McIlroy, meanwhile, is determined to enjoy his new status as the best golfer on the planet for at least the next week or so.
But then Rory is so much younger, so much more energetic and, let's be fair, so much more talented than almost everybody else.
Since becoming the new world number one golfer he has been up to New York to spend time with his girlfriend and to watch her play a bit of tennis at Madison Square Garden and is now back in Florida preparing to strut his stuff again this week in the latest World Golf Championship.
For the first couple of rounds he will be partnered by Lee Westwood and the man he deposed as number one Luke Donald. It will be a friendly enough affair but there will also be an undercurrent of cold ambition from all three of them. Luke was collecting his daughters from a playground when his telephone pinged to tell him he was an ex number one.
As you'd expect he took this news with equanimity, texting McIlroy to tell him to "enjoy the view". he is too nice to have added "while you can" but I have no doubt that this is exactly what this polite chap is thinking. He may be a quiet man but Luke is relentlessly ambitious and I wouldn't mind placing a small wager now that come the end of 2012 he will be back at the top.
Do me a favour though, don't tell anyone back home in Northern Ireland that I have dared say this. Thanks.
Bill has been part of the Golf Monthly woodwork for many years. A very respected Golf Journalist he has attended over 40 Open Championships. Bill was the Observer's golf correspondent. He spent 26 years as a sports writer for Express Newspapers and is a former Magazine Sportswriter of the Year. After 40 years on 'Fleet Street' starting with the Daily Express and finishing on The Observer and Guardian in 2010. Now semi-retired but still Editor at Large of Golf Monthly Magazine and regular broadcaster for BBC and Sky. Author of several golf-related books and a former chairman of the Association of Golf Writers. Experienced after dinner speaker.