5 Mental Game Errors All High Handicappers Make
Golf is a game largely played between the ears, here are some simple mental mistakes you might be able to correct to shoot lower scores.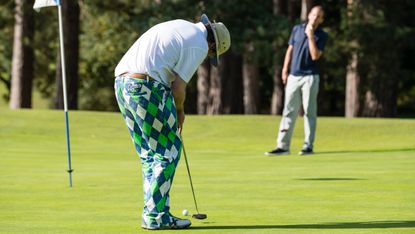 (Image credit: Tom Miles)
Golf is a physically challenging sport. It may not be the Marathon des Sables or an Iron Man triathlon but contorting your body into unusual positions to propel a miniature projectile towards a four-inch-wide hole, 400 yards distant using strangely awkward implements is quite a trial. But that physical test is nothing compared to the mental battle golfing protagonists take on each time they set foot on the links. For four hours golfers must combat the obstinate adversary that lives between their ears. It's almost impossible to beat. It will tell you that you're not good enough when you are. It will tell you that you are good enough when you're not. It will find every cunning and conniving way to make you fail. No matter how well you're coping physically on the golf course, if you're struggling mentally, you're in for a rough ride. All golfers face mental strife that can have a negative impact on their performance and finding ways to deal with those bad thoughts and poor choices can knock shots off average scores. High handicappers in particular could see significant improvements in their games if they cut out the mental mistakes. Here are some of the key mental game errors all high handicappers make.
Taking On the Near Impossible
The carry over the water is 205 and your average driving distance is 215. How is your 3-wood going to make it? If you played safely to the side and pitched on, you'd still have a putt for par. As it is, you fancy your chances (which are roughly one in 25,) and you let rip with the wood – the ball flares up, starts cutting and drops limply in the H20. Now you do the sensible thing and play safe, pitch on and two putt. It's a triple bogey when it could have been two strokes better.
Pulling Out Driver
It's a 450-yard par-4 that you know you can't reach in two, it's also a tight tee shot. Why in the name of Old Tom Morris have you pulled out your driver? If you hit three 5-irons you'd get there safely and have a two-putt for a bogey. As it is, you blast driver and watch it sail comfortably out of bounds or into the knee-high rough, the next one is a smothered hook into a bunker – put me down for a blob!
Too Much Loft
The average player does better around the greens if they keep the ball as close to the ground as possible. When feasible, if the length of grass allows, higher handicappers will get the ball closer, more often, if they putt it. Next best is to use a straighter faced club and play the chip and run. The high-flying shot is rarely successful and should only be used if circumstances demand it (when a bunker or a stream or other hazard is in the way for instance.) High handicappers will often automatically reach for more loft when they're in close, copying what they've seen the pros do on TV… It's not the right choice – those guys and gals have practised their spinning wedge shots for endless hours and you haven't... Reduce the loft, reduce your scores.
Getting Ahead of Yourself
The only thing you can physically affect in golf is the shot that is directly in front of you. It's crucial that you focus on that, and that alone. Often, the average golfer thinks ahead: "If I can get a par here and then make up a shot or two at the par-5, I'll have a cushion for the tough 13th." When you think like that, you lose focus on the present and play a poor shot as a result. Stay in the moment and play the best shot you can every time – if you do that, your scores will tumble.
Not using shots
If you have a 20 handicap, you have 20 shots to play with as you make your way round – use them wisely. Often high handicappers simply take their shots off at the end of 18-holes without thinking of them during the game. But, if you stand on a tough par-4 with a low stroke-index, consider that a bogey, or even a double-bogey, isn't a bad number for you on this one. Play it sensibly – lay up from the trouble, chip out sideways from thick rough, chip it to the heart of the green rather than trying to fly it over the bunker… use your shots to your advantage.
Fergus is a golf obsessive and 1-handicapper. Growing up in the North East of Scotland, golf runs through his veins and his passion for the sport was bolstered during his time at St Andrews university studying history. He went on to earn a post graduate diploma from the London School of Journalism. Fergus has worked for Golf Monthly since 2004 and has written two books on the game; "Great Golf Debates" together with Jezz Ellwood of Golf Monthly and "The Ultimate Golf Book" together with Neil Tappin (also of Golf Monthly)... Fergus once shanked a ball from just over Granny Clark's Wynd on the 18th of the Old Course that struck the St Andrews Golf Club and rebounded into the Valley of Sin, from where he saved par. Who says there's no golfing god?