Why Golf Is The Best Form Of Exercise
How does golf compare to other sports when it comes to exercise?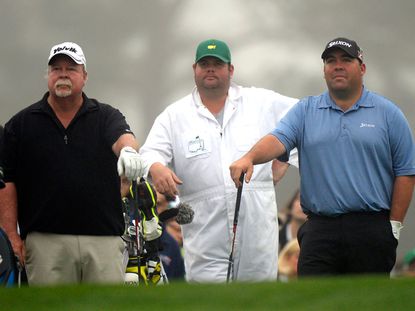 With more and more evidence being published about the health benefits of different sports, how does golf compare when it comes to exercise?
Golf's inclusion at the Olympics re-ignited the debate for some about whether it is a sport in the truest sense of the word. While this argument has been blown out of the water many times, the fact it was so closely linked to other pursuits in Rio did throw up the question of how it compares in terms of exercise. Can a sport that boasts stars such as Shane Lowry and Andrew 'Beef' Johnston really help you shed the pounds?
The simplest way to judge golf's health benefits is to look at calories burned. A 2011 study* that compared over 800 pursuits – sports and everyday activities – found golf was on a par with gardening, table tennis and yoga. This equated to a man of 14 stone burning around 360 calories an hour if he carried his bag.
When looking at more energetic sports golf doesn't quite match up. Using the same criteria, football averaged out at 722 calories/hour, running 10-minute miles at 891 calories/hour, cycling 733 calories/hour and even cricket came out at 436 calories/hour.
Related: How far do you walk in a round of golf?
These are the bare facts but they don't tell even half the story. How many of these activities are you likely to do for four or more hours at a time? Cricket is the only one that comes close and you spend half your time sitting on the boundary rope or eating tea in the pavilion.
Edinburgh scientists recently claimed that golf was likely to increase life expectancy, help chronic diseases and improve mental health and that these benefits increased with age**.
The researchers reviewed 5,000 studies into golf and wellbeing and found it has many long-term physical and mental health benefits for people of all ages, while it is also likely to improve cardiovascular, respiratory and metabolic health.
Playing golf could also aid those who suffer chronic diseases including heart disease, type 2 diabetes, colon and breast cancer and stroke, as well as helping reduce the risk of anxiety, depression and dementia, it was reported.
While many of the benefits above can be attributed to all forms of physical exertion, there are not many sports that can be played by such a wide range of ages. People who have the golfing bug tend to go on well into later life.
The fact that there is a very low risk of injury also adds to this. How many people do you know who've had to give up on the sport they love, be it rugby or football, because their body can't take it any more?
It's certainly common among 30 to 40-year-olds and it is often golf which fills that void.
The mental health benefits of golf can also be underestimated. Exposure to the great outdoors and vitamin D has been proven to relieve stress, even if the game does sometimes involve wanting to launch your 5-iron into the nearest lake.
It is also a very social sport both on the course and in the clubhouse, where friendships are made which can last a lifetime.
So, next time you see the health benefits of golf boiled down to a simple number of calories, remember it offers so much more than that. It's the sport that keeps on giving, well into your old age if you're lucky. While other sports have their health benefits too, golf should never be dismissed as a second-class citizen.
* B. E. Ainsworth, W. L. Haskell, S. D. Hermann, et al., "2011 Compendium of Physical Activities: A Second Update of Codes and MET Values," Medicine & Science in Sports & Exercise
** The study was published in the British Journal of Sports Medicine and is part of the Golf and Health Project, which is led by the World Golf Foundation.
David joined Golf Monthly in 2015 as a content editor for the magazine and regularly contributes to the website. He has worked in magazine publishing and editing since 2003. He is a keen golfer and up until recently was a member of Blackmoor Golf Club in Hampshire. He has covered various big events and tournaments for GM, the highlight of which was witnessing Tiger Woods win his 15th Major at Augusta in 2019. Email: david.taylor@futurenet.com