Burnham Beeches Course Review
Although not far from London, Burnham Beeches is peacefully located in the leafy Buckinghamshire countryside. Rob Smith takes a look…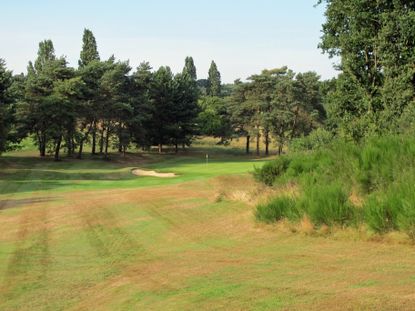 Although not far from London, Burnham Beeches is peacefully located in the leafy Buckinghamshire countryside. Rob Smith takes a look…
Burnham Beeches Course Review
A constant pleasure for all golf course fans is that we will never run out of new and interesting places to play (opens in new tab). I therefore headed down the country lanes west of London last Summer to visit Burnham Beeches (opens in new tab), a course that had long been on my list but which had until then eluded me.
The club dates back to 1891, and the course design is credited to one of golf's Great Triumvirate, JH Taylor (opens in new tab). This is a fine and welcoming members' club, and following a beer and a sandwich, I headed out into the woods… quite literally at times!
The opening hole is a gentle par 4 with a generous fairway and a downhill approach to an attractive and receptive green.
The next is a much tougher par 4 and you then arrive at the 3rd which is a very distinctive short hole played from an elevated tee to a partially-hidden green.
The first of the three par 5s comes next, and this is followed by an excellent and very tough two-shotter which plays every inch of its 430 yards.
Another strong par 3 is next, played over a dip, and the front nine concludes with a trio of interesting and varied par 4s.
The second half opens with another memorable short hole where the sleepered bunker really ought to be more visual than strategic.
Two testing holes, one a par five the other a four, take you to the northern extremity of the property where there is a pretty little par 3, the shortest of the five.
The par-4 14th is a very unusual and testing hole as at the end of the fairway the ground falls away, tumbling over a bank of bushes. This leaves you with what can be quite a long shot to a green hiding away from you in the valley beyond.
The next two are a little more forgiving, but there is a strong finish with a quite heavily-bunkered short hole at 17 and a 434-yard closing hole with trouble all the way down the right.
Since my visit, the club has embarked on some upgrading work that will improve the experience even more. I very much enjoyed my afternoon at Burnham Beeches; both its engaging, tree-lined course and its stylish and well-appointed clubhouse.
Rob Smith has been playing golf for more than 40 years and been a contributing editor for Golf Monthly for over ten years, specialising in course reviews and travel. He has now played more than 1,170 different courses in almost 50 countries. Despite lockdowns and travel restrictions in 2021, he still managed to play 80 different courses during the year, 43 of them for the first time. This included 21 in 13 days on a trip to East Lothian in October. One of Rob's primary roles is helping to prepare the Top 100 and Next 100 Courses of the UK&I, of which he has played all but nine. During the 2021-22 review period, Rob has played 34 of the Golf Monthly Top 200. He is a member of Tandridge Golf Club in Surrey where his handicap hovers around 16. You can contact him at r.smith896@btinternet.com.