Best Hidden Gem Golf Courses In The UK And Ireland
Rob Smith and Jeremy Ellwood delve into the world of golf's hidden gems: those courses we all know where fun, scenery and joie de vivre reign supreme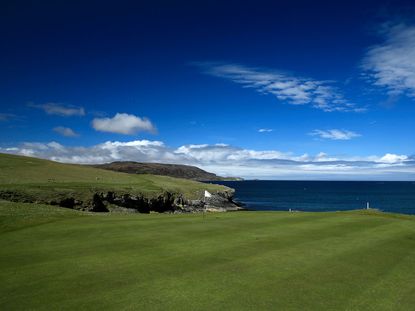 (Image credit: Getty Images)
Rob Smith and Jeremy Ellwood delve into the world of golf's hidden gems: those courses we all know where fun, scenery and joie de vivre reign supreme...
Best Hidden Gem Golf Courses In The UK And Ireland
Hidden gems is one of golf's most over-used phrases for the simple reason that it sums it all up just so well.
It is the perfect two-word description for one of the enormous number of hugely enjoyable, but off-the-radar courses of every size, shape and style to be found in every corner of the UK and Ireland.
What better than to stumble across somewhere new that is genuinely different, and often blessed with great scenery and real character?
The course doesn't have to be a masterpiece of strategic design, or kept in pristine condition. It just needs to put a smile on your face, and make you realise how lucky you are to be out playing golf.
We are fortunate to have an endless treasure trove of such courses within these isles, many of which also offer exceptional value.
Most will never tick all of the boxes required to make it into the Golf Monthly Top 100 or Next 100, but all will reward the avid golfing enthusiast with a game that stimulates and excites without beating you up; a round that you won't want to come to an end.
But why 'hidden gem', rather than any of the myriad other words that could be combined to convey the same concept?
I'm afraid they just don't work, and believe me, we've tried a few different options in Golf Monthly brainstorming sessions over the years. 'Tucked-away Treasures', anyone? Not quite. 'Unheralded Crackers'? No thank you. If it ain't broke, don't fix it.
Related: Italian Treasures
I suppose 'hidden' is a slight misnomer, for locals will know the courses mentioned here and on the next spread only too well, especially if they're members! But we always know our home patch like the back of our hand, don't we?
When I think back, I've never known the geography or road names of any place I've lived in as still remember, and map out, hundreds of road names, even though I last lived there over 20 years ago.
No, they're hidden in the sense that golfers from further afield will know little or nothing about them.
Courses achieve hidden gem status in our minds for one or more reasons – views, history, ambience, quirkiness, memories – but of course, we're all different, and what really appeals to one golfer can be a turn-off for another.
When we last produced a '100 Hidden Gems' feature a few years ago, we had a go at defining 'hidden gem', and came up with the following: "A golf course that embodies fun from start to finish; one where the scenery, the atmosphere and the feel-good factor count for more than the severity of the test or the flawlessness of the presentation." I think that still pretty much sums it up, don't you? Hidden gems, we salute you!
Jeremy Ellwood's Top 5 Hidden Gems
Maesteg, Bridgend County
Some of the best surprises come when you least expect them, and that was certainly the case at Maesteg for me. I just loved everything about the place and had enormous fun on a sub-6,000- yarder that still knew how to test you at times on holes like the long par-4 8th. The springy, moorland turf and lovely views made it a real round to remember.
GF: Round: £20wd, £25we
Tadmarton Heath, Oxfordshire
Any golf club with its own nickname is surely halfway to being a hidden gem before you even set foot on it in your spikes. Throw in a delightful old Cotswold stone farm building for a clubhouse, and 'Taddy', perched 650ft above sea level in the beautiful North Oxfordshire Cotswolds, epitomises everything a hidden gem should be. The holes often interweave intricately on this wonderfully peaceful course, with tests like the narrow 15th, where there's little margin for error all the way from the tee to its fittingly small green, serving up that element of risk/reward that so many of us associate with 'hidden gem' golf.
W: tadmartongolf.com GF: Round: £30-£40wd, £40-£60we
Church Stretton, Shropshire
Church Stretton starts with a trio of par 3s, the like of which you will play nowhere else. The 1st climbs a steep bank, which makes it feel much longer than 181 yards; your ball could roll back to your feet on the 2nd; and there's no let-up on the 3rd. But from the 4th, the course opens out over terrain of equal delight to golfers and fell-walkers.
W: churchstrettongolfclub.co.uk
GF: Round: £30wd, £40we
Gifford, East Lothian
This lovely inland nine-holer often gets overlooked in the rush for the East Lothian coast. It shouldn't, for it is delightful in every way, from the tiny clubhouse to the beautiful layout, which only the naïve will think is a pushover. Several greens boast backdrops of pines, with the 7th the prettiest of all.
GF: Round: £25wd, £30we; Day: £35wd, £42we
Durness, Sutherland
Durness is a wonderful place to play. My only visit came in the late 1980s not long after it opened. I can still vividly recall strolling beside a crystal clear loch one minute and along a stunning coastline the next with my late father-in-law on a fine summer's day. The closing tee shot tests your nerve as you fire it out over a rocky Atlantic inlet.
GF: Round: £20; Day: £25
Rob Smith's Top 5 Hidden Gems
Pitlochry, Perthshire
I first played here a lifetime ago but still recall the sheer beauty of the setting. Don't be fooled by its modest length of under 5,700 yards, as some of these yards are much longer than 36 inches as the early holes climb and climb. But what goes up must come down and the reward for your mountaineering is golf in the most glorious Scottish scenery.
GF: Round/day: £40wd, £50we
Pleasington, Lancashire
Set in the most picturesque Lancashire countryside, this beautiful parkland course really takes off from the 4th hole, an outstanding dogleg that plays down towards the railway and up to a green with bunkers waiting short and right. It is followed by a sublime par 5 where you scale the brow of a hill to reveal a superb vista as the hole unfolds before you through a scenic valley. The 7th is one of the most unusual par 5s I have ever played with multiple strategies on offer, and the round continues in this manner with great variety all the way.
W: pleasington-golf.co.uk GF: Round: £45 Mon-Thu, £50 Fri-Sun; Day: £55 Mon-Thu, £60 Fri-Sun
ConneMara , County Galway
If you leave Galway and keep driving until you think it can't be much further, then keep driving, you will eventually arrive at the what appears to be the moon. It is, however, a fabulously remote and different links course. There are three loops of nine, with A and B considered the main course, though the shorter C loop offers just as much fun.
GF: Round: €100 all week
Kington, Herefordshire
Words can't do justice to the setting of this short but sweet design on the Welsh borders, England's highest 18-holer. Kington is more hilltop than hillside, with the panoramic vistas rather than the walking taking your breath away. The golf is fun too with several short par 4s promising birdie chances.
GF: Round: £30wd, £36we; Day: £40wd, 45we
Milford Haven, Pembrokeshire
I ummed and ahhed before deciding this one was absolutely worthy as it keeps on surprising. Set in an unlikely location between town and gas terminal, the course works its way down almost to the shore, with two attractive par 3s – the 6th and 16th – linking the land closer to the clubhouse with the more scenic holes nearer the water.
W: mhgc.co.uk GF: Round: £25wd, £30we
Get the Golf Monthly Newsletter
Tips on how to play better, latest equipment reviews, interviews with the biggest names and more.
The leading website from the world's oldest golf magazine, we're the go-to destination for amateur and keen golfers alike who are keen to up their golfing game. As well as expert course reviews, news and tips to improve your handicap our golf-focused travel content will help you pair teeing off with your travels in some of the best destinations around the globe.