La Manga Club Resort: The Birth and Blooming of a Golfing Gem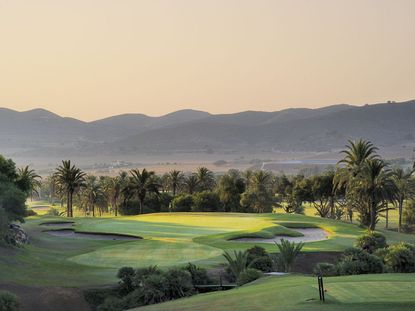 La Manga Club Resort: Golf's origins might belong to the Middle Ages - just who played the game first remains a contentious issue – but Spain can rightly claim to have played its part in the development of the sport.
La Manga Club Resort: The Birth and Blooming of a Golfing Gem
By Mitchell Platts
On April 15, 1972, Antonio Garrido, a former caddie from Madrid, won the inaugural tournament of The European Tour when he captured the Spanish Open – now the Open de España – at the Pals Golf Club, near Girona, in the north of the country.
Six months later and 450 miles to the south in the Region of Murcia the opening of a new resort rubber-stamped the golfing revolution which was sweeping across Spain and which would be gloriously galvanised by the emergence of Seve Ballesteros.
La Manga Club Resort staged an International Pro-Am on October 25-28, 1972, and six months later played host to the first of five successive Spanish Opens - England's Neil Coles triumphed – to launch its journey towards becoming one of the most recognised and luxurious golfing resorts in the world.
That reputation was endorsed with eight European Tour Qualifying School Finals being held from 1982 – fittingly Spain's José Rivero triumphed that year when he tied with New Zealander Greg Turner - and by Brian Huggett winning a European Seniors Tour event in 1994.
Greg Peters, an American-born businessman successful in the shoe, leather and furniture business in Spain, was behind the birth of La Manga Club Resort.
Peters was a man with immense vision – he astounded everyone with his dynamic 'Think Big' project - although not even he could have predicted how his 'baby' would flourish. Yet, his timing was perfect with the transformation of Spain sealed by a tourist invasion sparked by sun-seekers streaming over its borders.
Golf, like Spain, was exploding in popularity and La Manga Club Resort would proudly play its part in consummating the perfect marriage for the new wave of enthusiastic participants eager to discard their waterproofs, tee-up under a hot sun and debate their rounds or whatever over a sun-downer or three at a welcoming 19th hole.
That La Manga Club Resort, nestling between the Murcian Hills and the Mediterranean, became so swiftly a fashionable destination owed much to the entrepreneurial skills of Peters. He kindled global publicity by importing - supported by Mark McCormack's International Management Group - stars of stage and screen to play alongside superstars of the game in the resort-opening International Pro-Am.
Peters had been operating in the Alicante area and, seeking a place where he and his friends could play golf, he stumbled upon 500 acres of farmland where he could build a course and which provided scope for residential development.
The acorn-to-oak dream swiftly turned to reality with the purchase of more land – 1,400 acres in all – and two courses, the North and the South, were designed and built by Californian Robert Dean Putnam. There was an American look about the place but, as it does today, La Manga retains the charm and traditions of Spain.
Peters defied the prophets of doom, turning the isolated oasis into a swanky resort, and, by winning the race against time in producing a five-star hotel to house the International Pro-Am guests. He also created the first golf resort in the world from which all 36 holes could be seen from the clubhouse terrace.
Gary Player, Tony Jacklin and Tom Weiskopf took part in a filmed television match at the 1972 opening and La Manga's reputation rapidly blossomed with the two courses viewed as not being absurdly difficult and the South providing a test from the back tees which would provide the 'right' Spanish Open winner.
The roll call of Spanish Open champions at La Manga – Coles was followed by Americans Jerry Heard and the late Arnold Palmer and British Ryder Cup stars Eddie Polland and Bernard Gallacher – rubber-stamped that outlook and unquestionably was a defining period in the Resort's life.
Palmer's victory in 1975 was reported around the world. This in itself was a triumph for La Manga's management. Ward Wallace, at the time their innovative Director of Public Relations, had planted a battery of phones to placate the sports writers who complained about Spain's communications set-up.
Wallace ordered that the cables be laid through a grating in the earth with the result that every golf writer was able to get a clear telephone line to call anywhere in the world in a matter of minutes. It was deemed the Spanish telephone company's finest hour!
And Palmer, golf's great gladiator and ambassador, provided a humdinger of a story. On the last day, in teeming rain, he discarded his glasses, playing the course 'blind' as he required those prescription lenses, relied on his caddie for the line on the greens, hitched-up those then baggy, waterproof trousers and joyously rolled back the years.
Palmer came to the par-five 18th hole requiring a birdie to force a play-off. He struck a typically powerful drive then a sweet four iron to seven feet, sank the putt, stared at the heavens and savoured a famous triumph.
The late Michael Williams, the much respected Golf Correspondent of The Daily Telegraph, wrote: "To see the old Master, now 45, win with a flash of his old magic when the chips were down was worth getting soaking wet."
To stand on that 18th tee today, more than 40 years later, still sends a shiver down your spine. I have lost count how many times I have done exactly that – once upon a time hoping to emulate Palmer although that lovely notion has long since been stifled by a disintegrating golf game!
All that matters not a jot because there are few finer places to relax and enjoy a round of golf than in this corner of Spain where the summers are hot and the winters mild.
Today the La Manga Club Resort has three courses – the South, the North and the West – and under the astute leadership of the General Director, José Asenjo, these are lovingly embraced as the golfing heartbeat of the resort with the La Manga Club Golf Training Centre, opened last October, adding another exciting dimension.
Renowned Swedish instructor Thomas Johansson was brought in to oversee the development of young talent. He has implemented coaching courses specifically designed to assist individuals to improve their technique while also creating a junior team to represent La Manga Club in tournaments throughout Spain.
Johansson, supported by Anthony McCarthy and Anders Thelberg, has embraced kids and teenagers in this enterprising project while also encouraging children with special needs with a view to participating in the Paralympic Games. At the same time the project has importantly enhanced the robust relationship La Manga Club enjoys with its golfing and property partners.
Asenjo said: "We built the new training centre to complement the golfing facilities which have been restyled over the past twelve months or so. With this, La Manga Cub is offering a brand new academy concept with an intoxicating blend of the best teaching practices incorporating English style, Spanish technique and the Swedish mental game.
Coming of Age: Sergio Garcia Exclusive
"In only a few months the results were quite extraordinary with the feedback from new pupils and visiting guests incredibly positive. We are encouraged not only by these results but specifically with the progress being made with the junior section which we regard as fundamental to the growth and development of our business."
Asenjo was born on October 29, 1972, the day after the conclusion of that resort-opening International Pro-Am, which you can put down to coincidence or fate. What is fact is that his arrival in October, 2013, from Warner Park in Madrid, kick-started a cultural change designed to heighten La Manga's global reputation.
Quite simply, Asenjo set himself the task of creating one of the most important residential, leisure and sports resorts in Europe, and the perfectionist in him, coupled with patience and perseverance, has, in a short time, given La Manga a shot-in-the-arm similar to that which Palmer's iconic eagle did at the 18th hole 42 years ago.
When you talk with Asenjo you know immediately that he cares as much as the now sadly departed Greg Peters did about his 'baby.' He cares about his 'team' – he is to be found most mornings sitting in the breakfast room talking to the staff for feed-back and discussing the day ahead - and he leaves the Resort far later each day than that which he planned. La Manga is all consuming, and he enjoys every minute.
This should impart confidence to all who stay at the Resort because this is much, much more than simply a golfing complex. There is the multi-award winning, five star Príncipe Felipe Hotel which provides luxurious accommodation although guests have a choice because they can also book four star serviced apartments and town-houses.
Recent real estate developments such as Las Acacias, Buganvillas and Los Geranios are also catering for global demand – Alicante airport is little more than one hour away while Murcia is no more than a 20 minute taxi ride.
La Manga Club Resort is also the official training base of the Lawn Tennis Association and features an outstanding 28-court tennis centre with a gym recently renovated including new equipment that focuses on toning workouts.
Then there are the eight FIFA-standard football pitches – leading clubs from all over the world including FC Barcelona, Real Madrid and Liverpool not to mention the England and Spanish national teams have come to train – while the huge, sumptuous spa and fitness centre has undergone an incredible transformation with state-of-the-art equipment installed.
The Resort also owns a range of restaurants including fine dining at Amapola inside the Príncipe Felipe Hotel – the famous Piano Bar has re-opened following a refurbishment programme - and the superbly-run poolside bar Sol y Sombra for all-day food and refreshments.
Other La Manga-run restaurants, doted around the complex, include Asia, La Bodega (tapas), Luigi (Italian), Dhama (Indian), La Cala, which overlooks the sea and serves fresh fish and seafood, Uncle Sam's American Restaurant and Meat Point.
There are also a host of individually owned restaurants on the resort such as Flute Lounge Bar, Dante's Pizzeria and Canela or others just a short taxi ride away including Restaurant Maribel on the road to the West course and Via Romana in nearby Los Belones.
Golf, of course, is central to the operation, and Asenjo made an inspired appointment when in March, 2015, he enticed Eduardo Ruiz, who had previously gleaned massive experience at Finca Cortesin, La Quinta and as operations manager at 1997 Ryder Cup host venue Valderrama, to join the team as Director of Golf. Brendan Dwyer (Sales and Marketing Director) and Adrian Padina (Operations Manager) have also been brought on board by Asenjo.
When you first meet Ruiz you fully understand why Asenjo was keen for him to join La Manga. His enthusiasm to expand the resort's global reputation is swiftly evident, but he is firm in pointing out that first and foremost he has concentrated on significantly improving the presentation and playing conditions of all three courses.
Indeed Asenjo soon discovered that in Ruiz he had appointed a man who would be constantly knocking on his door to seek the finance required to implement his plans which have included new machinery – the difference the new mowers have made is instantly recognisable to those returning to La Manga – and the expansion of the buggy fleet has also been welcomed by guests and members.
Ruiz has his finger on the pulse, constantly walking the courses to oversee the work, and he has taken great pride in increasing the level of service to all customers which golfers will appreciate in addition to finding all three layouts to be among the best in Spain.
Furthermore, they are served by a golf centre that has received a wonderful facelift with the refurbished and rebranded 19th hole – the 37 Spike and Sports Bar – with its newly installed televisions providing a delightful setting in which to eat a little, drink a little and watch golfing action from around the world.
Ryder Cup stars promote Spain's 2022 Ryder Cup bid
The redesigned bar features new décor and seating with the perfect apres-golf menu for golfers and guests to enjoy while looking out over the North course. The professional shop below the 37 Spike and Sports Bar has also been redesigned.
You can also take in a golfing history lesson because Seve Ballesteros, Arnold Palmer and Gary Player, all of whom enjoyed a special relationship with La Manga, each have a 'corner' of the sports bar dedicated exclusively to them to honour and celebrate their outstanding achievements.
The South course is a fine Championship test. The layout provides those golfers who can shape the ball with a great opportunity to attack because, while extremely testing, you can put yourself in position from the tee to pepper the pins to set up birdie opportunities.
A perfect example is the 90-degree, dog-leg to the left tenth hole where the longer hitters can carry the corner and leave a short approach. You might wish to take advantage because the next – another par four – is extremely challenging with water inhibiting both the drive and approach and a putting surface difficult to access.
The South with its large greens is a classic and with such a well thought out design it is difficult to select a stand-out hole as there are so many although that par four 11th requiring a long iron to a three tier green is one you will not forget.
Then again the 18th which Palmer made famous defines what the course is all about. Get your drive away and you can reach the green in two – but beware of the danger that lurks with one of the course's barranca's an intimidating menace short of the green.
To describe the North course as a 'hidden' gem might appear slightly bizarre given the popularity of La Manga but it genuinely sits in the shadow of the South. For me it stands out as a stunning 'Members' course and one I would happily play every week.
The North, quite simply, is a fair and fun challenge – the par threes are to be feared with the third from an elevated tee a beauty - and if you are on your game then you will score well against your handicap. There are plenty of birdie opportunities on a course, played in the shadow of the beautiful Murcian Hills, which winds its way to the par four 18th where the green is set in front of the Hotel Príncipe Felipe.
If the South oozes Championship pedigree and the North a tailor-made test for all then the West is a unique, secluded and scenic test which requires all your shot making skills!
The Dave Thomas-designed course defines risk and reward – the par three second and the par five third with barranca's adding protection provide early samples of that being the case - and you most probably need to play it once or twice to determine your strategy.
For 'bombers' there exists real scope to power the ball high into the blue skies, cutting corners and leaving wedges into greens while a safer route off the tee will often require you to reach for a fairway wood or a long iron for your approach.
Then again steering a safe path is also challenging as you must evade the pine-scented woodland that borders every hole and hitting a longer club into the cleverly designed and protected greens requires courage and precision.
My tip is to enjoy the West by giving it a rip from the tee and simply pack a few extra sleeves of balls into your bag because you might need them as you enjoy the ride before reaching the breath-taking, elevated 18th tee from where the stunning views provide a dramatic finale to your round. The West has its own newly renovated 19th hole so you have the chance of a swift refreshment with which to help the recovery process!
Asenjo is adamant that La Manga Club retains its connection to the late, great Seve Ballesteros – he was the Resort's Touring Professional from 1980 to 1985 and his brothers Manuel and Vicente both enjoyed relationships with the venue – and Ruiz is similarly passionate.
Ruiz held aspirations of playing on The European Tour – he will tell you playing with Sergio Garcia, whose father Victor taught golf in the 1970s at La Manga where he met his wife Consuelo, convinced him that he might be better employed using his golfing talent elsewhere!
Now, among other things, he has enthusiastically embraced La Manga's lifetime appetite for encouraging junior golf. During my latest visit the Spanish Junior Championships took place on all three courses and Ruiz believes that there were several boys and girls capable of maturing into outstanding golfers.
He also told me that Jose Luis Ballester and Joseba Garmendia could be future stars in the same way that Jon Rahm is showing on the PGA Tour that he could represent Europe in the 2018 Ryder Cup.
Manuel Pinero, who won the Ryder Cup and the World Cup alongside Seve not to mention nine European Tour events including three Madrid Opens, has for many years directed with tremendous success the Academy at the La Quinta Golf and Spa Resort where Ruiz also worked.
Pinero will tell you that he once traced games resembling golf being played in Spain in the 14th century. So as far as history making, these are early days for La Manga Golf Resort.
Asenjo, however, is making plans for a memorable milestone – the Resort's 50th Anniversary in 2022. If Seve Ballesteros had not passed away, he would have celebrated his 65th birthday that year so, not surprisingly, Asenjo is planning for the Spanish superstar to be fondly remembered during the celebrations.
It will add another special chapter in the life of La Manga Golf Resort not to mention the history of golf in Spain.
The leading website from the world's oldest golf magazine, we're the go-to destination for amateur and keen golfers alike who are keen to up their golfing game. As well as expert course reviews, news and tips to improve your handicap our golf-focused travel content will help you pair teeing off with your travels in some of the best destinations around the globe.