Ryder Cup stars promote Spain's 2022 Ryder Cup bid
Sergio García and Miguel Ángel Jimenéz give backing to PGA Catalunya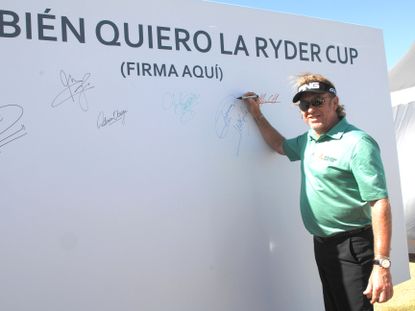 (Image credit: Picasa)
Sergio García and Miguel Ángel Jimenéz give backing to PGA Catalunya
Spaniards Sergio García and Miguel Ángel Jimenéz are supporting Spain's 2022 Ryder Cup bid and have explained what holding another Ryder Cup in Spain would mean to them.
Ryder Cup Europe are currently evaluating four bids and will announce the successful host in Autumn 2015.
Spain is one of the four countries wishing to host the 2022 Ryder Cup, and have put forward the PGA Catalunya Resort as their nominated venue.
The other countries who have submitted bids are Germany, Austria and Italy.
Miguel Ángel Jimenéz, who has played in four Ryder Cups and been a vice captain three times, sees a synergy between Spain and the Ryder Cup. "The Ryder Cup represents the spirit of golf and so does Spain. Ever since the introduction of European players to The Ryder Cup, Spain has contributed greatly. Some of Europe's greatest players have been Spanish and made their mark on this unique event."
Miguel Ángel is upbeat about his nation's chances. "Why would we not win? Our bid is serious, we have the experience and we will deliver it with great zeal."
"We have a large field of supporters – the public institutions, players, fans, everyone. Of course we can win!" His Royal Highness King Felipe VI, is the President of the Costa Brava-Barcelona 2022 bid for The Ryder Cup.
Fellow Spaniard Sergio Garcia, who has played in six Ryder Cups believes it would be "truly amazing to have a Ryder Cup in Spain. It's very important for our new generation. It helped increase participation considerably in 1997 and it would be a great boost for Spanish golf."
He would also love it on a personal level: "The Ryder Cup means everything to me. It's the most exciting tournament we have in golf and one of the most exhilarating sporting events on the planet. I hold it very close to my heart."
Contributing Writer Golf courses and travel are Roderick's particular interests and he was contributing editor for the first few years of the Golf Monthly Travel Supplement. He writes travel articles and general features for the magazine, travel supplement and website. He also compiles the magazine's crossword. He is a member of Trevose Golf & Country Club and has played golf in around two dozen countries. Cricket is his other main sporting love. He is the author of five books, four of which are still in print: The Novel Life of PG Wodehouse; The Don: Beyond Boundaries; Wally Hammond: Gentleman & Player and England's Greatest Post-War All Rounder.