Five Longshots Who Could Win the PGA Championship
Looking for some value at the 2023 PGA Championship? Here are five longshots we think can win this week at Oak Hill.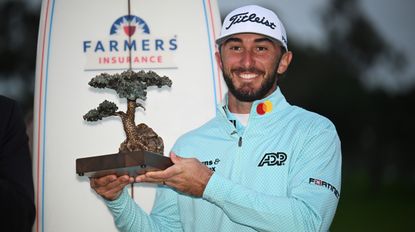 (Image credit: Getty Images)
The PGA Championship starts on Thursday and soon we will know who will win the second major of 2023. With Jon Rahm slipping on the Green Jacket at Augusta, there was no room for a longshot victory there, but will that change at Oak Hill this week?
We are looking for five players at +4000 and bigger that can make an impact at the 2023 PGA Championship, rewarding us with a potentially huge payday if they can get the win in New York this week.
We have picks ranging from +4000 thru to +12000 so read on below for the five longshots we believe can win the PGA Championship this week.
Before we get into our favorite PGA Championship longshots, make sure you first check out the very best PGA Championship promos below. Here you can grab $350 worth of guaranteed bonuses on your first PGA Championship outright, plus you can claim $1000's in first bet insurance so you can wager with more confidence this week.
Max Homa
Max Homa (+4000) Get the best odds on Max Homa at DraftKings
Say what you will about the Official World Golf Rankings, but Max Homa currently ranks as the 6th best player in the world, following his three wins since May 2022, yet he is priced behind more than 15 players this week to win the PGA Championship.
Now a six-time winner on the PGA Tour, five of which have come since the start of 2021, Max Homa has reinvented himself as one of the best players on the circuit, and now it is time for him to show that in one of the four biggest events of the year.
He is priced this way because his T13 finish in this event last year remains his only top-15 finish in a major, and he's only made six cuts in fourteen major starts. Five of those made cuts have come in his last six major starts though which suggests he is trending towards a bigger performance in these huge events.
A final round 78 at Augusta cost him a shot at another strong finish in these major championships, but he was going along nicely there before severe weather delays over the weekend.
Many will have an eye on him for the US Open in California, but I will take a chance that the man who ranks, 9th in SG Approach, 13th in SG Tee to Green, 10th in SG Putting, and 26th in SG Around the Green, as well as 22nd in Total Driving, and 3rd in Approaches from 200-225 Yards, will challenge at this demanding layout.
Tyrrell Hatton
Tyrrell Hatton (+4600) Get the best odds on this Tyrrell Hatton pick at FanDuel
Like Max Homa, Tyrrell Hatton has something to prove in major championships, but as a player that has reached #5 in the World, and as someone who is playing like that again right now, I think he presents some great value here.
Hatton has two 10th-place finishes in PGA Championships and has also finished 6th in a US Open. Add that to two top 6 finishes at the Open Championship and you do have a player that at least knows how to get on the first page of a leaderboard in the big events.
The Englishman has posted five top-6 finishes on the PGA Tour in 2023, two of which have come in his past two outings at the Wells Fargo Championship, and just last week at the Byron Nelson Championship.
A beneficiary of the Tour's new elevated event schedule, Hatton has been competing in the very best fields all season, with his runner-up finish at The Players Championship his standout performance so far.
His two best finishes in this event have come in easier scoring conditions which will be a worry, but his T6 finish down the road at Shinnecock Hills in the 2018 US Open provides confidence that he can tough it out in harder conditions.
Hatton ranks inside the top 11 for SG Approach (11th), SG Off the Tee (11th), SG Tee to Green (6th), and Total Driving (9th) all of which contribute to him ranking 5th in SG Total on the PGA Tour this season. Alongside Patrick Cantlay, Hatton may well be playing the best golf of anyone without a win on the PGA Tour this season, and what better way to double your career PGA Tour win tally, than a major major?
Adam Scott
Adam Scott (+8000) Get the best odds on this Adam Scott pick at DraftKings
We have seen Jason Day and Justin Rose pick up wins for the first time in a number of years, and whilst you only have to go back to 2020 for Scott's last win, I still group him together with these two.
Scott has been somewhat out of the limelight for a while now, and he will be looking for a big week here at the PGA Championship to halt his current slide which could see him fall out of the top 50 before long.
The good news for Scott is that things seem to be turning a corner, with back-to-back top 8 finishes at the Wells Fargo (T5) and the Byron Nelson (T8) over the past two weeks.
At Quail Hollow Scott was firing on all cylinders, gaining stokes in all major areas, and he was particularly good with his irons. This is something you would normally attribute to Scott anyway, but he's struggled with his approaches in 2023 in general, which is what has held him back.
The rest of his game is in fine shape, having gained strokes Off the Tee in all but two events this year, and his short game has also been tidy, gaining strokes Around the Green in 10 of his 11 starts and also Putting in 8 of his 11 starts. If he can keep these areas of his game ticking along, and fire again with his irons, he promises to make a run at this tournament.
Scott has finished inside the top 9 six times in this major, with none so perhaps more significant than his T8 at Bethpage Black in 2019. Scott closed out major season well in 2022 with back-to-back top 15s in the US Open and Open Championship, and whilst he failed to make a run at Augusta this year, he started well enough there, sitting 6th after round 1 and 20th going into the weekend.
Gary Woodland
Gary Woodland (+11000) Get the best odds on this Gary Woodland pick at PointsBet
Gary Woodland is a beast Tee to Green and if he can find anything resembling a decent putting stroke this week, he's going to contend in this tough test.
Despite only posting three top 15 finishes on the PGA Tour in 2023 (one of which came at The Masters), Gary Woodland is up there with the very best in terms of Ball Striking, and his prodigious length is still an advantage.
Woodland ranks 10th in SG Approach, 10th in SG Off the Tee, 22nd in SG Tee to Green, 8th in Driving Distance, and 12th in Total Driving, and when you look at his approach numbers from certain ranges he also seems to get better the further away he is from the hole. Woodland ranks 3rd in Approaches >200 Yards, 5th in Approaches 200-225 Yards, and 7th in Approaches 250-275 Yards. He also ranks 11th from 150-175 which suggests no matter where he finds himself this week, he should be able to control his approaches to the greens.
The concern is when he gets on the putting surface, but he did gain strokes on the greens at Augusta and at the RBC Heritage, so in two of his past four starts he's shown improvement in that department, even if he threw all that good work away by losing over 7 strokes putting, on the greens in Mexico.
Ultimately, Woodland is a former US Open winner, who also has two top 8 finishes in this event, one of which came at the 2019 renewal at Bethpage Black, which is a nice indicator for this week.
Justin Rose
Justin Rose +12000 Get the best odds on this Justin Rose pick at FanDuel
It is a toss up between Justin Rose and Gary Woodland as to who I believe represents the best value in the field this week, and I am leaning towards the 2013 US Open winner, Rose as the best bet.
Rose returned to the Winner's Circle at Pebble Beach earlier this season, before finishing T6 at The Players Championship. A rather pedestrian finish at the Valspar followed, but he once again put in a strong performance at Augusta, where he was T9 after 54 holes, eventually finishing T16.
Since then he's finished T25 at the RBC Heritage, where he was again better placed before the week was up, as he sat in 2nd place going into the weekend.
The Englishman's current form is being overlooked, and the fact he has gained strokes with his irons in eight-straight events certainly catches the eye.
Rose is a winner and a runner-up at Aronimink, another Donald Ross design in the Northeast, and when you add in two runner-up finishes at East Lake and 6th and 16th place finishes at the Ross-designed, Plainfield, in New Jersey, Rose clearly possesses hatfuls of potentially correlative form.
You have to go back six years for the last time Justin Rose finished outside the top 29 in this major, with 3rd, 4th, 8th, and 9th place finishes all in recent enough memory to add to Rose's confidence this week.
This might be last-chance saloon for the 42-year-old, who will be looking to double his major-winning tally, and whilst he's in this form, this might be his best chance, looking at the remaining majors this season.
In addition to hosting the Lost Fore Words golf podcast, Tom Jacobs has been writing betting articles on golf for the past decade. Tom also co-hosts the DP World Tour Picks & Bets show on the Mayo Media Network, and has his finger on the pulse on all the major Tours. A long-suffering Nottingham Forest fan, Tom also enjoys watching Soccer on the weekends!