2023 LIV Golf Tulsa Betting Picks and Predictions
LIV Golf returns, this time to Tulsa, Oklahoma for the 2023 LIV Golf Tulsa event. With one week to go before the 2023 PGA Championship, can the Tour's biggest stars find form?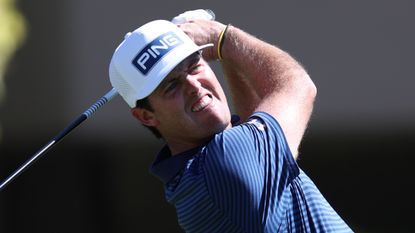 (Image credit: Getty Images)
This season, LIV Golf has finally cemented its player pool, and we know week-to-week which players will be in the field, and who plays on which team, barring injuries.
After LIV Golf Adelaide and LIV Golf Singapore, the Tour itself feels like its gaining momentum, and now they return to America, as a field of 48 heads to Tulsa, Oklahoma for the 2023 LIV Golf Tulsa event.
Talor Gooch won back-to-back at LIV Golf Adelaide and LIV Golf Singapore, and given he is an Oklahoma resident who went to college at Oklahoma State, all eyes will certainly be on him this week.
Will Gooch steal the show once again, or is there room for another winner this week in Oklahoma?
Let's look at what will be required to succeed at LIV Golf Tulsa and work out who best fits the profile this week.
Before we get into our picks for the LIV Golf Tulsa event, make sure to take a moment to check out these outstanding new customer offers. With these sportsbook promotions, you can secure $500 in guaranteed winnings plus $1000+ in first bet cover.
LIV Golf Tulsa Format
The format will remain the same as it does in all the other events on the LIV Golf League, as each of the 48 players tees it up for 54 holes of strokeplay, which contributes to both an Individual and Team leaderboard.
Even if you are a player out of the running on Sunday, you will still want to shoot the lowest round of the day, so that your team can push forward in the team leaderboard, and potentially win the team event for the week.
Who Has Won on the LIV Golf League This Season?
There have been five events so far this season on the LIV Tour.
LIV Golf Mayakoba - Charles Howell III (Individual Winner), Crushers GC (Team Winner)
LIV Golf Tuscon - Danny Lee (Individual Winner), Fireballs GC (Team Winner)
LIV Golf Orlando - Brooks Koepka (Individual Winner), Torque GC (Team Winner)
LIV Golf Adelaide - Talor Gooch (Individual Winner), 4Aces GC (Team Winner)
LIV Golf Singapore - Talor Gooch (Individual Winner), RangeGoats GC (Team Winner)
LIV Golf Tulsa Course Preview
Cedar Ridge Golf Club is not a course we have seen used in the Men's Game at the professional level, but it did host the 1983 U.S. Women's Open.
It has been used for state championships and national qualifying tournaments, so those with local Oklahoma connections should feel right at home this week.
There is water in play and the parkland course throws up some challenges along the way, but it is not a long course by any means so the LIV Tour field should take advantage of it this week and put together some good scoring.
LIV Golf Tulsa Key Stats
Greens in Regulation - Four of the five events this season have been won by players who rank inside the top 5 on Tour for Greens in Regulation. Danny Lee is the only event winner this year that doesn't rank top 5 in this key stat.
LIV Golf Tulsa Picks and Predictions: Outright Winner
Mito Pereira +1800 (Bet $100 to collect $1900) The best odds for this Mito Pereira pick are at Bet365
The last event we saw played in Oklahoma was the 2022 PGA Championship, and it was at Southern Hills where Mito Pereira had a chance to break through as a major winner. He ultimately squandered his lead on the 72nd hole, but he was playing great golf all week and deserved better.
The Chilean is now finding form once again, after settling into life on the LIV Tour, and with three top 6 finishes in his last four starts on TOUR and a made cut at Augusta, Pereira looks primed for a big week.
Only Gooch, Koepka, and Peter Uihlein can really boast more consistent form than Pereira right now, and he is likely to challenge for a title of his own soon.
Pereira ranks 3rd in Total Driving and 1st in Greens in Regulation on the LIV Tour, which means he leads the Ball Striking statistics, and that should pay off before too long.
Back Pereira for a successful return to Oklahoma this week.
Peter Uihlein +2200 (Bet $100 to collect $2,300) The best odds for this Peter Uihlein pick are at Bet365
Peter Uihlein's 11th-place finish at LIV Golf Singapore was his worst finish of the season, which tells you everything you need to know about the year he is having.
The Oklahoma State Alum will relish returning to the state of Oklahoma, and despite what he would consider a disappointing effort in Singapore, based on his ridiculously good form, he did get better every round there.
If he is going to win this season, this might be his best chance as he may well know Cedar Ridge better than others having played a lot of golf in the state, and he is certainly in the type of form that suggests he can win.
Uihlein has made 85 birdies in 15 rounds so far on Tour this season, which puts him at the top of the standings, and he's also 2nd behind Talor Gooch on the 2023 LIV Golf Standings, despite not winning an event yet. Uihlein's 5 eagles this season is also tied for the best on Tour as well, so he's clearly a scoring machine who can take advantage of this layout.
In addition to hosting the Lost Fore Words golf podcast, Tom Jacobs has been writing betting articles on golf for the past decade. Tom also co-hosts the DP World Tour Picks & Bets show on the Mayo Media Network, and has his finger on the pulse on all the major Tours. A long-suffering Nottingham Forest fan, Tom also enjoys watching Soccer on the weekends!