The Best Olympic Golf Gear
We take a look at some of the best golf gear from the Olympic Games in Tokyo.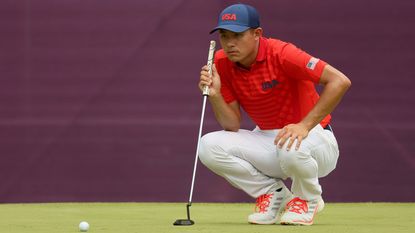 (Image credit: Getty Images)
Golf Monthly Newsletter
Golf tips and expert instruction, golf club reviews and the latest golf equipment.
Thank you for signing up to . You will receive a verification email shortly.
There was a problem. Please refresh the page and try again.
We take a look at some of the best golf gear from the Olympic Games in Tokyo.
The Best Olympic Golf Gear
The Olympic Games (opens in new tab) is in full swing at the moment and given how many people watch the event it should come as no surprise that there are several special edition shoes and outfits on display.
Below we have looked at some of our favourites.
adidas ZG21 Tokyo Golf Shoes
Seen on the feet of recently crowned Open Champion Collin Morikawa, adidas released a special 'Tokyo' version of the ZG21 golf shoe.
A model that received a five star rating in our review, the ZG21 offers incredible comfort and lightweight feel, whilst we also like the modern design. The orange accents in particular really pop out in the sun.
Team USA will wear adidas golf gear at the Olympics and one of our favourite polos is this striped version. If the stripes aren't for you then there are three other designs but we picked this one out because of its recycled polyester construction and lightweight fit.
adidas USA Golf Lightweight Layering Top
A handy layering top, show your support for Team USA thanks to the high-quality stitching on the chest. It comes in three colours which as you would expect are red, white and blue, and 70% of it is made from recycled polyester.
adidas Team GB Tokyo Polo Shirt
Team GB's gear is also made by adidas and during practice days we noticed caddies wearing this cool polo shirt which features a large Great Britain print and smaller details too like the Team GB logo, Japanese writing on the neck, and the 100% recycled polyester construction.
Available in a couple of colours, if you need a new cap then look no further than this Team GB design in white or blue.
As British athletes compete on the world's biggest stage, this adidas duffel helps them with the day-to-day. Its clever design means you can carry it like a bag or a backpack. A breathable compartment gives you somewhere to dump your sweaty footwear when training's over.
For more golf gear check out the Golf Monthly website
For all the latest from the golf world, follow our social media channels Facebook (opens in new tab), Twitter (opens in new tab) and Instagram (opens in new tab)
Have you thought about taking out a subscription to Golf Monthly magazine?
Subscriptions are available in both print and digital editions through our official online shop Magazines Direct (opens in new tab) and all postage and delivery costs are included.
Golf Monthly is packed with all the information you need to help improve your game.
Take your game to the next level with tips, drills and advice from top Tour Pros and the UK's top coaches.
Impartial in-depth reviews of the latest equipment will ensure you buy the best whatever your budget
If you are looking to venture away with friends Golf Monthly will give you plenty of ideas of where to play and stay.