Mizuno #YourGame2016: 5-handicap Jezz Ellwood's progress updates...
5-handicapper Jezz Ellwood reports on his progress following a full custom-fitting at Mizuno's Celtic Manor Performance Centre for our #YourGame2016 project...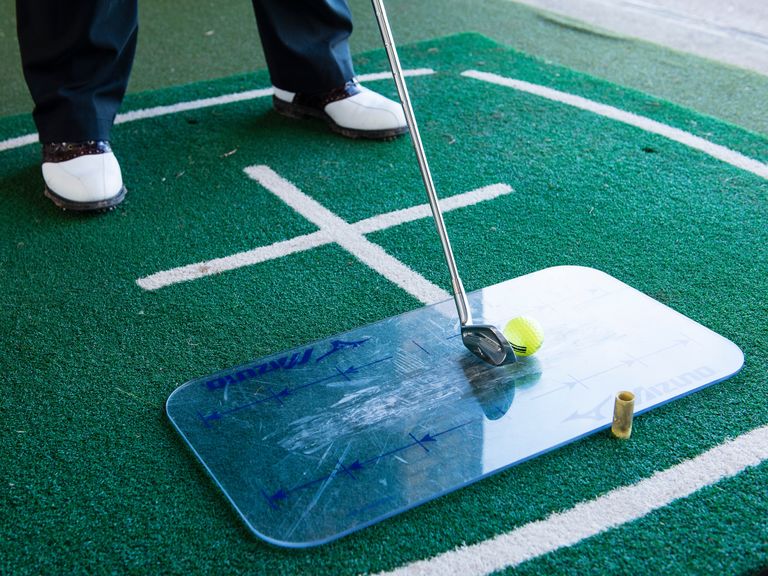 (Image credit: Tom Miles)
5-handicapper Jezz Ellwood reports on his progress following a full custom-fitting at Mizuno's Celtic Manor Performance Centre for our #YourGame2016 project...
Jezz Ellwood
Handicap: 5
Home Club: Holtye
Mizuno #YourGame2016 goal: To get down to 4 for the first time.
Monday 4th July 2016: progress update...
Sadly, I'm now 0.2 higher than in my last update after two disappointing rounds in the Sussex Mid-Age Championship at Pyecombe that saw me go up to 5.3. A busy work diary meant I had to pull out of the only other competition in the diary for June, so those have been the only two competitive rounds since my last update.
While it may be a little disappointing, the good news - if it constitutes good news - is that my undoing at Pyecombe was almost entirely down to the putter. I always seem to have one day a year where it betrays me horrendously and this proved to be that day as I actually hit the ball pretty well for most of the morning round, especially off the tee with my Mizuno JPX EZ driver.
I shot a 10-over 81 which I firmly believe would have been a 76 with a normal Ellwood putting display and possibly even a couple lower with a good day on the greens. The afternoon was a similar story, punctuated with what happened on the 12th where I took the hole on with driver off the tee, chipped to about 10ft... and promptly three-putted!
My form has been mostly half-decent in non-competition play, with the putter thankfully not only back on normal form, but on fire during a couple of rounds. A one-under par nine holes on the testing Dunes loop at Prince's a week ago featured both good ball-striking and really strong putting, while my game at Blairgowrie in Scotland earlier this week with photographer Kevin Murray featured four birdies in six holes around the turn, the final one a 60-yard pitch in with my Mizuno MP-T5 52˚ wedge.
Clearly it is going to be tough getting down to 4, perhaps no great surprise given that I've been off 5 for about a decade. But I do have a few comps coming up, so we shall see what transpires.
Part of me is wishing I'd made my goal 'a record number of eagles for the season' as it's certainly heading that way at the moment, with another coming on the 14th on Gleneagles' King's course a few days ago while up there shooting the next stage of the Mizuno #YourGame2016 project with LET pro, Amy Boulden, more of which in the next update. I honestly can't remember making so many eagles in just a few months, which is quite gratifying!
Monday 6th June 2016: progress update...
Since my last update I've played two more competition rounds and been up to Turnberry to get a first look at the spectacular new Ailsa layout that has just re-opened there. The good news is that I really feel the new clubs are settling in nicely, and both competitions rounds have come perilously close to yielding significant progress.
Mind you, the first one didn't start too brightly when I found myself four-over through four and seemingly dead in the right-hand trees on the 5th. With a very restricted backswing I had to pick my MP-25 wedge up steeply and attempt to drop it down on the back of the ball - there was a strong element of hit and hope about this one! It turned out to be a one in a hundred effort, which came out perfectly, rolled down the greenside bank to 10 feet from where I duly holed out for the unlikeliest of birdies!
Five minutes earlier I had resigned myself to an NR having pulled my provisional left into trouble, but my miracle shot sparked a revival which saw me still three-over with two and half holes to play. To then finish bogey, bogey, double was a little dispiriting, especially as it meant missing the buffer to ultimately go up 0.1. Oh well...
Up at Turnberry I was close to playing some really good stuff thanks to an excellent driving round with my JPX EZ driver, with the undoubted highlight a memorable eagle on the 10th (driver, 3-wood, 40-footer), which will forever go down as the first eagle on that redesigned hole.
Then, this weekend, another solid round at my home club again saw me three-over with two a half holes to play. Deja vu all over again! Well, not quite. After parring 16, I then hit it to 10ft on 17, but couldn't quite coax it home. I then bogeyed 18 after missing it left and failing to hole the six-foot par save, which was a little disappointing, especially as 38 points won and that dropped me back to 37.
But on the plus side, it did get me my first 0.1 in the right direction, and in fairness I did only hit one green in regulation on the back nine yet got it round in just two-over, with only one of those up-and-downs a fringe putt. That's testament to how confident I'm now becoming greenside with my Mizuno MP-T5 wedges, which I hope bodes well for quite a busy competition schedule over the coming few weeks...
Monday 9th May 2016: progress update...
The clubs arrived during one of my 'little trips', with a scratch match for my home club the day after I got home. I had no hesitation in putting the the MP-25 irons in straightaway as they'd been such a revelation in my fitting, but decided to hold fire on the rest of the set until after the match.
I played pretty well most of the day, and hit several really good iron shots, and it was only my opponent's hot putter down the stretch that prevented me winning as he holed four times from 8-15ft to either save holes or win them. In the end, it was me who had to hole a 6-footer on the last to salvage a half after he'd canned it from twice that range to potentially sneak the match at the very death.
Fortunately, my Mizuno MP T-106 putter that I've had in the bag for six months was up to the task, and when I totted up my score (having pretty much holed out on every hole in a close matchplay encounter) I was only 4-over first time out with the new irons, which was very pleasing.
Since then, the whole set has gone into play, and my Stableford debut didn't go so well as I had a case of the 'lefts' all round, which is very costly round my home course. This is an unusual shot for me, which it would be easy to attribute to the new clubs, and it could be that a slightly softer wood shaft may have something to do with it.
However, it was throughout the bag, and the irons certainly hadn't been going left in the scratch match, so I'm wondering if it may have been more to do with an osteopath's appointment the previous day in which she freed up my lower back, which had seized up a little, possibly enabling me to get through the ball more freely than my body has been used to of late.
A trip to the Highlands last week proved an interesting experience, as virtually every round at Royal Dornoch, Castle Stuart, Nairn, Fortrose & Rosemarkie and Strathpeffer was spent manufacturing shots to counter the four- or five-club wind blowing through the north of Scotland.
Pleasingly, I was able to control the JPX EZ driver flight pretty well in headwinds and crosswinds, especially when they were at their fiercest at the very exposed Fortrose & Rosemarkie.
Now I'm home for two weeks and hoping to find time to head up to the range to work on things and rediscover my wind-battered swing. I've got my name down for three comps in fairly quick succession from 21st May, plus a couple of summer singles knockouts, so will report back again soon
Wednesday 26th April 2016: full custom-fitting session at Celtic Manor...
Fitted for
Driver: Mizuno JPX EZ 12.5˚ fade, Orochi regular
3-wood: Mizuno JPX EZ 15˚, Orochi regular
Hybrid: Mizuno JPX EZ - 3/19˚, Orochi regular
Irons 4-PW: Mizuno MP-25, KBS Tour regular
Wedges: Mizuno MP-T5 WS 52˚/9˚ and 58˚/12˚, KBS Tour regular
Standard length and lie
Fitter analysis Jezz's Swing DNA figures fell between regular and stiff, but ball flight, strike and distance all improved with regular shafts and Jezz felt more comfortable with them. The big thing was a 15-yard 6-iron distance gain. Jezz's current shafts were a bit light, and too high a flight was costing him distance. MP-25s with a slightly heavier shaft delivered a more penetrating flight. I lofted Jezz's driver up a bit because of his attack angle, and he found five more yards off the tee too.
Jezz's feedback I was between regular and stiff last time I was fitted too, but this time regular shafts produced markedly better results. Even well-struck irons have been going nowhere of late, so another 15 yards from a 6-iron was music to my ears. Going into greens with a club and a half less might be the key to me saving a shot or two a round.
Jeremy Ellwood has worked in the golf industry since 1993 and for Golf Monthly since 2002 when he started out as equipment editor. He is now a freelance journalist writing mainly for Golf Monthly across the whole spectrum from courses and Rules to equipment and even instruction despite his own somewhat iffy swing (he knows how to do it, but just can't do it himself). He also edits The Golf Club Secretary Newsletter, has authored or co-authored three books and written for a number of national papers including The Telegraph and The Independent. He is a senior panelist for Golf Monthly's Top 100 UK & Ireland Course Rankings and has played all of the Top 100 plus 89 of the Next 100. He has played well over 900 courses worldwide in 35 countries, but put him on a links course anywhere and he will be blissfully content. On his first trip to Abu Dhabi a decade ago he foolishly asked Paul Casey what sort of a record he had around the course there. "Well, I've won it twice if that's what you mean!" came the reply...