Open 2014 Weather Forecast
Golf Monthly takes a look at the Open 2014 weather forecast this weekend in Hoylake, which could have a big impact on the Open Championship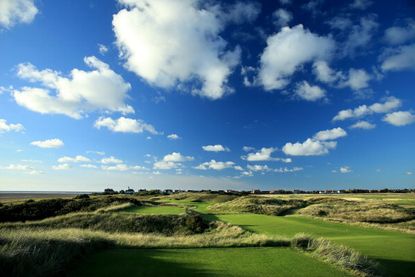 (Image credit: Getty Images)
Golf Monthly takes a look at the Open 2014 weather forecast this weekend in Hoylake, which could have a big impact on the Open Championship
Open 2014 Weather Forecast
Of all major tournaments on the professional golf calendar, the Open is likely the most affected by the weather.
As Tiger Woods took advantage of the hot, dry and dusty conditions at Hoylake to win the Open in 2006, it's clear that players participating in the Open must adapt to, and take advantage of, the conditions throughout the weekend.
It has been dry and sunny so far this week, and it looks like it's going to be a hot weekend at Royal Liverpool, with some chances of significant rain. Let's take a look at the current forecast for each day (as of Wednesday at 17:00).
Forecasts taken from metoffice.gov.uk (opens in new tab). Temperatures are in degrees Celsius and wind is in miles per hour.
Thursday, 17 July
High Temperature: 23
Low Temperature: 17
Precipitation: Less than 5% chance
Wind: Swirling. <10, gusts surpassing 15.
It looks like it will be a beautiful opening round at Hoylake. The first tee time is at 6:25am, and it will be about 15 degrees. The temperature will rise to 20 degrees by noon, and should stay between 20-23 degrees for the rest of the day. Winds look minimal, and there doesn't appear to be any threat of rain, so the weather should open up the possibility for some early low scores.
Friday, 18 July
High Temperature: 26
Low Temperature: 17
Precipitation: 10% chance
Wind: 15-20, gusts surpassing 30.
Friday looks like it will be the warmest day of the weekend, as it will reach 20 degrees by 10:00 and will get all the way up to 26 before the day's end. Additionally, Hoylake's winds look like they will come to life, with consistent wind throughout the day and the possibility for significant wind gusts in the late morning and early afternoon. Friday's conditions could be very different depending on players' tee times.
Saturday, 19 July
High Temperature: 20
Low Temperature: 16
Precipitation: 90%
Wind: <10, gusts surpassing 15.
Saturday's weather should be interesting, as most of England is expected to be hit with fairly heavy downpours. With the rain comes cooler temperatures, but if Hoylake is hit hard with torrential rain Saturday afternoon and early evening, it certainly could have an effect on the pace of play.
Sunday, 20 July
High Temperature: 19
Low Temperature: 15
Precipitation: 50%
Wind: 10-15, gusts surpassing 20.
It appears that there is a chance of rain on Sunday, but any possibility of rain should be gone by the afternoon. Overall, Sunday should shape up to be a great final day of golf, with partly cloudy skies overhead and temperatures between 18-19 throughout the afternoon.
Mike Smith is an American undergraduate student studying journalism and political science at the University of Wisconsin-Madison. He is spending the summer living in London, studying British life and culture and working for Golf Monthly. He is excited to gain international working experience, as his career goal is to work in sports journalism.