Mercedes-Benz Style Edition Garia Golf Car is launched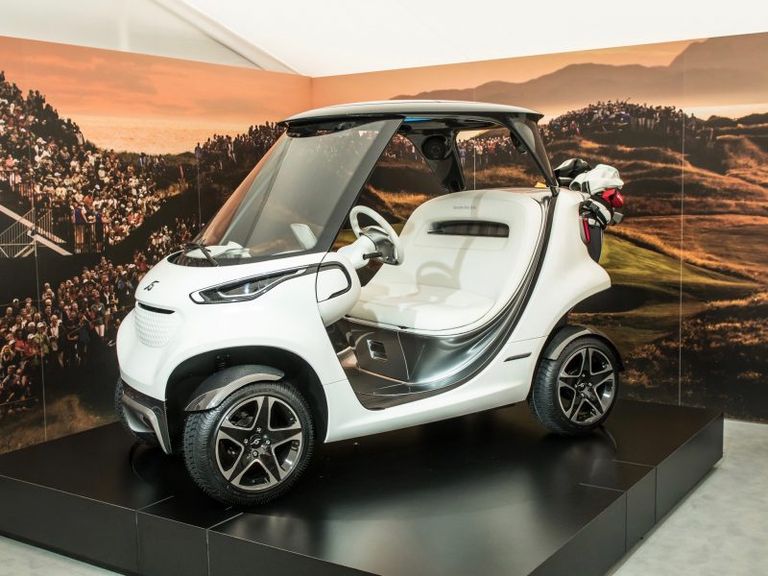 (Image credit: Daimler AG)
The Mercedes-Benz Style Edition Garia Golf Car is launched at The Open at Royal Troon
Mercedes-Benz Style Edition Garia Golf Car is launched
"At Mercedes-Benz we are always asking questions," starts Professor Gorden Wagener, Vice President Design at Mercedes-Benz. "It is fundamental. We must not accept convention but always look for new possibilities."
The Official Car and Official Patron of The Open, Mercedes-Benz has been looking for new possibilities in golf.
"And actually it was obvious," says Dr. Jens Thiemer, Vice President Marketing at Mercedes-Benz. "Mobility on the golf course – golf carts."
Mercedes-Benz explored the possibilities of golf cart design with Garia in Denmark, the world's only manufacturer of luxury golf cars. The design teams shared and debated ideas. Certain practicalities would have to be adhered to; particular design guidelines would have to be observed, but ultimately a shared passion and determination to reach the same goal ensured a golf car design – one that has leapt into a new dimension of golf course transport – could become a viable production model.
Out went the boxy look and plastic touch of the everyday golf cart, and in came the sleek and sensual Mercedes-Benz Style Edition Garia Golf Car. Note use of the word 'Car' instead of 'Cart'. Launched at The Open yesterday, this is no cart.
Mercedes-Benz and Garia have collaborated to take golfers where they have never been before. Tablet user interface; a new realm of aesthetic styling and precision; lithium-ion battery power; 14-inch wheels; leather and carbon-fibre; on-board refrigerator, sound system and ambient lighting.
The touch points of a standard golf cart vary between grades of rubber and plastic, whereas the Mercedes-Benz Style Edition Garia Golf Car brings in hand-woven carbon fibre, leather and replaces the heavy and unreliable lead-acid battery power with the cleaner, lighter and measurable lithium-ion.
Sitting inside the Golf Car, passenger interface and functionality pivots around the tablet. Relayed to the driver through the tablet are battery information, control of exterior and interior lights, sound system control, clubhouse communications, golf scoring and even an online Golf Car purchase system.
In its current form the Mercedes-Benz Style Edition Garia Golf Car is a show car. Only two exist. It is futuristic by nature, yet unlike many show cars created by automotive manufacturers, the Golf Car has been built with practical and functional considerations and it is set for small-scale production.