What it's like to caddy at The Open
We spoke to Mike Heath, brother of James, to get the lowdown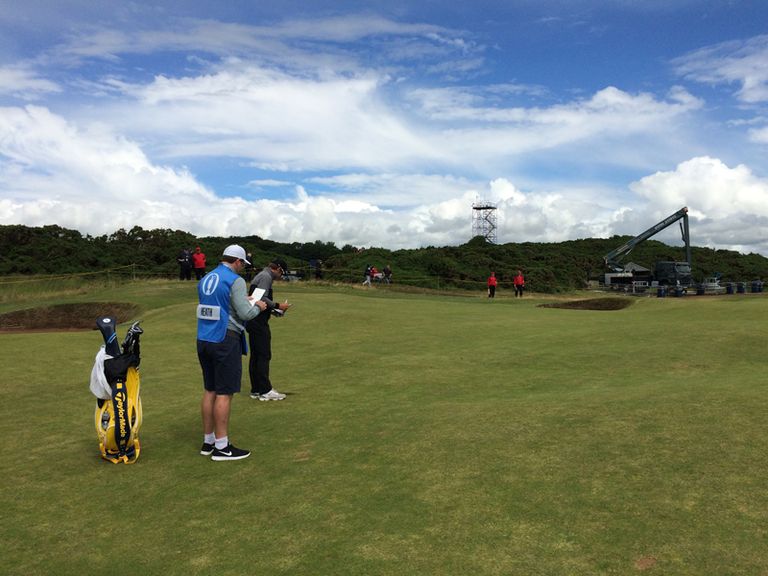 By Fergus Bisset published
Friend of Golf Monthly Mike Heath has been on brother James' bag this week at Royal Troon. We spoke to him to find out what it's like to caddy at The Open.
Playing in The Open Championship is a huge accomplishment for any golfer and something top professionals and amateurs strive towards. Likewise, for a caddy The Open is a special and memorable experience. Friend of Golf Monthly Mike Heath has been caddying for his brother James this week at Royal Troon and we spoke with him to find out what it's been like.
Tell us a bit about your history in golf, together with James, and how you first got into doing some caddying for him…
I always wanted to be a professional golfer when I was younger, from a junior of 10 or 11. I went to college in the U.S. on a scholarship but quickly realised golf wasn't for me. James and I were both members at Coombe Wood. I remember thinking I would always be better than him, but then there was this point when he got to the same handicap as me despite being five years younger and he kept going, and I went the other way.
I gave up the game in my early 20s and I got my excitement from golf by following James in the big amateur events. I started caddying for him in them and that then progressed to some Challenge Tour events and a couple of European Tour events 2004 – 2005.
And what about this Open gig? How did that pan out?
James has always asked me to caddy at Open qualifiers and I've always said yes on the basis that I would also get to caddy in the big event if he made it!
But after 13 or 14 years of trying I'd started to think it was never going to happen. And then when he asked me to caddy again – 36 holes this June at Royal Cinque Ports. I hadn't played for ages, I struggle with sore feet and was thinking '36-holes at Deal, I could be in trouble." But it was four weeks away so I had plenty of time to do some exercise… which of course I didn't. But he made it and it was all very much worth it.
What do you do for a living normally?
I run the family business my dad started back in 1979. We do central heating systems, working with local councils and housing associations across the country. It's rather different to this!
How does it feel to be here at Troon?
It feels amazing. It's something I've never experienced before: being inside the ropes. We played a practice round with David Duval and Henrik Stenson. I was kind of looking around, standing on the green with these guys thinking, 'is this really happening?'
Have you been nervous?
I wasn't nervous at all until the drive up on Monday afternoon and then just as we stood on the first tee yesterday there were people in the grandstand and your name gets announced and it really hit home.
Walking down the 1st hole it was really quite emotional actually. I think right the way up to the 1st green I was just overcome slightly at the thought he was really doing this, after all these years of trying. It's his first Major and this is, for any professional, the main aim – to compete in these events. I was feeling it for him and the family. It was really, really special.
What's the most stressful part of caddying?
I think its stressful if the weather isn't so good, as it looks like being today (Friday). It's all about the anxiety of the preparation. Have you got enough towels? Gloves? Are the waterproofs in there? I can't believe how many times I've counted the number of clubs in the bag. I just can't stop myself, it's doing my head in a little.
Do you have a checklist to make sure you have all bases covered before the round?
I just have a mental one rather than a physical one. I probably should have a physical one actually. I'm sure a lot of the guys out here do to chalk everything off every time they go out.
Can you give us an idea of how physically demanding it is?
It is pretty hard. I wear a back support and it's just the length of time that you have to really be concentrating for. You need to do your job right. You start your day well before the round itself. James and I are staying together so it starts from the moment we get up. The drive to get here, the breakfast, you've got your game face on from the word go. It's probably a good 12 hours from the very start to the finish, after the practice post-round.
So there isn't really a chance for a booze-up in Troon?
I just don't think there'd be time for that really. Although I did manage a few beers at home when we got back. Just to wind down a little of course.
What are the crowds like here?
Incredible, and James has got some people here to watch which is brilliant. They're all out there in pink t-shirts with a picture of James on the front and they're making a lot of noise which is great and it really helps.
Do you find it hard being big brother? You must want to give so much advice but you have to rein it in..
Yeah, I think out on the golf course I'm very much a supplier of information. Allow him to make his own decision and I then say 'good decision.' To be honest there's only ever been a couple of times over the years when I've felt he's made the wrong decision and have had to say 'no I don't think that's the right shot.' The thing is I can't hit the shots he can hit.
But you can his some pretty special shots…
Yeah but they're special for the wrong reasons. I wouldn't want to get some of my golfing thoughts in his head, let's just say that!
Have you chatted much to other caddies?
Yes, they're all really good guys and I suppose I'm not a complete novice myself but you do always think to yourself, 'don't stand in the wrong place, don't say the wrong thing.'
Would you consider doing it full time?
It would be really good to do it full time. But I've got a family at home and three kids. I've got the business too.
I love my golf and I love being around the golfers, the course, the equipment, it's brilliant. An event like this, you want to be part of it. This is the premier league playing with and against the world's elite. This is the one. If I was ever going to do it full time, James would have to make it to the Majors!
And do the other caddies relish being at The Open?
I've seen these guys, they absolutely love this event. You can see it, they just want to be involved. They live and breathe it. They want to do their best and their players to do their best.
It's interesting to see how the top caddies work. We played with Henrik Stenson in practice and you could see how hard his caddy Gareth was working. Really taking it all in, looking at lines, at spots. Getting as much information as he possibly could. You know that if you can save your man just one shot during the tournament you've done your bit and earned your money!
Fergus is a golf obsessive and 1-handicapper. Growing up in the North East of Scotland, golf runs through his veins and it was concentrated by his time at St Andrews university studying history. He went on to earn a post graduate diploma from the London School of Journalism. Fergus has worked for Golf Monthly since 2004 and has written two books on the game; "Great Golf Debates" together with Jezz Ellwood of Golf Monthly and "The Ultimate Golf Book" together with Neil Tappin (also of Golf Monthly)... Fergus once shanked a ball from just over Granny Clark's Wynd on the 18th of the Old Course that struck the St Andrews Golf Club and rebounded into the Valley of Sin, from where he saved par. Who says there's no golfing god?