Behind The Scenes Of Staging An Open During A Pandemic
Getting everything lined up perfectly for the 2021 Open has presented an even greater logistical challenge than usual...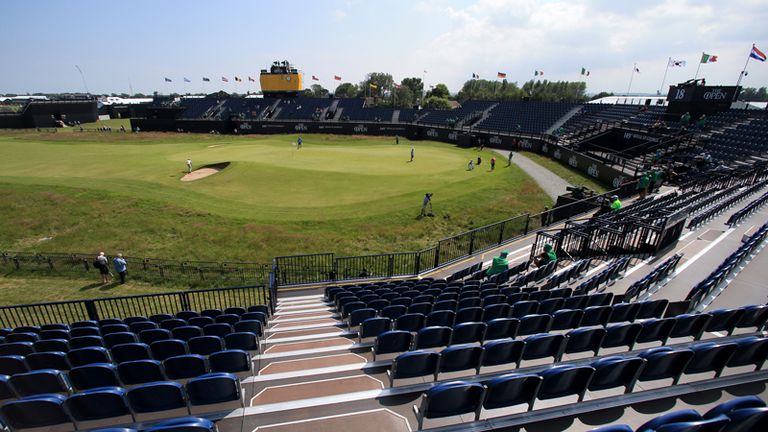 (Image credit: Getty Images)
Golf Monthly Newsletter
Golf tips and expert instruction, golf club reviews and the latest golf equipment.
Thank you for signing up to Golf Monthly. You will receive a verification email shortly.
There was a problem. Please refresh the page and try again.
Getting everything lined up perfectly for the 2021 Open has presented an even greater logistical challenge than usual...
Behind The Scenes Of Staging An Open During A Pandemic
When The Open was cancelled last year, it was the first time that golf's oldest Major hadn't been played since the Second World War.
The R&A explored every option before finally pulling the plug, but the safety of everyone involved had to come first, and it was clear that the Covid-19 pandemic would put that in jeopardy.
The decision was made with a heavy heart, but it was the right one – few people would contest that.
A year on, and while life – or sport for that matter – is still anything but normal, we can be pretty much certain that 2021 will give us The Open we've all been craving.
Getting number 149 in the books was never going to be an easy task.
It's taken a monumental effort from The R&A and its workforce, but together with the local council and support from the Kent community, we're on the verge of crowning the Champion Golfer of the Year once again. Thank goodness for Zoom.
"We were very far in our planning last year, but we had to make a decision, and it just wasn't safe to construct The Open," says Johnnie Cole-Hamilton, who serves as executive director – championships at The R&A.
"The construction takes a good three or four months and we realised early on that was not going to be done in time, safely, and we clearly didn't want to put a demand on the emergency services, who were all very busy tackling the pandemic.
"We receive a huge amount of assistance from a range of different organisations to help stage something as large as The Open. They understood the decision. Cancelling was a very difficult decision, but in many ways it was also straightforward as it was the only responsible thing to do."
The one consolation was that very little work had begun above ground – there were no towering grandstands or hospitality tents to dismantle; 'only' underground water, waste and fibre installation had commenced.
The greater challenge at the time was working with the 150-plus contractors and many sponsors in moving The Open back a year.
Related: How to qualify for The Open
As Cole-Hamilton stresses, however, they did benefit from having an extremely loyal and understanding support network, which allowed them to turn their attention to staging The Open at Royal St George's in 2021.
If we've learned anything this past year and a half, it's how quickly the world can adapt.
For The R&A, it has meant doing lots of scenario planning and having different contingency plans in place to accommodate the ever-changing Covid landscape and rules around travel and social distancing.
However, every sports organisation has found itself facing a similar set of circumstances, and being able to discuss event planning with a number of other governing bodies has been hugely beneficial.
"We're very fortunate that we have really strong relationships with Wimbledon, the Premier League, The FA, Silverstone and Ascot," says Cole-Hamilton.
"These are all the component parts of what the Great British sporting summer looks like and we've all faced the same challenges.
"We're all trying to learn from each other. Together with the UK government and Public Health England, who have been extremely open and supportive, we all want to achieve the same goals.
"Yes, it's been particularly challenging in a pandemic – there's no hiding from that – but every Open is a challenge.
"It's what motivates me and my team and everyone who assists in the process.
"One of the fortunate things for us is that we had done so much of the planning ahead of the cancellation in 2020, so a lot of the planning for 2021 had been done."
One of the most difficult tasks has been the build itself.
Related: Who runs The Open Championship?
It's a well-rehearsed process that would normally be completed without any complications, only this time everyone who was "embedded" in Sandwich since the start of April had to work in bubbles and adhere to strict protocols, so that if the worst happened – ie there was an outbreak of the virus – the build would not be affected.
"All of our plans are supported at public health level and local authority level," says Cole-Hamilton.
"The protocols are in place for a good reason. We want to make sure we're doing things responsibly and that the local community can see that."
As if organising the build hasn't been hard enough, much of the planning has had to take place virtually.
Site visits are crucial in planning an event of The Open's size and scale, but lockdowns have limited the number of trips The R&A has been able to make down to Kent from its St Andrews base.
This might be greener, but not being on site so much, especially with regard to all course-related matters, hasn't been ideal.
Still, it's amazing what can be achieved on a Zoom call.
"We would normally have seen the course a lot more, but we managed to get the essential members of the team down there working with the greenkeeper Paul Larsen," adds Cole-Hamilton.
"He has done an extremely good job with his team to get the course in exceptional shape. We're really pleased with its condition and we know the players will be as well.
"We've had to do a lot more virtual meetings, but the upside of that is that it's made the process a lot more efficient.
"Getting from St Andrews to Royal St George's is no easy task on a regular basis and we've been able to do lots of important and satisfying meetings via Zoom and Teams. This is something we'll probably take forward even when the pandemic eases."
Last year's cancellation has had a knock-on effect, of course.
This was the year St Andrews was scheduled to host the historic 150th staging of The Open Championship.
It still will, only the Home of Golf will now do so in 2022, with Royal Liverpool and Royal Troon hosting in 2023 and 2024 respectively.
All three venues have supported the change to the rota, which has helped minimise the disruption and kept future plans on track.
For the local businesses, hotels, restaurants and shops in Sandwich, the decision for The Open to return in 2021 came as a huge relief, and the club itself is relishing the opportunity to welcome back the world's best golfers for the first time since 2011.
"There was a degree of nervousness as to whether we'd miss our slot," admits Tim Checketts, secretary and general manager at Royal St George's Golf Club.
"You couldn't have had the 150th Open at St Andrews without having the 149th first, so I think we were saved by that. That was our argument!
"The R&A was keen to bring it back here; they'd put a huge amount of investment into the communications and engagement with the local authorities and the local population, from the station platform plan to all the other areas in which they invest for an Open. I think they were keen to see the benefits of it.
"It's been a challenge. I see us a bit like an aircraft carrier in that we enable everything to fly off the deck and work; we provide the life support underneath. We've all been doing that in a controlled, Covid-safe manner.
"It's been different and unique, and everyone who's been here on a job has been fed through the Covid process, but it's been done safely and the response from everyone and our membership has been fantastic."
The rapid roll-out of the vaccine programme since the start of the year gave The R&A growing confidence that The Open would be able to welcome a "significant number of fans", and that number will be 32,000 per day.
Having The Open back in its customary July slot is cause for celebration among golfers – last season was not the same without it.
And come the time that first shot gets struck, we should all say a little thank you to Cole-Hamilton and his team.
Michael has been with Golf Monthly since 2008. As a multimedia journalist, he has also worked for The Football Association, where he created content to support the men's European Championships, The FA Cup, London 2012, and FA Women's Super League. As content editor at Foremost Golf, Michael worked closely with golf's biggest equipment manufacturers, and has developed an in-depth knowledge of this side of the industry. He's now a regular contributor, covering instruction, equipment and feature content. Michael has interviewed many of the game's biggest stars, including six world number ones, and has attended and reported on many Major Championships and Ryder Cups. He's a member of Formby Golf Club.