7 golf mental tips to master The Open
Phil Mickelson's sports psychologist shares his best golf mental tips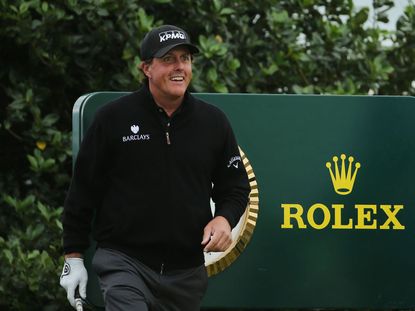 (Image credit: Getty Images)
Sports psychologist Dr Michael Lardon, the man Phil Mickelson credits for his Open win, shares his best golf mental tips
Ahead of The Open at St Andrews, Dr Michael Lardon, technology company Game Golf's resident sports psychologist and mind guru for a host of players including Phil Mickelson, has shared his best golf mental tips.
During an interview with 888sport he covered a number of topics, including handling the adrenaline when you're in contention and coping when your playing partner is having a nightmare round.
Here are his top golf mental tips in his own words...
1 - Prepare for adversity
St Andrews is so much about the weather that you could end up playing 20 different golf courses, so you have to prepare for that. There is a saying – 'life is 10 per cent what happens to you and 90 per cent how you deal with' – and if there is one sure thing in a major it's that you will hit a great shot and get a bad lie. If you end up in one of those coffin bunkers take your medicine. You're going to get burned sometimes and how you react to those things is critical. You have to remain cool, calm and collected, because you will be facing adversities.
2 - Recover from a poor start
We have the choice to think in certain ways. Let me use one of my students Phil Mickelson as an example. If he bogeys the first, one of his sayings is "well that usually means I'm going to have a good round". I don't know statistically if that's true, but if he thinks it's true I love it. Another great thing Phil says is, "I don't worry if I make a bogey here and there because I always make five or six birdies," and that's a great way to think about it.
3 - Kick on from a great start
Let's look at the flip-side where you get off to a fast start. You don't want to think "well that must mean a bogey is due" or start to feel the pressure. You have to be adaptive and think "today I'm in the zone so I'm going to burn through everything". This is the highest level and those guys are coming after you, so you have to put every birdie in the bank you can as you're going to need it later. You can't get comfortable until you're having a beer at the 19th.
4 - Master your bogey hole
Struggling on a particular hole? Spend some time on it before your round or tournament. When Phil won The Open in 2013 he had gone out to the 17th and practiced firing those 3-woods in there and making the putt from the front to the back of the green. So when the day came he was more comfortable. I say to the players, "let's make this hole our girlfriend, let's have some fun with it" rather than building it up as an ominous bad thing.
5 - Worrying about losing ground on the field
Let's say the stroke average of a short par 4 is 3.6. You may be thinking "if I make par I lose half a stroke to the field", but you can't think like that because it's a waste of energy and not adaptive. Your job out there is to execute golf shots and what I care about is the 30 seconds where you think very carefully about the shot you're about to hit. Take a moment – and this is what amateurs don't do - to really create the shot. Whether that is seeing it or feeling it. We don't want to just go in there and swing. We want to have some intention.
6 - Dealing with a playing partner's nightmare round
At Chambers Bay Rickie Fowler and Louis Oosthuizen were playing with Tiger Woods and they all shot a million and it cost Louis the US Open. Rickie grew up idolising Tiger and now he's playing with him and Tiger is playing bad. It's easy to get pulled into that vortex. You need to say things to yourself proactively such as "that's his thing today, I'm sorry for him but that's not my job right now. My job is execution, staying in my bubble, and doing my pre-shot routine" and take your time. Just like with bad weather when you make sure your grip is dry and double-check things.
7 - Using adrenaline when in the hunt
When I start with somebody I ask them similar questions about being in contention, and there are two attitudes normally. The right attitude is "well this is what I play for. I came here to be in contention on the Sunday on the back nine…how much fun is this?!"
Not everyone is like that though, and some can feel overwhelmed. If that's the case we need to prepare for it. They're going to feel nervous because they're supposed to feel nervous. That's a good thing. It increases adrenaline and they will hit a little further. Their caddy and the player needs to factor that in and maybe club down and then just embrace it. Let's have some fun with the pressure. Let's us it to perform better, rather than see it as oppressive.
Jake O'Reilly specilaises in equipment coverage, and joined the Golf Monthly team in 2013. Before this he graduated from the University of Huddersfield with a Sports Journalism and Media degree, and worked at a number of British golf magazines. Follow Jake on Twitter
@jake0reilly