Do You Play To Your Strengths?
Mental coach Duncan McCarthy discusses the importance of identifying what type of golfer you are and playing to those strengths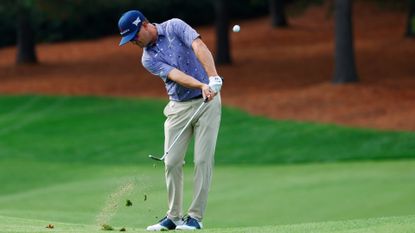 (Image credit: Getty Images)
How do you want to play the game? Do you want to be the aggressive golfer who goes for everything? If so make sure that your acceptance levels are high as you're going to leave yourself short-sided a lot of the time and there will be a lot of pressure on your chipping? And start to understand that, by leaving yourself some hard chips, you're not going to be chipping it close so you have a lot of 8-15 foot putts. On the upside you should have a lot of birdie opportunities too.
Or do you look at it and think that approach is a bit stressful and you'd prefer a more steady game? If so, spend a bit of time with the wedges? If you're a plodder and you're missing it in the right spots, then you should be chipping it closer so get really good from six feet and in.
Some of this comes down to skill but also self-discipline and how much you want to re-invent that self image. If you want to go for everything but only drive it 250 yards then there will be certain limitations with that. But we all want some level of excitement and fulfilment from playing and we want to be in the mix, in competitions or playing with our mates, so we need to find the best way of achieving this.
We hear this a lot but there is more than one way to get into that position. Look at Zach Johnson who has won two Majors and has really maximised his potential with a deadly wedge game. Similarly Phil Mickelson, who also has a spectacular short game, plays the sport in a very different way but they have both maximised the way that they play the game.
Identify which way you want to do it and then get really good at it. If you finish across the line first, then there's there's your icing on the cake. If you don't, at least you will have felt alive.
Our personalities drive a lot of this. If we're satisfied doing things safely, then keep doing it. If not, then have a bit of a rip at it. Look at it that way rather than at least I'm not messing up – that's the slight divide to trying to play great and playing to not play bad.
Tour pros have great clarity at what they're good at and what they're not so good at. They play to their strengths on the course and their decision making when to play a certain shot is a little bit sharper than the plus-handicap player at your club.
That's down to them playing more regularly but being smart with your decision making is a collection of different areas in terms of distance control, knowing when to go for something or when to take your foot off the gas. We play the game every week but how many of us have anything written down about how far each club goes?
It's about not playing golf with a bit of an ego and going for the par 5s in two – often you don't need to go for shots and you should always play the golf that's going to give you the best opportunity of scoring well.
People label it boring but 10 feet and in on the greens is a great stat and often it's this sort of gain that's going to really help you. I did this with one of my players last year and we worked out that if he was one shot better every round then, over five starts on the DP World Tour, he would have earned just under £2m more.
Duncan McCarthy is a mental coach who works with golfers across all tours including Marcus Armitage, Erik van Rooyen and Women's Open winner Ashleigh Buhai.
He passionately believes that his job as a mental coach is to take individuals and teams to new levels of performance and achievement. His obsession with achieving peak performance led him through his academic period through university to where he is today, working and succeeding with his clients. He pulls together over 20 years of coaching and 15 years of coaching professional level athletes to give an unquestionable and proven track record of expertise with every client.

Away from his role, Duncan still plays to a high standard himself, a former professional now playing off +2 and loves spending time with his two boys and wife.