I Tracked Every Shot Tiger Woods Hit To Warm Up - Here's What You Can Learn
I was at the 2023 Genesis Invitational for Tiger's latest comeback and was inspired by his pre-round preparation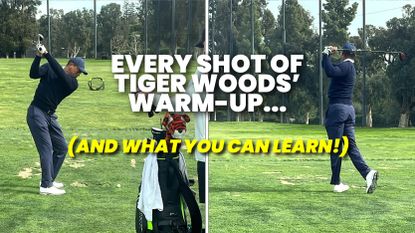 (Image credit: Andrew Wright)
There are many things tour players do that amateurs don't, but among them, warming up properly could be the most important.
If it's not you, you probably know at least a few people who pitch up to the club five minutes before their tee time and head straight to the first with zero prep.
With that in mind, I followed Tiger Woods inside the ropes at Riviera on his latest return to pro golf at the Genesis Invitational and tracked every shot he hit before he started his first round.
This is a man who's had his body pieced back together countless times and who is lucky to still have two legs, so he obviously can't put in the reps he would have even five years ago in the midst of his persistent back problems, and is certainly incapable of tackling his unbelievable former daily routine.
Yet he still warms up better and more efficiently than most healthy and injury-free golfers. Woods was due to tee off at 12.04pm local time, and given his laundry list of physical ailments, I expected him to arrive promptly, so I made my way down the hill shortly after 10am to ensure I didn't miss a shot. I was waiting a while.
At 11.17am, 47 minutes before he would start his first competitive round since the 150th Open in July of 2022, the 15-time Major champion sauntered over to the short game area to join playing partners Rory McIlroy and Justin Thomas. Here is what I saw next and the lessons I learned.
11.19am
Woods begins at 11.19am by spending 10 minutes at the short game area, starting with some chips before moving into the rough and the bunker. In total, he hits 35 shots and appears very relaxed, chatting to caddie Joe LaCava as well as McIlroy and Thomas. Here's how he broke it down:
17 chips from closely mown grass to a range of targets at varying distances
10 greenside shots from the rough - a mixture of chips and flop shots
8 bunker shots from various lies to various targets
11.29am
Woods then makes his way over to his designated spot on the range and works through the bag, starting with his wedges and short irons. In total, he hits 20 shots here in six minutes. Check out the video below to see his silky smooth tempo.
10 shots (wedge), upping the distance gradually
10 shots (8 or 9-iron)
11.35am
The 47-year-old then moves onto the mid and long irons, swinging with more vigour and reducing the reps. He hits just eight shots at this phase and shows a couple of signs that he is struggling a little with his ankle. In the video, however, he absolutely flushes one.
5 shots (5 or 6-iron)
3 shots (3-iron)
11.38am
Three minutes later, it's time to hit some woods. At the Genesis Invitational, Woods opted to sacrifice a wedge to carry a 5- and 3-wood. Again, he doesn't hit many and again, he doesn't hit them particularly well. I start (foolishly) to get concerned at this point. Below he hits a pretty ropey hook which induces a gasp from the packed gallery in attendance.
3 shots (5-wood)
5 shots (3-wood)
11.43am
With his tee time fast approaching, Woods takes out the driver next to put his body to the test. He seems more comfortable with the big stick than with his woods (a sign of what was to come) which is reassuring.
5 shots (driver) - cuts only and swinging at around 85%
11.46am
Most golfers would end their range session here but not Woods. Having worked up through the bag, he goes back to the short clubs.
3 shots (8 or 9-iron)
5 shots (wedge)
4 chips
4 flop shots
11.48am
Before making the walk up the hill towards the putting green, Woods hits two final shots, presumably in preparation for what he might hit off the first tee in less than 20 minutes.
1 shot (driver)
1 shot (3-wood)
11.59am
Woods gets to the putting green with five minutes to spare and hits a handful of putts from short, mid and long range. It's impossible to track his exact routine at this point as the place is mobbed with fans desperate for a glimpse of the sporting icon.
Totals
In total, Woods hit 94 shots in roughly 31 minutes, which might sound like a lot, but the majority were with an 8-iron and below. Here's how he broke it down:
Chips/bunker shots - 43
Wedge/short iron shots - 28
Mid/long irons - 8
Woods/drivers - 15
Total - 94
Takeaways
There are many lessons I took away from Tiger's warm-up that day that would help most amateurs, myself included. The first was that he focused primarily on shots from 150 yards and in. In fact, that made up more than 75% of his range session. In my experience, golfers who do hit balls before playing tend to massively prioritise the long game.
Next, he appeared mega relaxed. He admitted after the round he was nervous to get going and throughout the round, but he didn't show it and certainly didn't put any extra pressure on himself as he warmed up. He was swinging smoothly and chatting between every few shots.
Perhaps most importantly, he also put little to no stock into the bad shots he hit, and there were a few. In all honesty, I expected him to struggle after what I saw, particularly with the long clubs given his injuries, but he was able to forget about it when it was go time and actually put on a bit of a long-game clinic.
Contrast that with amateurs, many of whom will lose confidence completely if they clip a few bad shots and start to micro analyse their swing. It's something I'm guilty of too, but going forward I'm going to endeavour to remember that it's just a warm up and treat it as such.
The final thing Woods did before leaving the range was to prepare for his first tee shot so it was fresh in his mind when the time came. Whether that means reaching for the driver one last time or preparing for a tricky par-3 opener, it's such a simple habit to ingrain and is a great way to minimise the first tee nerves that we all feel.
Granted, the majority of us aren't competing in front of thousands on the biggest stage, but if it's good enough for one of the greatest champions of our game, it's good enough for the rest of us.
A lifelong golf fan, Andy graduated in 2019 with a degree in Sports Journalism and got his first role in the industry as the Instruction Editor for National Club Golfer. From there, he went on to enjoy a spell freelancing for Stats Perform producing football reports, and then for RacingNews365 covering Formula 1. However, he couldn't turn down the opportunity to get back into the sport he grew up watching and playing and now covers a mixture of equipment, instruction and news for Golf Monthly's website and print title.
Andy took up the game at the age of seven and even harboured ambitions of a career in the professional ranks for a spell. That didn't pan out, but he still enjoys his weekend golf at Royal Troon and holds a scratch handicap. As a side note, he's made five holes-in-one and could quite possibly be Retief Goosen's biggest fan.
As well as the above, some of Andy's work has featured on websites such as goal.com, dailyrecord.co.uk, and theopen.com.
What's in Andy's bag?
Driver: Callaway Mavrik Sub-Zero (9°)
3-wood: TaylorMade M1 (15°)
Driving iron: Titleist U500 (17°)
Irons: Callaway Apex Pro '19 (4-PW)
Wedges: Titleist Vokey SM9 (50°, 54° and 58°)
Putter: Titleist Scotty Cameron Newport 2.5
Ball: Titleist Pro V1