LA Golf Bel-Air Putter Review
Martin Hopley goes west to meet the LA Golf Bel-Air putter and analyse the performance on offer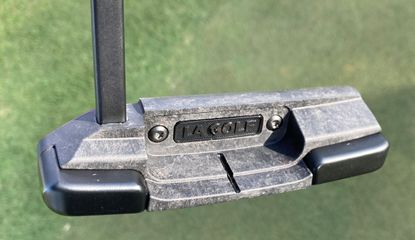 (Image credit: MHopley)
The LA Golf Bel-Air putter brings carbon technology to the head and shaft to create a very high MOI putter. DLT face insert using the previous SIK technology creates a lovely roll and LA Golf's innovative shaft delivers a very well balanced putter.
Reasons to buy
+

High MOI design

+

Very well balanced shaft

+

Variable loft DLT face
Reasons to avoid
-

Carbon look may not appeal to all
Why you can trust Golf Monthly Our expert reviewers spend hours testing and comparing products and services so you can choose the best for you. Find out more about how we test.
LA Golf Bel-Air Putter Review
The LA Golf Bel-Air putter is the first putter from this relatively new brand to golf, but it has come a long way in a short time. LA Golf is better known in its short history for creating specialist shafts for its partner players, namely Dustin Johnson, Bryson DeChambeau and Michelle Wie West who all have a stake in the business.
It also bought SIK Golf putters and the Descending Loft Technology (DLT) that you also see licensed to Cobra Golf putters is now owned by LA Golf. Going forward SIK putters are no more and the DLT on the face is now being marketed in a new range of LA Golf putters, of which the Bel-Air blade putter is one of the first two models.
On the DLT face the loft decreases from 4° at the top to 1° at the bottom so that however you deliver the club head, whether hitting down or up, the ball should leave with 1.5° launch to create more consistency. This is a great feature and even if it is hard to tell the launch off a putter, the better roll is noticeable.
The 303 steel face insert with the DLT sits on an all carbon head that is made by injection moulding. Carbon is five times less dense than steel so this means LA Golf can maximise the perimeter weighting by putting two tungsten weights in the heel and toe. The result of this is that they can position the CG exactly where they want it and with an MOI of over 6700 g/cm2, this is a very stable putter.
Having so much carbon on the head does make it sound a little more hollow at impact as the material resonates differently to steel, but the feel from the steel insert was very good. There is also the visual contrast on the oversized blade style head of the matte grey carbon against the darker steel sections to emphasise the different materials on offer.
However the technology does not stop there. Being shaft people, LA Golf has come up with the P-Series 135 putter shaft to go with this head. It combines a steel core with carbon wrapped around it, which makes it very stiff with low torque. This make up is different to most other composite putter shafts and the aim of this is to create more stability at impact than a steel shaft.
When in the Bel-Air putter the whole club does feel on the light side, but in testing I found it to be one of the most balanced and forgiving putters I have tried. This is due in no small part to the shaft and with that retailing at $400 alone, then the price of the Bel-Air putter at $499 seems a bargain.
If that is not pricey enough for you, then for another $100 more there is also a Bel-Air X version (below) which is the same shape putter, but milled out of a single block of forged carbon. It has more of a camo style appearance to it and the forged carbon head gives even better feel, so if you can stretch to the X version then I would do so.
For a new company, LA Golf has come to the market with the completely new Bel-Air putter based on a unique DLT face technology, carbon head design and a hi-tech shaft, which is not only good to see, but also excellent to putt with.
Martin Hopley is one of the foremost UK equipment reviewers with over 20 years' experience. As the former founder of Golfalot.com he was an early pioneer of online reviews and has also been a regular contributor to other titles. He is renowned for his technical knowledge and in-depth analysis, which he now brings to Golf Monthly.