Greenside Golf The Money Bag Review
Mike Bailey checks out The Money Bag from Greenside Golf, which can be used both as a carry bag and a cart bag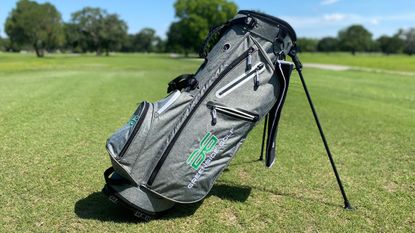 (Image credit: Mike Bailey)
This budget-friendly stand bag from Greenside Golf delivers most of the features found on more expensive offerings. It's comfortable, practical and versatile - plus it looks the part too.
Reasons to buy
+

Good value

+

Very versatile

+

Comfortable to carry

+

Lot of pockets and space
Reasons to avoid
-

No magnetic rangefinder pocket for those who like to carry
Greenside Golf The Money Bag Review
Greenside Golf's motto is "By Golfers for Golfers." For Bill Brannigan and his son-in-law Bobby O'Byrne, who purchased the company in early 2022, it's simply a reflection of their love for golf. Brannigan and O'Byrne, the latter of whom moved to Kentucky from Ireland 15 years ago, are typical avid golfers who just decided to get into the golf business.
"He outdrives me most of the time, but I still score better - and I keep the pencil," he said with a laugh. To that end, among their products (which also includes a push cart) is "The Money Bag," a value-priced stand bag that Brannigan said "exemplifies what we are trying to do."
In short, the claim is that this bag is money well-spent. For $189.99 suggested retail, a golfer can get most of, if not all, the features found in the best golf stand bags. How The Money Bag compares with the best bags in the market can certainly be subjective, but what we can say is that this bag does everything it claims to do.
There are six large waterproof zippered pockets, an umbrella holder, a cooler pocket for drinks, a non zippered pocket for a water bottle positioned nicely for when you carry, a dual strap, and a carbon-fiber stand with "easy lay" technology legs. It's also a nice-looking bag, one that fits in well at the country club or municipal golf scene. And it's made of a lightweight, waterproof fabric. Though we didn't get to test this in heavy rain, it does seem to repel the elements quite well.
Also included is a large rain hood that is easy to maneuver. The pockets include two lined valuables pouches, which give you some nice options for your cell phone, keys, wallet and anything else you want to protect. The cooler pocket is located on the front of the bag in the bottom and it has a drainage hole, so yes, you could put ice in there.
You could also use one of those valuables pouches for a rangefinder or GPS device, but because there are zippers, it isn't easy to access quickly if you're walking. It's a minor inconvenience to be sure, considering the price, but a magnetic pocket would be a useful feature.
More importantly, The Money Bag worked well in every application. As a carry bag, I found it to be as comfortable as most bags on the market, with a strap system that's fairly easy to adjust and fit well. The legs spring out nicely when the bag is set on the ground. It's also just 4 1/2 pounds, so if you don't carry three dozen balls and more than 14 clubs, it's pretty easy to manage.
With a flat bottom, it worked equally well as a cart bag on a push cart or the back of a powered cart. There isn't a strap pass-through under the pockets, but only a couple of other brands offer that anyway, so it's really not that big a deal (though I would want that feature on a more expensive brand).
The Money Bag I tested has a six-way top, but Greenside Golf also offers the same bag with 14 slots. I personally don't think a bag needs more than a five-way divider, but six is just fine. For me, 14 individual slots are just too confusing when I'm on the course. But that's just me. Some folks love the individual dividers for all their clubs, and it's nice that Greenside offers it as an option.
The Money Bag also comes in three different color schemes: Heather Gray, Cayenne Black, and White.
Mike has worked in the golf industry for nearly 30 years with full-time staff positions at publications and websites that include PGA Magazine, the Golfweek Group, and GolfChannel.com. He is currently writing for several different sites and magazines and serves as a contributing equipment writer for Golf Monthly, focusing on irons, shoes and the occasional training aid or piece of technical equipment.
Mike has experienced a number of highlights in his career, including covering several Ryder Cups and PGA Championships, writing instruction pieces and documenting the best places for golf travel for more than a decade.
Mike carries a 7.6 handicap index and has two hole-in-ones, the most recent coming in February 2022. A resident of Texas for more than 40 years, Mike plays out of Memorial Park Golf Course (home of the Houston Open on the PGA Tour).