WATCH: Xander Schauffele Almost Makes Hole-In-One Blindfolded
Xander Schauffele took on a short par three blindfolded, and almost made a hole-in-one before settling for an impressive birdie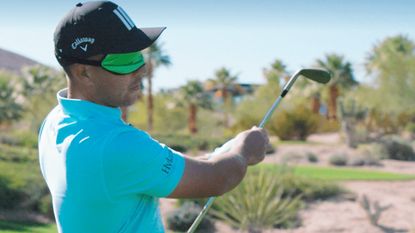 (Image credit: Hyland)
Xander Schauffele shows just how talented the top PGA Tour golfers are these days with what would be a regulation birdie on a short par three – but for the fact he was blindfolded!
Golfers are always involved in commercial and sponsorship activity, but from time to time a genuinely eye-opening (pardon the pun) one pops up, and this is one of those.
Seven-time PGA Tour winner and Olympic champion Schauffele was put to task in the Hyland X Vision Challenge by one of his sponsors, and he responded in style.
Schauffele took on the short par three twice, both times blindfolded, but first time without any help at all and second time around with guidance from his dad and coach Stefan and his caddie Austin.
As you'll see in the video from Hyland, Schauffele still does pretty well in all honesty even without help, as many of use would not even make contact with the ball while blindfolded.
What's even more impressive is his second effort, which despite not being able to see anything, Schauffele almost goes and holes it from 105 yards out!
Schauffele does a little better, belting his first tee shot miles right and off onto a road, with the reload getting up there but finding the bunker.
The sand proved incredibly problematic, even just getting into the trap was pretty funny with Schauffele, still blindfolded, panicking about getting into the bunker and then unsurprisingly struggling to get out.
There can't be much harder tasks than trying to get out of a bunker while blindfolded – and after some more struggles on the green then the group finally gave up after Schauffele missed a putt for a nine.
As is the message of the video though, teamwork makes the dream work, and when Schauffele was given pointers in terms of set-up, yardage and direction then he produced a moment of sheer magic.
"I knew where I was aiming, I knew my club face was good and I was set-up correctly, arguably better than with my eyes open as we usually don't have anyone checking where we're aiming," Schauffele said after hitting his tee shot, which very nearly went in for an ace.
A hole-in-one blindfolded would've been something special, but a birdie without using your eyes is still a mightily impressive score to make.
Paul Higham is a sports journalist with over 20 years of experience in covering most major sporting events for both Sky Sports and BBC Sport. He is currently freelance and covers the golf majors on the BBC Sport website. Highlights over the years include covering that epic Monday finish in the Ryder Cup at Celtic Manor and watching Rory McIlroy produce one of the most dominant Major wins at the 2011 US Open at Congressional. He also writes betting previews and still feels strangely proud of backing Danny Willett when he won the Masters in 2016 - Willett also praised his putting stroke during a media event before the Open at Hoylake. Favourite interviews he's conducted have been with McIlroy, Paul McGinley, Thomas Bjorn, Rickie Fowler and the enigma that is Victor Dubuisson. A big fan of watching any golf from any tour, sadly he spends more time writing about golf than playing these days with two young children, and as a big fair weather golfer claims playing in shorts is worth at least five shots. Being from Liverpool he loves the likes of Hoylake, Birkdale and the stretch of tracks along England's Golf Coast, but would say his favourite courses played are Kingsbarns and Portrush.