Stricker Says Koepka And DeChambeau Rivalry "Not Going To Be An Issue" At Ryder Cup
Steve Stricker doesn't expect any animosity between Bryson DeChambeau and Brooks Koepka at the Ryder Cup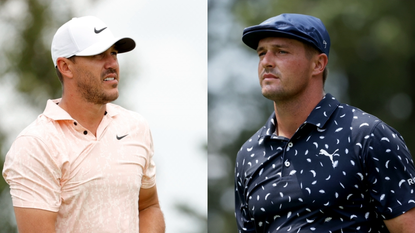 (Image credit: Getty Images)
Steve Stricker doesn't expect any animosity between Bryson DeChambeau and Brooks Koepka at the Ryder Cup
Stricker Says Koepka And DeChambeau Rivalry "Not Going To Be An Issue" At Ryder Cup
United States Ryder Cup captain Steve Stricker has told Sports Illustrated that the ongoing feud between Bryson DeChambeau and Brooks Koepka isn't a concern ahead of the Ryder Cup in September
Stricker has made it clear to both players that he won't tolerate their rivalry when the United States host Europe at Whistling Straits next month.
After DeChambeau and Koepka both qualified automatically for the United States Ryder Cup team, Stricker phoned each player to ensure they settle their differences for the benefit of the team.
"They assured me that the team and the country and everything else that goes into this is their [top priority]," Stricker said.
"They said it's not going to be an issue, and I believe them.
"As far as I'm concerned, it's been put to bed."
The pair have publicly argued throughout the season, largely on social media, though there are instances in interviews where they have shown their displeasure for one another.
Despite this, Stricker points out that the feud has settled in recent months, as both players understand Ryder Cup victory is more important than trying to one-up each other.
"We haven't heard Brooks say anything about Bryson lately," Stricker said.
"This Ryder Cup means a lot to these guys.
"Neither one wants to be the root of a problem, they both understand."
However, while DeChambeau and Koepka will put their differences aside at the Ryder Cup for the good of the United States team, it is unlikely that Stricker will pair them together for one of the fourball sessions.
"I'm not going to tell you there's no chance," Stricker said about the possibility, "but I don't see it happening, no.
"I don't think they want to play together."
Paul Azinger, the US Team captain from 2008, has indicated Stricker's desperation for the pair to get along at the match play weekend, suggesting their personalities could either make or break the team's chance at victory.
"I talked to Strick for about 25 minutes last week, and we spent about half that time discussing Brooks and Bryson," Azinger said.
"There's a chance those two guys could create the greatest rallying cry ever — or the whole thing could become a total pain in the ass."
2018 captain Jim Furyk, who is one of Stricker's three assistants this time around, has also weighed in on the debate.
"Personally, I don't see it as being an issue," Furyk said.
"I think it's kind of funny, to be quite honest with you.
"I love all the chatter, love all the noise, love all the crap going on outside."
Ryan has worked as a junior staff writer for Golf Monthly since 2021.