Q&A Oliver Fisher
As promised in the February edition of Golf Monthly (available at newsstands now!), a full transcript of our interview with the European Tour's latest sensation.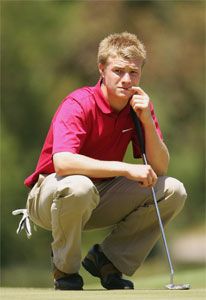 Golf Monthly Newsletter
Golf tips and expert instruction, golf club reviews and the latest golf equipment.
Thank you for signing up to Golf Monthly. You will receive a verification email shortly.
There was a problem. Please refresh the page and try again.
The Q-School, turning pro and signing for IMG and Nike ? November was a dramatic month for you!
In the end it all worked out perfectly. I played the Einsenhower in South Africa, which was actually a really nice way to finish (with the amateur game) ? I played well there. Then I had a busy schedule to get back to the second stage (Q School) in Jerez and played nicely there to get through. Then at San Roque I just started really well.
The rest followed really. I have already got a top team around me, my coach, my pyscologist, my family and to add IMG and Nike is just brilliant.
Was it always the plan to turn professional after the Q School?
Well, obviously the decision to turn pro after Q-School wasn?t really a decision in the end ? that all worked out perfectly. I mean it was the plan to be honest, obviously if you got to Q-School you are trying to get where I got to. I am thrilled ? it would have been a lot harder for me if I hadn?t got into the top 30. In fact, I am just really pleased with the way the last nine months have gone, with the amateur golf I have had a nice run in and had some good results and I am happy with the way I left that. I feel like I have achieved as much as I can achieve in the amateur game.
Nike has a great stable of talent, both established and emerging ? was it that which prompted you to sign with them?
It?s perfect to be signing with Nike to be honest ? I have played their clubs for the last three years and to go through from an amateur to a professional with the same golf clubs, keeping everything the same is really important for me.
What have you got in your bag now?
At the moment I have got the SQ Driver and the SQ 3-woodand 2-iron and then 3-iron to PW in blades and then a couple of SQ wedges and I am using a Zen putter.
Are you worried about the jump from the amateur game to the professional game and do you have any special plans to deal with these?
I think the main thing for me is to keep working hard, keep the team I have got around me. Do what I do best and that is playing golf. I think the other thing strangely is that I will get more time to work on my game. With amateur golf you are often playing 36 holes a day, no time to practice at all and then you have to do what your team does - which, don?t get me wrong is great, you have a good laugh. But now I can structure my schedule how I choose - I can play one round a day and use the time before and after to work on my game. I think I am going to be able to structure my life a lot better and the way I work at my game a lot better.
Otherwise I don?t want to change too much - I won?t suddenly start traveling with my coach because I didn?t when I played amateur tournaments so there is no point starting now. I speak to my coach when I am back home and we work on the game and make sure that I am swinging it well and we see what we need to work. The relationships I have with my team is great and I am not going to change it.
How do you feel about lining up with the likes of Els, Goosen and Casey next season?
I do get asked how am I going to feel when standing on the range next Ernie Els and others and am I going to be intimidated? Well no, yeah you are like wow that?s Ernie Els and you are standing next to him competing in the same tournament but I think the biggest thing I can do is learn from them guys and feed off them and learn why they are so good because that?s what I want to be I want to be, as good as those guys.
I wouldn?t say my ambition is to be playing with these guys, I mean don?t get me wrong it?s a dream come true to play with them but I want to go out and succeed and play good golf.
I have also already got some mates playing - you got all the guys from Challenge Tour, you got Gary Lockerbie, Matt Richardson has just qualified and Simon Khan is out there and others. Teeing up in that first event is going to be pretty special. But you know I played junior golf and progressed through that and I played amateur golf and started at the bottom there and progressed through there and now I have got my European Tour card and its just a case of keeping progressing.
Do you feel you are well prepared for what lies ahead?
I think my whole career will stand me in good stead ? I think all the advice I have got from players and friends and things I have picked up myself will help me next year.
It?s been great to have someone like Nick Faldo to speak to and I played a bit with Paul Casey this year ? speaking to someone who is of the same generation and right at the top of his game is fantastic and he has given me some really, really good advice, which I have listened to and I am going to take it on board and work on that.
Simon Khan lives ten minutes up the road from me and that?s helpful ? he sent me a text just now and that sort of thing is great.
It?s no secret that you and Faldo are close and he is a big admirer of yours ? looking for a wild card in 2008?
2008 is a long way ahead ? I can only control the present. I am going to focus on me ? all these guys out there are very, very good players and the standard is so much higher than in amateur golf. I think the top amateurs can go and compete but the thing is you have to go and compete the whole tme to be a good player. I mean you watch Tiger Woods and he wins practically every time he tees it up, its like Roger Federer in tennis and Michael Schumacher.
Tiger makes no bones about the fact that he runs his schedule around his needs, what are your playing plans?
You hear a lot of people say don?t play too much but you got to play it by ear a little bit. I mean I have never done it before so I got to go and see how I get on. If I am playing well then I can start to plan my year a little better. I have just got the Tour card so main thing is to go and play well and keep my card. The way I look at it I am starting out so lots of good things to look forward to. I think it?s important to stay in control.
Any ideas about how you are going to achieve this?
Golf is a game at the end of the day and its one I enjoy. You never know what its going to throw at you each time you go out, all you can do is prepare as best you can. I met Jack Nicklaus once at St Andrews and I just asked him what would be the best bit of advice you could give me and all he said was just hit the shots you want to hit ? it sounds so simply but its so true you know. You are never going to play good golf unless you hit it where you want to hit it.
Fast-forward a year ? what do you want to have achieved?
There are lots of things I want to have achieved this time in a year ? I want to keep my card and a lot more besides but you can?t really say too much can you? But if I sit here in a year and say right I have learnt a lot about myself and a lot about my game and I have improved then I will be really happy.
The leading website from the world's oldest golf magazine, we're the go-to destination for amateur and keen golfers alike who are keen to up their golfing game. As well as expert course reviews, news and tips to improve your handicap our golf-focused travel content will help you pair teeing off with your travels in some of the best destinations around the globe.