On the spot: Richard Boxall
Former European Tour winner and Sky Sports' man on the mic opens up on life in the commentary box, new technology and his aversion to the gym. Read on for a full transcript of the interview running in GM's June edition.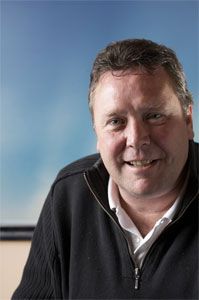 Golf Monthly Newsletter
Golf tips and expert instruction, golf club reviews and the latest golf equipment.
Thank you for signing up to . You will receive a verification email shortly.
There was a problem. Please refresh the page and try again.
How does this year compare to last ? has much changed at Sky Sports?
I?m probably doing a bit more now in the commentary box with Ewen [Murray] and Bruce [Critchley] than I?m doing on the course. From a pro?s perspective, having played the Tour for 18 years, I think it?s easier to be on the course. You just have a yardage book and a pencil and off you go; you are talking about it as if you?re a pro hitting the shot. In the commentary box you need to keep it going a bit more and timing is essential, sometimes you can start off with something and then realise you have no idea what you are saying. So, if you have nothing to say, just shut up.
I like working with everyone here. We have a new programme called Golf Night. We will do a few more interviews, trick shots and what?s in the bag etc, to make it all a bit more interesting. So everyone all round is working that bit harder.
How was the transition from player to commentator?
At first it was embarrassing. I don?t think people took me seriously and then you are always going to upset some people. You do sit on the fence to start with and as time goes by you gradually come off it. Occasionally I will eat with some players but they have ironing board stomachs, and we?re all ironing our shirts on a wok. You can?t blame them ? they?re playing for a lot of money. Sometimes I?ll eat with Darren Clarke and Lee Westwood, blokes I?ve known through the same management company. You have to fit into their time, as they?re certainly not going to fit into yours.
Also, for about five years, I still wanted to play. I think it takes that long to get it out of your system. For the last three years, I haven?t been that keen. Because when you go out and play, you can?t do it like you used to, as you don?t practice.
What?s been the highlight so far?
I enjoy it all. Over the years, with World of Golf, we?ve done some ridiculous things that you probably wouldn?t do now. The great thing is it?s all been a real laugh. Playing a sport for a living is the best thing you can do. But the next best thing is commentating on and chatting about it. What I have really noticed is the change in technology from when I played eight years ago. I?ve struggled a bit with getting the clubs right. I?ll think they?ll be hitting a 7-iron when they?ve actually hit a 9-iron. The difference really is massive. I?ve gone along with it, but not in terms of playing ? I?ve not hit the new driver with the new shaft, or the new ball, because I?ve not been playing in any events. When you see people pitching it 320 yards, you think, ?Christ! They used to play par fours that long.?
So how does a typical week at a Tour event pan out?
It depends how nice the producer is and whether he wants me to go on a Tuesday or Wednesday. If you?re doing on-course commentating, you need to go and have a look at the course, speak to players, check the greens and have a few putts. If you?re on air at 10am, you get there at 8.30am. It?s a little bit like playing the Tour. If you?re in the commentary box, it?s pretty much the same but on the Wednesday night you will do a bit of homework on the players. I?m there more for colour, but I always make a few notes because if something goes wrong, a thunderstorm say, you need something to fall back on.
What?s your view on the European Tour?s state of health?
It?s very healthy. When I first started in 1982, you literally had six months off. Now you can virtually play on Christmas Day, and then start again on Boxing Day. Ken Schofield [former executive director of the European Tour] did a great job. His aim was to get 51 weeks in a year, and he just about got that. Prize money has gone up ? Tiger Woods has got something to do with that. When I first started, the total season?s prize money was £1.3 million, now that?s a single tournament. It?s moved on a hell of a lot in 25 years.
What do you think of the loyalty of players to the European Tour?
I can?t blame them for going to America. There?s a lot of money there. Players want to get into the World Championship events. That?s what they need to get into the top 50 in the world rankings. But if you are a good player, and you can?t quite get into the top 50, you can still make a very good living in Europe. If you do win a tournament or two, you?ll get in the top 50 and that will be you up and running.
Which player will make a breakthrough at a Major this year?
The likes of Paul Casey and Luke Donald, who?s had his chances but not done it yet, are good bets. I also fancy David Howell. Lee Westwood and Darren Clarke could still do it, but the longer you leave it, the harder it is. You only need to chat to Monty for that. Stenson is one more. Garcia can do it. He?s a brilliant striker of the ball, but he doesn?t hole out from 10ft and under as well as he should. Trevor Immelman can win a Major. I remember playing with Garcia and Immelman in Bordeaux. Immelman was definitely the better player then, but they went in totally different directions. Immelman had to go on the Challenge Tour and Garcia the other way. But I always thought Immelman was the better ball striker and player in those days. Now, they are pretty much even. But the way it is at the moment, you?d have to say Immelman has a better chance than Garcia of winning a Major.
What do you think about the R&A and USGA proposals for grooves?
I don?t think the grooves are a problem. I think you just need to shape the fairways a bit more, make the greens harder and grow the rough thicker. Make it a premium to hit the fairway. Make it all about accuracy. Belt the driver as far as you want, as long as you can move it left to right and right to left to the end.
What?s been your funniest moment in the commentary box?
I was doing a commentary with Andrew Castle at the Vines Classic in Perth; Nick O?Hern had just missed the green on the left at the par-3 8th, and went to play his next shot from near an advertising board. I said, ?That?s interesting. Nick O?Hern?s playing this left-handed, so that he can get a drop.? Andrew said, ?That?s because he is left-handed.? They?ve never let me forget that.
Are you tempted to join the Champions Tour?
Probably not. I?m 45 at the moment, so I have five years to go. I stopped playing at 38, so that would be 12 years of no competitive golf, which I don?t think you can do. To be honest, I can?t be bothered with it anymore. Someone would offer me a glass of wine, and then I?d have to go down to the gym. I always thought a ?gym? was a bloke?s name. Even if the lights go out tomorrow, I?ve had a very nice time.
The leading website from the world's oldest golf magazine, we're the go-to destination for amateur and keen golfers alike who are keen to up their golfing game. As well as expert course reviews, news and tips to improve your handicap our golf-focused travel content will help you pair teeing off with your travels in some of the best destinations around the globe.