"Common sense is often least common"
European golfing legend Tony Jacklin on a host of hot topics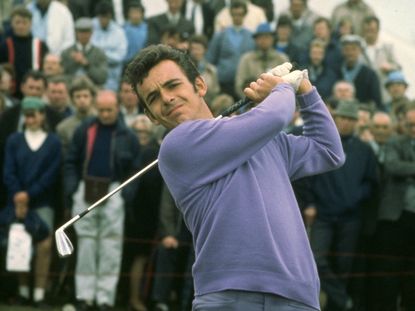 (Image credit: Getty Images)
We spent some time at Glenmorangie HQ in central London for a Q&A with Tony Jacklin...
We're at Glenmorangie HQ in central London for a live Q&A with Tony Jacklin...
And that's a wrap. Thanks Tony - some fascinating insight below.
Q: GB72: Would you have a dress code if you were making your own golf club?
A: It's a tough question as you have to have rules. If you say you can play with jeans, someone will come with holes in the backside! People will always try to push the envelope. That's not acceptable. There should be a minimum of rules, but a dress code has to be one of them. We can't have people running around topless. We live in a deteriorating society when it comes to dress. I don't like snobbery, but you have to have some sort of code. We live in a free society and some people take advantage of that. Clubs just need to have common sense, but of all the senses, common sense is often the least common.
Q: Nick Bonfield: How were your received as one of the first Europeans on the PGA Tour?
A: There was a lot of resentment from some quarters, a lot of mean-spirited individuals who made life unpleasant. For some reason or another they believed the money and the tournaments should be all theirs. But I'm yet to meet anyone who can control where they are born! Those were the people who didn't tend to travel, though. Every great player I encountered when I was there - Miller, Trevino, Palmer, Nicklaus, for example - welcomed it, they were more worldly, there was no resentment - they just wanted to beat everyone and anyone.
Q: Will Medlock: What's your take on the possible Spieth/McIlroy rivalry?
A: When Rory's in the groove, he's exceptional. He can blow the field away. Jordan is fairly new on the scene, but he's so impressive as a 21-year-old, so mature in his manner, and so driven. He's one of the best putters I've ever seen. He expects to make everything. If they both carry on on the paths they're on, there will be some sort of rivalry there. I'm just so happy the game is in the state it's in with these wonderful young players. The future's bright.
Q: Tim Ellis: Who's your US Open pick?
A: it's very difficult. I've never seen a course like it. I'd have to go with experience, so someone like Jim Furyk: an experienced player with an experienced caddy in good form. Preparation will be vitally important at Chambers Bay.
Q: David Street: there's been some criticism of Chambers Bay. What are your thoughts?
A: It's a tough one. It's different! It's anything but what we're used to. It's a beautiful setting but I do believe you will here a lot of critique. Mike Davis made a statement that players would need more than one practice round and some were offended by that. I think he just meant that preperation will be key. It's a very different course and all I'd say to anyone who hasn't seen it is wait until you see it from the air. We could also be looking at six-hour rounds! Stay patient!
Q: Stephane Barras: Did you keep any stats? Do people read too much into stats nowadays?
A: It comes from America, and so many of them are pie in the sky, they're meaningless. It just fills space on the TV screen a lot of the time. I didn't keep them. Every day was a new day as far as I was concerned. I still don't understand how they work out the points for the world rankings. How you can sit at home and go up in the world is beyond me! I'm interested in who hits fairways and takes least putts - those are legitimate stats. A good putter is a match for anyone. That's the bottom line.
Q: Tony James: Are there any Europeans you think have left it too late to win a major?
I think it's unlikely that Lee Westwood will win a major, especially with what's going on away from the course. It's difficult to know. You never know what's going on in people's minds and what will inspire them. Sergio Garcia is a great ball-striker and he's been a wonderful player for 15 years. I'm surprised he hasn't won a Major yet. I think he needs a more positive approach. I remember when he said he wasn't good enough to win a Major. That's not at all true, but he needs a better attitude than that.
Q: Kevin Begley: what were your goals when you turned pro? Did you achieve them all?
I decided that I wanted to be the best in the world - it was my foremost ambition. When I had two Open trophies on my mantlepiece at the same time in 1970, I was as good as anyone out there. I didn't stay there for very long, but I gave it my best shot. My ambitions were reached for a short while.
Q: Jimaroid: can the best in the world now hit the ball too far?
A: I've tried to voice my opinions on the ball for much of the recent past. The ball does go to far. We're still trying to persuade the powers that be there should be an alternative, but I don't think it'll change at the top level. The powers that be need to start thinking outside the box and come up with an alternative ball for those who want to play recreationally on shorter courses, which would also speed up the game.
Q: TheCaddy - What main things should clubs do to promote participation?
One of the things they could do is advertise that golf is a great leisure activity and a great discipline for young people to take up. Golf clubs don't tend to do much advertising, unlike the equipment market, and I've never really understood why.
Also, a lot of clubs need to be aware that juniors are the future and it's their responsibility to encourage them. It's not like when I was growing up, when juniors were very welcome before dawn and after dusk.
Q: PieMan - would you have made that putt in 1969 if you'd been asked?
A: I was mentally prepared to make it. I was at the top of my game. I'd beat Jack in the morning and we were all square in the afternoon. I'd just won the Open. I was pretty confident, but in golf you never know. It think I might have done it, but we'll never know now.
Q: dewsweeper: How hard was it to change the outdated Ryder Cup mindset when you first took captaincy?
A: I'd have loved to have been a fly on the wall when they chose me as I was a bit anti-establishment! I think I was a last resort, but I'll never really know. I was just grateful to be able to make a contribution. I'd been in the US and I'd seen how they ran tournaments over there. Once we leveled the playing field, sorted out the travel issue and addressed the European self-esteem issue, we were much better. And the rest is history.
Q: Tom Wells: Did you think your changes would have such an effect?
You never know what's going to happen. It became clear after 1983 and the closeness of the matches that we'd got most of the off-course things I tried to address, and momentum just carried forward. The spectacular win in '85 gave us the confidence to go on and win on American soil in '87. From then, we had some world-class players who weren't scared of anyone.
Q: Snaphookwedge - what's your view on the constant rotation of Ryder Cup captaincy?
I don't think it'll ever go back to multi-event captaincy. Since my captaincy and righting the ship, I think it's looked upon as an honour for a career well spent, and I think that's fair enough.
Q: How did you get Seve back into the Ryder Cup fold?
Seve was hurt very badly by the decision to eliminate him from the competition in 1981. It was hard to get across that we needed his help. From my point of view, Seve was anything but a problem. At that point in time, his personal PR wasn't as good as it should have been. The media seemed to come down because the establishment was against him. I convinced him to turn it around and thankfully he got the credit he deserved at the end of it all.
Jeremy Ellwood has worked in the golf industry since 1993 and for Golf Monthly since 2002 when he started out as equipment editor. He is now a freelance journalist writing mainly for Golf Monthly across the whole spectrum from courses and Rules to equipment and instruction. He also edits The Golf Club Secretary Newsletter, a highly regarded trade publication for golf club secretaries and managers, and has authored or co-authored three books and written for a number of national papers including The Telegraph and The Independent. He is a senior panelist for Golf Monthly's Top 100 UK & Ireland Course Rankings and has played all of the Top 100 plus 91 of the Next 100, making him well-qualified when it comes to assessing and comparing our premier golf courses. He has now played well over 950 golf courses worldwide in 35 countries, right across the spectrum from the humblest of nine-holers in the Scottish Highlands to the very grandest of international golf resorts, but put him on a links course anywhere and he will be blissfully content.
Jezz can be contacted via Twitter - @JezzEllwoodGolf
Jeremy is currently playing...
Driver: Ping G425 LST 10.5˚ (draw setting), Mitsubishi Tensei AV Orange 55 S shaft
3 wood: Ping G425 Max 15˚ (set to flat +1), Mitsubishi Tensei AV Orange 65 S shaft
Hybrid: Ping G425 17˚, Mitsubishi Tensei CK Pro Orange 80 S shaft
Irons 3-PW: Ping i525, True Temper Dynamic Gold 105 R300 shafts
Wedges: Ping Glide 4.0 50˚ and 54˚, 12˚ bounce, True Temper Dynamic Gold 105 R300 shafts
Putter: Ping Fetch 2021 model, 33in shaft (set flat 2)
Ball: Varies but mostly now TaylorMade Tour Response