Rory McIlroy Keeps Greg Norman Beef Going With World No.1 Target
Rory McIlroy wants to beat Greg Norman's 331 weeks as World No.1 in latest jibe at LIV Golf architect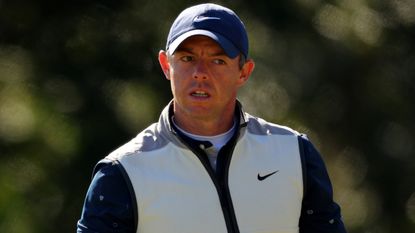 (Image credit: Getty Images)
Rory McIlroy's personal beef with LIV Golf chief Greg Norman shows no signs of settling down after he claimed he wants to eclipse the Australian's impressive record for weeks as World No.1.
McIlroy has already toppled Norman's PGA Tour title mark by winning the Canadian Open earlier this year, and made a point of noting that fact in his post-tournament comments.
"This is my 21st PGA Tour win – one more than someone else and that gave me some extra incentive to get it done," McIlroy said at the time.
Norman hit back as he labelled McIlroy as a "hypocrite" and accused him of asking for large appearance fees to play in Saudi Arabia in previous years.
Now McIlroy says he is using Norman's impressive tally of 331 weeks as World No.1 as a target as he closes in on top spot in the Official World Golf Rankings (OWGR) this week.
When asked if he had a goal in mind for being World No.1, the 33-year-old's mischievous response was "332" adding: "I don't know if I can, but that's a number in my head."
McIlroy is within touching distance of top spot this week at the CJ Cup after a two-year gap, and his ninth appearance as World No.1 would take him to 107 weeks, still miles behind Norman's incredible tally of 331 weeks – which is second only to Tiger Woods' insane record of 683.
"To get to No. 1 in the world at whatever you do is an unbelievable accolade and something that you should be proud of," said McIlroy.
"I have an opportunity to do it this week and I'm proud of the fact that I've at least given myself that chance."
The Northern Irishman is still some way behind Dustin Johnson, who is third all-time with 135 weeks in the top spot, and would need more than four years more at the pinnacle of the game to challenge Norman.
McIlroy is not only chasing tournament wins, Majors and the World No.1 spot, but he's also continuing to be the PGA Tour's major defender against more attacks from LIV Golf.
The four-time Major winner responded to LIV Golf poster boy Phil Mickelson's latest barb that the PGA Tour was "trending downwards" while his new Saudi Arabian venture would go from strength to strength.
McIlroy labelled the remarks as LIV Golf "propaganda" while stating that "You have got 95% of the talent here. People like Tom Kim coming through; they are the future of the game."
Paul Higham is a sports journalist with over 20 years of experience in covering most major sporting events for both Sky Sports and BBC Sport. He is currently freelance and covers the golf majors on the BBC Sport website. Highlights over the years include covering that epic Monday finish in the Ryder Cup at Celtic Manor and watching Rory McIlroy produce one of the most dominant Major wins at the 2011 US Open at Congressional. He also writes betting previews and still feels strangely proud of backing Danny Willett when he won the Masters in 2016 - Willett also praised his putting stroke during a media event before the Open at Hoylake. Favourite interviews he's conducted have been with McIlroy, Paul McGinley, Thomas Bjorn, Rickie Fowler and the enigma that is Victor Dubuisson. A big fan of watching any golf from any tour, sadly he spends more time writing about golf than playing these days with two young children, and as a big fair weather golfer claims playing in shorts is worth at least five shots. Being from Liverpool he loves the likes of Hoylake, Birkdale and the stretch of tracks along England's Golf Coast, but would say his favourite courses played are Kingsbarns and Portrush.