Going for Gold: A golfing thriller from Archie Blair
We talk to Archie Blair about his new golfing thriller "Going for Gold"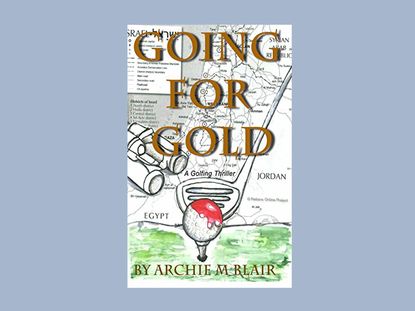 Aged 82, Archie Blair from Perthshire has enjoyed an eventful life in golf. He may have now hung up his clubs but his involvement with the game continues. He's just released a golfing thriller called "Going for Gold," involving The Open Championship, a teenage golfing ace and a pair of would-be assassins.
Golf Monthly spoke recently with Archie Blair, an 82-year-old from Blairgowrie in Perthshire about his life in golf and his new golfing thriller called "Going for Gold."
Archie, a member of Strathmore Golf Club in Perthshire, hit the headlines a few years ago when he scored his sixth hole-in-one on the sixth hole at Strathmore, using a six-iron. There are some pretty incredible hole-in-one stories out there but this one takes some beating as he achieved his 6-6-6 feat on the 31st of October. "The sign of the devil… On Halloween!" he says with a chuckle. "Word got around and one of the guys I played with was a DJ with Radio Tay. He contacted the Daily Record. They like to do a whacky piece on sport each Monday and I was interviewed."
The interest didn't stop there as other news outlets picked up on the 6-6-6 story. "I came into the clubhouse and the girls behind the bar said I was to phone the BBC," he says. "By this time, I was getting pretty hacked off by it all but they insisted and I was interviewed for Radio Scotland's newsdrive - My 15 minutes of fame."
What made Archie's story even more amazing was that he was playing on a prosthetic leg. His leg had been amputated following complications during an operation that didn't go according to plan.
"I went in and out of surgery five times, my heart started giving out and they chopped my leg off," he says with a matter of fact. "When you're in that situation, you have a simple choice. You can either curl up and die or fight it and I chose to fight it."
A golfer since youth and a former captain of Ravelston Golf Club in Edinburgh, Archie wasn't going to give up on the game he loved either.
"I only had one leg but Ninewells Hospital had given me two separate prosthetics and I was keen to get back to the game," he says. "Strathmore professional Andy Lamb took me in hand and we concentrated on balance and cutting down the swing. He was a great help."
A single figure handicapper for much of his golfing career, Archie had been off 11 when he moved to Strathmore. After the amputation the club's committee met and discussed what his new handicap should be. They settled on 22.
"I nearly burst into tears," Archie says in a way that suggests he might just mean it. "But I worked on it and got it down to 17."
A year ago, neuropathic pains in his foot became too severe for Archie to continue golfing but he remains a social member at Strathmore and he goes to the club a couple of times a week to meet friends. He has also been focusing on other interests.
"As a side-line, I decided to go to university and joined the Open University," he says. "In 2014 I graduated with an honours degree in social science and politics. The following year – I class it my 'gap year' – I decided to write this book that had been kicking about in my brain and that was a most enjoyable experience."
The result of that was "Going for Gold" – A golfing thriller. Archie explains the bones of the plot in his own words:
"The book centres around two characters – An 18-year-old Israeli professional called Dov Gold and a female Chief Superintendent of Police for Lothian and Borders, named Heather McKinnon.
I took advice from Peter Dawson, then Chief Executive of the R&A together with the secretary of the Scottish PGA who were both very helpful and I started to develop the golfing characters in the book.
Dov Gold is the Middle East's answer to Tiger Woods. At the age of 18 he has won the Irish Open and has qualified for The Open, being played at Muirfield.
Gold attracts worldwide attention and publicity. Terrorists see him as a target and assign two assassins to take him out of the picture. The drama leads to the final round when Gold is paired with a hero of mine Justin Rose and the question is, will the assassins get their man?
I did a tremendous amount of research in writing the book and that was a significant part of the fun. I was determined that nobody would fault me on my facts."
Archie had some knowledge of the setting for the golfing drama having played Muirfield a number of times in his younger days.
"When I first left school I joined the national coal board as an apprentice mining surveyor and then I moved to divisional headquarters. They had over 100 golf members and I got involved in the committee," he says. "Legend has it that during the war when there was a shortage of coal, a coal board director who was a member of Muirfield managed to get a couple of trucks of coal shunted to Muirfield so we always had a chance to play there."
Archie was also a friend of the brilliant, late sports writer Norman Mair who had written extensively on Muirfield. Archie himself wrote on the rugby for both the Scotsman and Edinburgh Evening Dispatch.
Going for Gold is available as an ebook on Amazon and can be downloaded here. (opens in new tab)
"I've set myself a target of 100 sales," he says modestly. We think Archie should get beyond that without much trouble – For golf lovers who enjoy a bit of action and espionage what could be better?
Fergus is a golf obsessive and 1-handicapper. Growing up in the North East of Scotland, golf runs through his veins and his passion for the sport was bolstered during his time at St Andrews university studying history. He went on to earn a post graduate diploma from the London School of Journalism. Fergus has worked for Golf Monthly since 2004 and has written two books on the game; "Great Golf Debates" together with Jezz Ellwood of Golf Monthly and "The Ultimate Golf Book" together with Neil Tappin (also of Golf Monthly)... Fergus once shanked a ball from just over Granny Clark's Wynd on the 18th of the Old Course that struck the St Andrews Golf Club and rebounded into the Valley of Sin, from where he saved par. Who says there's no golfing god?