Mickelson Discusses Prospect Of LIV Golf Moving To 72 Holes
LIV Golf star Phil Mickelson says new tour would consider extending to 72 holes to help get World Ranking points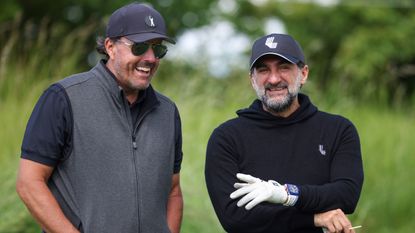 (Image credit: Getty Images)
Phil Mickelson says the agile and fluid nature of LIV Golf means that they would consider shifting to a traditional 72-hole format if it helped secure World Ranking points.
The six-time Major champion is somewhat of an ambassador for the new LIV Golf League brand and has a direct line to the Saudi-based backers of the tournament.
The left-hander says the tour is moving ahead of schedule due to making a flying start last year, but they are always looking at ways to improve the brand.
Mickelson described LIV's progress as "beyond amazing" in the last year, and said as an agile new tour they'd always consider changes as they go – even including extending to 72 holes if it helped to achieve Official World Golf Ranking (OWGR) criteria for awarding points.
Loved this quote from @PhilMickelson when discussing what #LIVGolf can change over the next year to continue improving the product for fans and sponsors:"This is a question that LIV has been asking that I haven't been asked in the last 32 years "How can we make this the best… https://t.co/QAxn3MA8cL pic.twitter.com/dnSpvkLcKKMarch 15, 2023
See more
"When we see something that can be better, we have the fluidity to make the change and make it better," said Mickelson.
"I mean, there's a lot of specifics that we could look at and say, gosh, do we need to go to 72 holes to get World Ranking points or what do we need to do to be the best product but really it comes down to we provide the best product to fans, to sponsors.
"Those are things we can talk about and again we have the fluidity to make changes if it's in the best interests of the players or the league or for the fans or for the sponsors. But I don't feel that that's a pressing need right now, otherwise it would have been changed.
"But again, great thing about this league is its fluidity and its ability to adapt and make changes and do things quickly to make things better."
Mickelson added that LIV Golf chiefs are considering trying to fill the void left by the WGC-Match Play when it is held for the final time this month – with Greg Norman's outfit possibly looking to use their season-ending event to step in and fill the match play slot.
"It's a perfect format and opportunity to fill the Match Play void because the negative of the Match Play is that the most exciting days are earlier in the week, and then the fans and sponsors only have one or two matches to follow on the weekend, and the team aspect could make the Match Play much more exciting," Mickelson added.
.@PhilMickelson talks about how LIV Golf could fill the match play void @HyFlyers_GC pic.twitter.com/aBmzallnoXMarch 15, 2023
See more
"Because you would always have three matches in the finals, even if there were only two teams playing, you could have six matches if you had the third and fourth team playing for third place.
"And even if you have a blowout match, you still would have to win two-out-of-three matches, and those other two matches would be coming down to the wire and create a lot of excitement. So there's an opportunity with the team dynamic that LIV Golf could have a match play scenario.
"It's certainly something that we are discussing as a possibility for the season-ending event. But we also want to make sure that we have enough golfers on the golf course, which has been the knock on the Match Play."
Paul Higham is a sports journalist with over 20 years of experience in covering most major sporting events for both Sky Sports and BBC Sport. He is currently freelance and covers the golf majors on the BBC Sport website. Highlights over the years include covering that epic Monday finish in the Ryder Cup at Celtic Manor and watching Rory McIlroy produce one of the most dominant Major wins at the 2011 US Open at Congressional. He also writes betting previews and still feels strangely proud of backing Danny Willett when he won the Masters in 2016 - Willett also praised his putting stroke during a media event before the Open at Hoylake. Favourite interviews he's conducted have been with McIlroy, Paul McGinley, Thomas Bjorn, Rickie Fowler and the enigma that is Victor Dubuisson. A big fan of watching any golf from any tour, sadly he spends more time writing about golf than playing these days with two young children, and as a big fair weather golfer claims playing in shorts is worth at least five shots. Being from Liverpool he loves the likes of Hoylake, Birkdale and the stretch of tracks along England's Golf Coast, but would say his favourite courses played are Kingsbarns and Portrush.