Michael Block Offered $50,000 For Hole-In-One 7-Iron From PGA Championship
Michael Block says that one of the crazy offers he's been made is $50,000 to buy his 7-iron from his hole-in-one at Oak Hill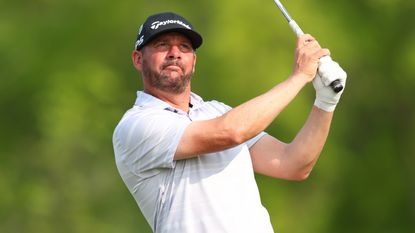 (Image credit: Getty Images)
It seems like the crazy ride Michael Block is on just keeps getting crazier, from PGA Tour tournament invites to messages from Michael Jordan – to now offers of up to $50,000 to buy the 7-iron that he used for his memorable hole-in-one at the PGA Championship.
Block hit the only ace of the tournament at Oak Hill, and the first hole-in-one by a club pro at the PGA Championship since 1996 as he slam dunked it on the 15th in front of a euphoric crowd including playing partner Rory McIlroy.
Everybody seems to want a piece of the likeable PGA pro now, and some even want a piece of history with offers coming in for that magic 7-iron of his.
As Block takes up the first of his two PGA Tour invites this week at the Charles Schwab Challenge at Colonial, he revealed he's had plenty of financial offers after his Oak Hill exploits – including for that magical 7-iron.
"I've had a couple different offers actually," said Block. "It's crazy, right? I've had a couple different offers, and the initial response was it was $50,000 and I'd hand deliver it. Kind of kiddingly, but I guess not really anymore.
"But I've had other people ask about it to maybe have it preserved in certain spots for the PGA, et cetera, stuff like that. So it's up in the air. For right now it just needs to hit shots in there close for me, and I'll go from there."
The @TaylorMadeGolf Tour Preferred 7-iron that Michael Block used to hit his hole-in-one @PGAChampionship 🤯He said he's gotten a $50k offer for the club, and the @PGA wants it, too. He's not sure yet where it'll go, but it's still in the bag today at Colonial pic.twitter.com/nQQj98xeNGMay 23, 2023
See more
Block, who is now the lead image on the TaylorMade website is not exactly representing the new technology from the manufacturer, with a set of TaylorMade Tour Preferred MC irons from 2014 still in his bag.
He'll still have that 7-iron in play this week at Colonial and is very much in the "if it's not broke don't fix it" camp when it comes to clubs, with his well-worn clubs not going anywhere right now.
"I know what they're going to do," Block told GolfWRX.com. "Period. It's not because they go further. It has nothing to do with anything. I've played a whole bunch of other TaylorMade irons.
"The new MCs. They feel great and everything else, but these, as you can see with most of my irons and my wedges – my putter's over 20-years-old – once I have something that I know what it's going to do, especially under these circumstances, under pressure.
"When there's pressure, you need to know exactly what's going to happen, and every time I've ever tried to put new things in under pressure, it's failed."
As well a magical time for Block, who will also play the RBC Canadian Open in June, his caddie John Jackson is also living the dream, as a video showed when he worked out his cut for the PGA Championship was just over $20,000.
The Michael Block story really is the gift that keeps on giving.
Such a cool moment between Michael Block and caddie John Jackson 🤜🤛Jackson did the math on what his paycheck will be from this week. Their reaction is priceless.$20,183.31 💰 pic.twitter.com/UBlhRh1qmuMay 22, 2023
See more
Paul Higham is a sports journalist with over 20 years of experience in covering most major sporting events for both Sky Sports and BBC Sport. He is currently freelance and covers the golf majors on the BBC Sport website. Highlights over the years include covering that epic Monday finish in the Ryder Cup at Celtic Manor and watching Rory McIlroy produce one of the most dominant Major wins at the 2011 US Open at Congressional. He also writes betting previews and still feels strangely proud of backing Danny Willett when he won the Masters in 2016 - Willett also praised his putting stroke during a media event before the Open at Hoylake. Favourite interviews he's conducted have been with McIlroy, Paul McGinley, Thomas Bjorn, Rickie Fowler and the enigma that is Victor Dubuisson. A big fan of watching any golf from any tour, sadly he spends more time writing about golf than playing these days with two young children, and as a big fair weather golfer claims playing in shorts is worth at least five shots. Being from Liverpool he loves the likes of Hoylake, Birkdale and the stretch of tracks along England's Golf Coast, but would say his favourite courses played are Kingsbarns and Portrush.