Matsuyama's Mind-Boggling Putting Drill Divides Opinion Among Golf Fans
Hideki Matsuyama was the talk of golf Twitter after an elaborate putting drill involving multiple tee pegs and a coin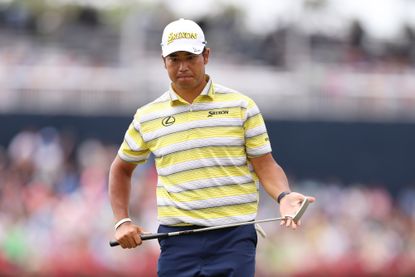 (Image credit: Getty Images)
Golf fans could not take their eyes off the putting green at the WGC-Match Play as Hideki Matsuyama showcased the most elaborate putting drill we've seen in a long time.
In what looked more like a science experiment than a putting drill, Matsuyama had tee pegs everywhere, an aiming device and then the cherry on top – balancing a coin on top of his putter blade.
PGA Tour pros will go to extraordinary lengths to hone their craft, but even among the extremes this one looked a little over the top.
Most things are done with technology, electronic devices and computers these days, such as trackman, but this was a little more old school with the coin being used.
It paid off for the 2021 Masters champion as he went on to beat Match Play specialist Kevin Kisner 1up in his opening match of the tournament.
Nevertheless, his putting warm-up naturally enough drew plenty of reaction among golf fans watching in – both good and bad.
"This is absurd," wrote one fan on Twitter, with another adding "this looks incredibly frustrating" and a third brand it as a "ridiculous waste of time" with many calling it overkill.
Plenty of fans sarcastically tagged in Will Zalatoris and said he should try out some of Matsuyama's drills – given how the American took plenty of criticism for yet more short putting woes in Austin.
Does it ever occur to them that going into that much analysis of it causes more problems?? Keep it simple, 'back and through' 👍🏻March 22, 2023
See more
It's the attention to detail, to those small margins that can often be the difference between success and failure in these big golf tournaments, that some people admire so much.
Some, though, believe that going into detail too much causes more harm than good – especially with the putter.
One Twitter user wrote: "Does it ever occur to them that going into that much analysis of it causes more problems?? Keep it simple, 'back and through'".
There's obviously method in Matsuyama's warm-up and even if it's just to give him confidence in his putting stroke, every little advantage golfers can gain is worthwhile – and we know that they'll try anything to get that advantage.
I can't even hold a cup of water steady without spilling it all over me! Not sure this drill can actually help you make putts, but if you think it does, then it's pure gold! The physical part of putting isn't complicated. It's the mental part & reading greens that make the diff.March 22, 2023
See more
Okay, now let Will Zalatoris try the quarter thing next 😅March 23, 2023
See more
This drill helps keep the toe of putter flat or more down on back stroke. By doing this, it creates better release of putter at impact. Try it next time at practice green (not the coin part) just focus on keeping toe of putter down. The black line will roll end over end. 😉March 23, 2023
See more
I can only imagine that this type of drill is for tournament speed greens. It will no way help on normal club greens. You can either putt or you cant.March 22, 2023
See more
Paul Higham is a sports journalist with over 20 years of experience in covering most major sporting events for both Sky Sports and BBC Sport. He is currently freelance and covers the golf majors on the BBC Sport website. Highlights over the years include covering that epic Monday finish in the Ryder Cup at Celtic Manor and watching Rory McIlroy produce one of the most dominant Major wins at the 2011 US Open at Congressional. He also writes betting previews and still feels strangely proud of backing Danny Willett when he won the Masters in 2016 - Willett also praised his putting stroke during a media event before the Open at Hoylake. Favourite interviews he's conducted have been with McIlroy, Paul McGinley, Thomas Bjorn, Rickie Fowler and the enigma that is Victor Dubuisson. A big fan of watching any golf from any tour, sadly he spends more time writing about golf than playing these days with two young children, and as a big fair weather golfer claims playing in shorts is worth at least five shots. Being from Liverpool he loves the likes of Hoylake, Birkdale and the stretch of tracks along England's Golf Coast, but would say his favourite courses played are Kingsbarns and Portrush.