'Makes My Eyes Bleed' - Fans React To More Will Zalatoris Putting Woes
A stop-start Will Zalatoris putt sparks more social media reaction on the American's short putting stroke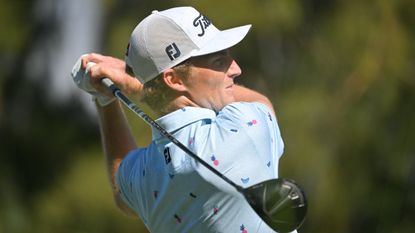 (Image credit: Getty Images)
There was shock and horror at more car crash viewing at the WGC-Match Play – reactions on social media that can only be provoked by the now infamous Will Zalatoris putting stroke.
The 26-year-old's action with the flat stick must be one of the most commented on strokes in all of golf, and he was at it again at Austin Country Club in Texas – with a new twist this time.
Time and again we've seen Zalatoris waft his long putter about in the air on the short putts, which with him give the term "knee knocker" to a whole new level.
Fans and golf analysts alike have all been hiding behind their sofa when Zalatoris lines up a putt from inside five feet, with his putting stroke anything but convincing.
Zalatoris lost his first match in Austin 3&2 to Andrew Putnam, and was not helped by his putting stroke, which this time involved a stutter on the backswing – before a short jab at the ball sending it wide of the target.
It was a curious move that perhaps may have gone unnoticed if it was not Zalatoris who produced it - given the form he has for such actions on the putting greens.
"Jab. Tension. Makes my eyes bleed." One Twitter user wrote, which summed up the feeling of many golf fans who commented on the incident.
"He glitched. Looks like when your finger slips off the joystick," added a further comment, while the Happy Gilmore references flowed: "He needs to hit the putt putt course with Carl Weathers. My goodness."
And golf social media star Paige Spiranac also had her say on the putt adding: "This made me gag" when commenting on the video.
"No putts given ever" wrote another, which did raise a good point, as in a match play environment players facing Zalatoris will surely not be as generous with concessions as they may otherwise be.
And also don't think for a second that putts like this won't go unnoticed by European Ryder Cup captain Luke Donald with Zalatoris currently third in the USA Ryder Cup standings.
It's certainly something that, no matter how good Zalatoris continues to perform from tee to green, he'll need to improve upon going forward.
He glitched. Looks like when your finger slips off the joystickMarch 22, 2023
See more
Paul Higham is a sports journalist with over 20 years of experience in covering most major sporting events for both Sky Sports and BBC Sport. He is currently freelance and covers the golf majors on the BBC Sport website. Highlights over the years include covering that epic Monday finish in the Ryder Cup at Celtic Manor and watching Rory McIlroy produce one of the most dominant Major wins at the 2011 US Open at Congressional. He also writes betting previews and still feels strangely proud of backing Danny Willett when he won the Masters in 2016 - Willett also praised his putting stroke during a media event before the Open at Hoylake. Favourite interviews he's conducted have been with McIlroy, Paul McGinley, Thomas Bjorn, Rickie Fowler and the enigma that is Victor Dubuisson. A big fan of watching any golf from any tour, sadly he spends more time writing about golf than playing these days with two young children, and as a big fair weather golfer claims playing in shorts is worth at least five shots. Being from Liverpool he loves the likes of Hoylake, Birkdale and the stretch of tracks along England's Golf Coast, but would say his favourite courses played are Kingsbarns and Portrush.