'Painful' - Will Zalatoris Sends Social Media Wild Again With Short Putting Stroke
The putting stroke of Will Zalatoris hit the headlines again with a viral social media clip showing his wandering style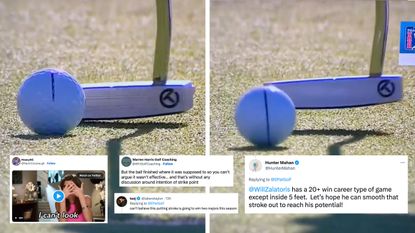 (Image credit: Twitter @EPatGolf)
The short putting stroke of Will Zalatoris continues to make waves around the golfing world, with it being compared to car crash TV on social media after the latest video of his wayward club path on the short putts.
Zalatoris is known for his wafting backstroke on short putts, with this one aspect of his game one of the most divisive strokes in golf, with many viewers cringing as the American's putter wanders around before cutting across the ball.
Some, though, argue that if the ball does end up in the hole then the method doesn't matter – the old "no pictures on the scorecard" defence – even though one PGA Tour pro warned that he needs to smooth his stroke out in order to reach his full potential.
The latest episode of putting horror strokes with Will Zalatoris took place at the Farmers Insurance Open at Torrey Pines where he finished one over after two rounds and missed the cut.
Television cameras found the magic angle at ground level to see the full Zalatoris short putting stroke in all its glory, which prompted the usual responses on Twitter.
"Painful to watch", "this gives me anxiety" and various GIFs were posted in reaction to the video, but among all that was a serious point from PGA Tour pro Hunter Mahan, who warned that Zalatoris may be held back by his short game.
"Will Zalatoris has a 20+ win career type of game except inside 5 feet," wrote Mahan. "Let's hope he can smooth that stroke out to reach his potential!"
And after a couple of near misses at Majors last year Zalatoris has certainly proved he's got a big-time game, but that putting stroke will continue to be the focus of attention.
Looking at the PGA Tour stats for last season, Zalatoris ranked first for strokes gained tee-to-green and approach, but was down in 103rd for putting.
His short putting stats were extraordinary, as it'll shock many to see he made every one of his 644 putts from three feet on the PGA Tour last season.
From there on though the stats were not as good, as he was T110 for one-putts inside five feet, which could be the real problem area - although Rory McIlroy only ranked 108th and we all saw what he achieved.
So the debate will rumble on about the putting stroke of Zalatoris until he either flattens it out or goes and wins a big tournament putting the way he does.
And not everyone is so concerned with it, with Warren Harris Golf Coaching on Twitter summing up what a lot have said in response to the latest video.
"But the ball finished where it was supposed to so you can't argue it wasn't effective… and that's without any discussion around intention of strike point."
See a collection of responses to the infamous putting stroke below...
can't believe this putting stroke is going to win two majors this seasonJanuary 26, 2023
See more
That's the worst putter stroke I've ever seen with a Scotty Cameron lolJanuary 27, 2023
See more
@ClubProGuy once said his personal putting stroke was "somewhere between Billy Mayfair in his prime and getting tasered." Now we know what that looks like.January 27, 2023
See more
But the ball finished where it was supposed to so you can't argue it wasn't effective… and that's without any discussion around intention of strike pointJanuary 27, 2023
See more
Paul Higham is a sports journalist with over 20 years of experience in covering most major sporting events for both Sky Sports and BBC Sport. He is currently freelance and covers the golf majors on the BBC Sport website. Highlights over the years include covering that epic Monday finish in the Ryder Cup at Celtic Manor and watching Rory McIlroy produce one of the most dominant Major wins at the 2011 US Open at Congressional. He also writes betting previews and still feels strangely proud of backing Danny Willett when he won the Masters in 2016 - Willett also praised his putting stroke during a media event before the Open at Hoylake. Favourite interviews he's conducted have been with McIlroy, Paul McGinley, Thomas Bjorn, Rickie Fowler and the enigma that is Victor Dubuisson. A big fan of watching any golf from any tour, sadly he spends more time writing about golf than playing these days with two young children, and as a big fair weather golfer claims playing in shorts is worth at least five shots. Being from Liverpool he loves the likes of Hoylake, Birkdale and the stretch of tracks along England's Golf Coast, but would say his favourite courses played are Kingsbarns and Portrush.