Report: LIV Golf Loses Another High-Profile Executive Ahead Of Second Season
Head of LIV Golf franchises Matt Goodman reportedly leaves Greg Norman's operation ahead of second season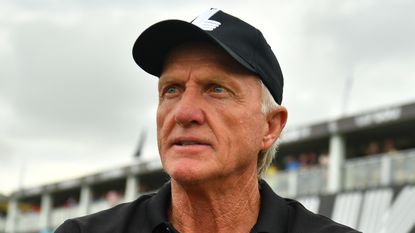 (Image credit: Getty Images)
A second high-profile executive has reportedly left LIV Golf in two months as director of franchises Matt Goodman has reportedly moved on from the Saudi Arabia-backed organisation.
Goodman joined in May from Major League Soccer side New York City FC having previously worked for the NBA in marketing and with NFL club the Cleveland Browns.
But now, according to a report from Sports Illustrated (opens in new tab), as first reported by the Sports Business Journal, Goodman has left Greg Norman's LIV Golf set-up ahead of the second year of operation after a disruptive entrance into the world of golf last year.
Chief operating officer Atul Khosla, who joined LIV Golf in January 2022 from the Tampa Bay Buccaneers, left last month and has now reportedly been joined out of the door by Goodman.
If Goodman has departed, it'd be a sizeable blow for what will be called the LIV Golf League in their upcoming second season – as the operation starts to try and build up its franchise model, and with Goodman heading up that arm of the company.
A major part of the business plan for LIV Golf going forward is to recoup some of the huge start-up costs through their 12 team franchises - which are to eventually be sold-off to be self-owned and self-financed teams able to bring in their own sponsorships and merchandising revenue.
12 teams are expected to again line-up for the second year of LIV Golf, with a 14-event schedule starting towards the end of February.
As of yet, though, there have been no new major additions to the playing line-up, while there is no word on any sponsorship or broadcasting deals on the horizon to start bringing in the money for the new season.
On top of that, if LIV Golf have indeed lost the man in charge of their franchises then it'll be a big blow to Norman ahead of what will be a crucial second season.
Paul Higham is a sports journalist with over 20 years of experience in covering most major sporting events for both Sky Sports and BBC Sport. He is currently freelance and covers the golf majors on the BBC Sport website. Highlights over the years include covering that epic Monday finish in the Ryder Cup at Celtic Manor and watching Rory McIlroy produce one of the most dominant Major wins at the 2011 US Open at Congressional. He also writes betting previews and still feels strangely proud of backing Danny Willett when he won the Masters in 2016 - Willett also praised his putting stroke during a media event before the Open at Hoylake. Favourite interviews he's conducted have been with McIlroy, Paul McGinley, Thomas Bjorn, Rickie Fowler and the enigma that is Victor Dubuisson. A big fan of watching any golf from any tour, sadly he spends more time writing about golf than playing these days with two young children, and as a big fair weather golfer claims playing in shorts is worth at least five shots. Being from Liverpool he loves the likes of Hoylake, Birkdale and the stretch of tracks along England's Golf Coast, but would say his favourite courses played are Kingsbarns and Portrush.