Greg Norman Blamed For Costing Cameron Smith His Chance Of Greatness
Brandel Chamblee says Cameron Smith could have been Australia's greatest ever golfer had Greg Norman not engineered his LIV move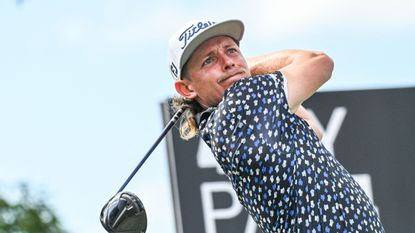 (Image credit: Getty Images)
Brandel Chamblee says taking some bad advice, from Greg Norman among others, could cost Cameron Smith the chance to become Australia's greatest ever golfer.
The Golf Channel analyst is a staunch LIV Golf critic, and has blamed Norman for preventing another Aussie from reaching his full potential by persuading him to join the Saudi-backed competition.
Smith is unable to defend his Players Championship title this week at TPC Sawgrass as he and his fellow LIV competitors have been banned from PGA Tour competition.
Who knows what might happen in the future with lawsuits still ongoing, but Chamblee feels the move, which he in part blames Norman for engineering, has cost Smith his chance of greatness.
"It's ironic to me that it might possibly be an Aussie that will keep another Aussie in Cameron Smith possibly from ascending to a spot where he's considered the greatest (Australian) player of all time," Chamblee told the Golf Channel. "Supplanting Peter Thomson, he had that kind of talent.
"Norman didn't get there but (Smith) could have easily supplanted Greg Norman as the second-best player of all time from Australia. That's at least in my view where Cameron Smith was headed.
"That's what he's turned his back on and a lot of it has to do with Greg Norman, and Cam Smith got a lot of bad advice from his agents and other people in the game around him trying to suck him into LIV."
The 29-year-old lives almost next door to TPC Sawgrass in Jacksonville, and even joked that he might show up as a spectator while being unable to play and defend his title.
Smith made the move just after winning the Open Championship at St Andrews, and Chamblee says that joining LIV has not only cost him regular PGA Tour wins but also jeopardises his chances of adding more Majors.
"He had the potential to be an absolute great player," Chamblee added. "If you look at the qualities that he had, the age that he was, he was a great scrambler, great putter, a great shot maker.
"Players like Tom Watson come to mind. At the age of 25 until 35, he had 35 wins, won eight Major championships, really hit his stride at 27, which is what Cam Smith was last year. Twenty-seven, 28, 29, five wins, five wins, five wins in each of those years. Seven wins when he was 30 years of age, these prime years.
"And when you think of Seve Ballesteros, from the time he was 22 until he was 31 he won five Majors. He set the world on fire and was fairly much the same type of player that we saw in Cameron Smith last year at St Andrews. These are exciting players – scramblers, they're unpredictable, they break your heart and then they do monumentally unbelievable things."
Claiming the Claret Jug means the Queenslander will be able to play in all four Majors for the next five years, but Chamblee says that being part of LIV Golf will have a negative impact on players being able to challenge in the big four events.
"You cannot convince me that week-in and week-out playing against the very best players in the very best competitions doesn't make you sharper," he said.
"Think where they are going to be a week before the Masters, typically the best players in the world in the week before the Masters go in, get a sense of how the golf course is playing and then maybe go home and practice on like conditions with like grasses.
"(LIV golfers are) going to be in Orlando at Crooked Cat, putting on grainy Bermuda (grass). It's no way to prepare for a Major championship."
Paul Higham is a sports journalist with over 20 years of experience in covering most major sporting events for both Sky Sports and BBC Sport. He is currently freelance and covers the golf majors on the BBC Sport website. Highlights over the years include covering that epic Monday finish in the Ryder Cup at Celtic Manor and watching Rory McIlroy produce one of the most dominant Major wins at the 2011 US Open at Congressional. He also writes betting previews and still feels strangely proud of backing Danny Willett when he won the Masters in 2016 - Willett also praised his putting stroke during a media event before the Open at Hoylake. Favourite interviews he's conducted have been with McIlroy, Paul McGinley, Thomas Bjorn, Rickie Fowler and the enigma that is Victor Dubuisson. A big fan of watching any golf from any tour, sadly he spends more time writing about golf than playing these days with two young children, and as a big fair weather golfer claims playing in shorts is worth at least five shots. Being from Liverpool he loves the likes of Hoylake, Birkdale and the stretch of tracks along England's Golf Coast, but would say his favourite courses played are Kingsbarns and Portrush.