Augusta National Is Hiring Ahead Of The 2023 Masters
Augusta National is hiring ahead of the 2023 Masters, which rolls around in just over three months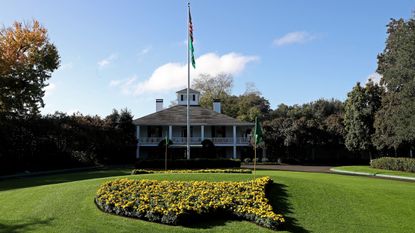 (Image credit: Getty Images)
Ever fancied working at Augusta National? Well now could be your chance, as the Masters venue has posted a job opening and it sounds as pressure-packed as you would imagine: Campus Development - Architectural Design Associate.
The job listing can be viewed on LinkedIn (opens in new tab) and the role essentially involves the successful candidate to lead and support projects and initiatives through the pre-planning and design activities of Augusta National Golf Course capital projects.
It sounds like an excellent opportunity and a chance to likely play Augusta and spend time working at the fabled venue.
In July last year, pictures emerged showing work being done on the 13th at Augusta National and it looked like one of the most revered holes in golf was getting a makeover, with some 40 yards being added on to the length of the 510-yard par-5 as diggers carved a path through the trees behind the 13th tee.
New aerial images released in September from Eureka Earth appeared to show that the work had been completed on the 13th, with Azalea being significantly lengthened in order to provide a stiffer challenge for the longest drivers in the game, some of whom have been able to drive over the trees and cut the corner, offering them a distinct advantage.
Towards the end of the year, tour pros finally got the chance to play the hole – extended by 35 yards – during their preparations for the 2023 edition and they were more positive than first imagined, with Kevin Kisner stating he doesn't think it will be too bad when the Masters rolls along in April.
"You know what?" Kisner told Golfweek (opens in new tab). ""I was totally against it until I played it, and I don't think it's going to be that bad."
There may well be future changes at one of the most fabled courses on the planet and the lucky candidate who is successful in applying for the advertised role at Augusta National could go in to play a big part in helping design them.
Ross Kilvington is a freelance writer from Scotland who has had his work published by acclaimed publications such as Nutmeg alongside popular online blogs including the Gentleman Ultra, North Section and Engrossed in Football. Ross holds a passionate interest in golf and tries to play as often as possible, although having two daughters under the age of four means his quest to break 80 will have to wait a little bit longer. He writes about golf in his spare time, most recently having an article published in the Golf Memories anthology Mind the Links, which was released in July with all proceeds going towards Alzheimer charities. With a handicap that floats between 13-14, highlights are few and far between on the golf course, with an eagle on the par 4 16th at Kinghorn one that stands out (it doesn't matter that it was only 290 yards!).