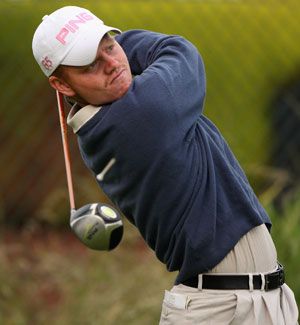 Get the Golf Monthly Newsletter
Thank you for signing up to Golf Monthly. You will receive a verification email shortly.
There was a problem. Please refresh the page and try again.
Players A-F / Players G-L / Players S-Z
Note: Odds offered by SkyBet are subject to fluctuation
Llewellyn Matthews 2,500/1
The Welsh amateur qualified with a gritty final day 68 at Monifieth. Pitting his skills against the world?s best players will be a helpful learning experience prior to the Walker Cup. This will be his first Open experience.
Last 5 Opens: N/A
Verdict: An amateur with good pedigree ? a good bet for the silver medal.
GRAEME MCDOWELL 80/1
Golf Monthly columnist, Graeme McDowell enjoys competing at the highest stage. Although he is yet to win or pose a serious challenge in the majors he regularly makes the cut - his best finish in the Open was 11th in 2005 at St Andrews. Unlike many Europeans he has proved that he has the mental strength to win under pressure.
LAST 5 OPENS: 61/11/MC/DNP/DNP
VERDICT: Having grown up at Royal Portrush he knows how to play tough links well. A good outside bet.
PAUL McGINLEY 150/1
McGinley?s best finish was 14th in 1996 and he will be looking to improve on an average Open record. Victorious in the last three Ryder Cups along with four career victories and many more second places McGinley is highly experienced. Has a poor links record and struggled at a very gusty Irish Open earlier in the year.
LAST 5 OPENS MC/41/57/28/MC
VERDICT: No top-10 this season the Irishman will be looking to kick start his year.
DOUG McGUIGAN 750/1
This will be his second Open Championship, after qualifying through IFQ in Africa. Plays nearly all his golf in South Africa and will undoubtedly relish the opportunity of visiting Scotland and its links for the second time. His last visit was for the 2005 Championship where he missed the cut by 5 shots.
LAST 5 OPENS DNP/MC/MC/DNP/DNP
VERDICT: Will have learned a lot from 2005 but not enough to feature this year.
RORY McILROY (A) 750/1
This young amateur has already represented his country in the 2004 Junior Ryder Cup alongside the promising Oliver Fisher. Has gone one better than his compatriot by qualifying for this years Open which will be his first. After making his first cut in a professional tournament at this years Dubai Desert Classic had to forego prize money of over ?7,600 due to his amateur status. Will be just 18 at this years Open, and hopes to qualify for the European Tour at this years qualifying school.
LAST 5 OPENS N/A
VERDICT: Will be one of the most daunting weeks yet for this young teenager. The experience will be priceless however and definitely one to watch for the future.
SHAUN MICHEEL 250/1
The 2003 USPGA Champion became a Major winner in a week where all the major names struggled to make par. The American rarely leaves the PGA Tour and his Open record is not great. One cut made from three would suggest he is another who struggles on the unfamiliar Scottish links.
LAST 5 OPENS MC/MC/47/DNP/DNP
VERDICT: Recent Major appearances suggest he will struggle at Carnoustie.
PHIL MICKELSON 20/1
Mickelson has cemented the position of World No 2 and has to be the most serious rival to Woods with three Major victories in the last three years. Since teaming up with Tiger's ex-coach Butch Harmon, Lefty has looked more controlled than ever and impressively won the Players Championship at Sawgrass in May, a course where he had rarely prospered in the past. Has not won outside the States since 1993 but did finish third in 2003 at the Open.
LAST 5 OPENS 22/60/3/59/66
VERDICT: Making great strides towards Tiger lately, but usually finds links golf tough.
FRANCHESCO MOLINARI 250/1
Having married earlier this year Molinari has returned some solid performances ? he currently lies in 46th on the European Tour Order of Merit. He proved his mental strength last year by winning his national Open. Having qualified through IFQ at Sunningdale, this will be his first bid to capture the Claret Jug.
LAST 5 OPENS: NA
VERDICT: A lot to learn before this young Italian makes a name in the majors.
RYAN MOORE 250/1
Played in the Masters and US Open as an amateur, and last year finished 9th in the PGA Championship. Went from college to the PGA Tour in the same season in 1996 without going to Q School making him the first player since Tiger Woods to do so. Has a lot to learn early on in his professional career and discover a great deal at this years Open Championship.
LAST 5 OPENS: NA
VERDICT: Doesn?t seem to be unnerved by the big occasion but will find Carnoustie very different to the American major championships.
COLIN MONTGOMERIE 40/1
It sounds silly to call such a legendary European player an outsider, but Monty must be considered as one having won only once outside Asia since 2002. The eight times Order of Merit champion has generally underperformed at the Open throughout his prestigious career, but did finish 2nd at St Andrews in 2005. Still capable of world-class golf when the putter behaves, very nearly winning the 2006 US Open. Has won the Dunhill Links which includes Carnoustie and holds the course record so knows the course as well as any in the field.
LAST 5 OPENS MC/2/25/MC/MC
VERDICT: A much bigger price than in previous years, but still capable of pulling off a fairytale first Major win in Scotland.
TOSHINORI MUTO 750/1
A win last year and a handful of top-10s in his five-year career are Muto?s best achievements. He made his Open debut in 2006 but shot rounds of 75 and 74 to miss the cut by six shots. That a lush Carnoustie will bare no resemblance to the hard and fast Hoylake that he faced last year will count against him.
LAST 5 OPENS: MC/DNP/DNP/DNP/DNP
VERDICT: Too inexperienced at the highest level to compete
AARON OBERHOLSTER 125/1
Makes it into the weekend in the majority of tournaments he enters however has only been in the top-3 twice with one win and a second place. Played in his first Open last year but missed the cut by six shots.
LAST 5 OPENS MC/2/25/MC/MC
VERDICT: Into his 10th year as a professional with only one win under his belt. Difficult to see him doubling that total at Carnoustie.
GEOFF OGILVY 45/1
The 2006 US Open champion is steadily becoming one of the most consistent performers in Majors. A misleadingly low 24th at this year's Masters was his worst for a while, as Ogilvy's previous six Majors had produced one win, three other top-10s and nothing worse than 16th. He seems to reserve his best for the big occasions, also winning the 2006 World Matchplay, finishing runner up to Stenson on his defence and 3rd to Woods at the WGC event at Doral in March.
LAST 5 OPENS 16/5/DNP/DNP/DNP
VERDICT: A very strong contender at an attractive price.
SEAN O'HAIR 80/1
Obtained a last-minute passport for British Open trip to St. Andrews in 2005 and after arriving on Wednesday, finished T15, his first career start in a major championship. Drives the ball an average of nearly 300 yards and has an accuracy percentage of 65%. This year has finished in the top-15 six times with his best result being 7th at the gusty Verison Heritage Tournament.
LAST 5 OPENS: 14/15/DNP/DNP/DNP
VERDICT: Enjoys windy conditions, especially during both his Open appearances. A potential one to watch with the game to suit Carnoustie.
NICK O'HERN 100/1
Ultra-consistent Australian who hits greens in regulation with monotonous regularity, but has struggled to convert chances into victories. The left-hander is slowly developing a reputation at the highest level having twice defeated Tiger Woods in the World Matchplay. Should be ideally suited by a tough golf course like Carnoustie, and did finish 6th in the 2006 US Open at brutal Winged Foot.
LAST 5 OPENS MC/15/DNP/MC/DNP
VERDICT: The perfect accurate, reliable kind of player for speciality markets and worth a pop each-way at huge odds as well.
JOSÉ MARIA OLAZABAL 75/1
This Spanish legend has been around for 12 years as a pro, winning two Masters tournaments, 23 European and 14 PGA Tour titles, and still he is able to produce the goods. Came close to a third green jacket last year proving his ability on both sides of the Atlantic. His outstanding accuracy and short game ability is well suited to Carnoustie.
LAST 5 OPENS 56/3/DNP/MC/MC
VERDICT: With only two top-10?s he would like to improve on his Open record ? most certainly still has the ability.
MARK O?MEARA 400/1
Now playing his first season on the Champions Tour O?Meara is playing a consistent game. Won the Open and Masters in 1998 in the middle of his most successful season. During his prime was a contender for the Open every time he placed his ball on the tee.
LAST 5 OPENS 63/MC/30/65/22
VERDICT: The Champions Tour presents a different challenge to what Carnoustie will throw at the players this year.
RODNEY PAMPLING 100/1
Lead his first Open Championship in 1999 after the first round but shot 86 in the second to miss the cut. Has won twice on the PGA Tour and makes the majority of cuts in the Majors, however has a limited number of top-10 finishes.
LAST 5 OPENS 35/78/27/DNP/DNP
VERDICT: Expected to make it to the weekend but will do well to be on the final leaderboard.
Steve Parry 1500/1
The 28-year-old Bolton professional qualified by finishing five-under at Panmure during Local Qualifying.
LAST 5 OPENS: N/A
VERDICT: A dream come true for the assistant driving range pro, qualifying is a massive achievement in itself.
CARL PETTERSSON 125/1
Improving as this season progresses this Swede finished 17 at Oakmont. Also had a top-10 last year at the Open showing he is one PGA Tour player who can play in links conditions. Won on the PGA Tour in 2005 and 2006.
LAST 5 OPENS 8/DNP/57/DNP/43
VERDICT: Plays the vast majority of his golf on the PGA Tour. Accuracy could be his downfall this week.
TERRY PILKADARIS 750/1
A qualifier from IFQ in Asia., this will be his first major appearance. The Australian has a solid record on the Asian Tour recently winning the inaugural Brunei Open by five shots and has recorded two top 10 finishes on the European Tour this year.
LAST 5 OPENS NA
VERDICT: Another who will be aiming to make the cut and work from there.
EWAN PORTER 1000/1
Played the best round of his career to help him get to this year's Open Championship. Finished three shots ahead of all other qualifiers at the IFQ in Australasia. On the Australasian Tour hasn?t experienced victory yet, his best finish last year was T13th in the Greater Building Society Qld PGA.
LAST 5 OPENS NA
VERDICT: Was a fantastic result for the Australian to qualify, the course will most likely be the winner in this battle.
IAN POULTER 66/1
Plays his golf on both sides of the Atlantic and enjoys consistency on both. Missed the cut at last years Open and is yet to really challenge in a major, nevertheless still remains one of England?s greatest hopes. Feels he is striking the ball well at the moment, just not holing the necessary putts. A top-10 is well within Poulter?s reach this year, if the putter is working could go better than that.
LAST 5 OPENS MC/11/25/46/50
VERDICT: A fantastic each way bet and could provide huge rewards if he brings the title home.
BRETT QUIGLEY 250/1
Playing in his second Open Championship this year and will be looking to improve on missing the cut last year. Yet to win in his professional career and hasn?t played his best golf in a major yet.
LAST 5 OPENS MC/DNP/DNP/DNP/DNP
VERDICT: Not a player expected to tame the Carnoustie links.
RICHIE RAMSAY (A) 1000/1
Scotland?s most promising amateur prospect. Will be the highest ranked amateur in this year?s competition and will be expecting to do well in his home country. His amateur career has been a successful one including playing with Phil Mickelson in the first two rounds at Augusta this year where he certainly didn?t disgrace himself.
LAST 5 OPENS NA
VERDICT: Grew-up on the Scottish links and will learn a lot from another major appearance as an amateur.
LOREN ROBERTS 500/1
Experiencing some of the best results of his professional career on the Champions Tour. Has only missed one cut from 39 and won six of those events. This year he hasn?t finished outside the top-25 and is coming into the Open after winning his last event. Only made the top-10 in the Open once and never won a major championship over 30 years as a professional.
LAST 5 OPENS DNP/DNP/DNP/DNP/28
VERDICT: Has not got the best of Open records but has shown some fine form on the Champions Tour.
JOHN ROLLINS 200/1
Has been a professional for 10 years and is yet to make his name on the major circuit. Played the Open before in 2003 finishing 70th, this being the only time he?s visited Britain for a professional tournament. Good on the greens but will want to improve on the number of fairways hit to do well at Carnoustie.
LAST 5 OPENS DNP/DNP/DNP/70/DNP
VERDICT: Another American who will be unfamiliar with the tough Carnoustie conditions.
ANDRES ROMERO 100/1
Enjoying life as a professional as since he qualified for the European Tour last year has finished in the top-10 seven times. Included in these stats is his finish in last years Open Championship where he came 8th in his first major appearance. An impressive player who drives the ball a good distance and hits a high percentage of greens.
LAST 5 OPENS 8/DNP/DNP/DNP/DNP
VERDICT: Gave up monocycling to concentrate on golf, a little bit of magic this year and he could improve on last years result.
JUSTIN ROSE 25/1
Emerged sensationally at Birkdale in 1998 when finishing 4th as an amateur. Surprisingly hasn't qualified for the Open Championship for three years since basing himself in the US, but is bound to be a popular selection as punters remember his Birkdale heroics. Has made big strides on the PGA Tour in the meantime, and nearly won the Masters in April.
LAST 5 OPENS DNP/DNP/DNP/MC/22
VERDICT: Improving fast, and has fond memories of the Open.
Get the Golf Monthly Newsletter
Tips on how to play better, latest equipment reviews, interviews with the biggest names and more.
The leading website from the world's oldest golf magazine, we're the go-to destination for amateur and keen golfers alike who are keen to up their golfing game. As well as expert course reviews, news and tips to improve your handicap our golf-focused travel content will help you pair teeing off with your travels in some of the best destinations around the globe.