Golf Blog: A Dazed and Confused Open Diary
Following a rather long day in the Bolly Tent, Bill Elliott had to get up a bit earlier than usual on the first day of the Open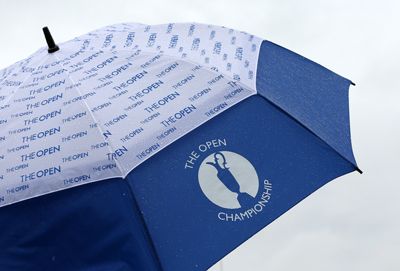 My readers may have noticed that there was no diary for yesterday. This was because Wednesday turned into a Bollinger Tent day, starting at 12 noon and finishing shortly after 6pm.
Throughout this afternoon a succession of world weary people dropped by for a chat and a glass. These included European Tour boss George O'Grady, Ryder Cup Director Richard Hills and Nick 'The Colonel' Stewart.
You've probably never heard of Nick. He is an extremely tall, extremely languid former Coldstream Guards officer. Nowadays he does lots of golfy things like looking after Tom Watson when the great man is this side of the Atlantic. He also coos over Roger Chapman who, of course, won his second senior major this week.
More interestingly Nick is the man we can blame for Bono because he it was who discovered U2 in Dublin and signed them to Island Records. A member of Sunningdale and Royal St George's he is so English that you almost expect his eyes to be red and white. Come to think of it, by the end of Wednesday his eyes were red and white. And so to today and a very early rise to join Nicky Campbell as he strode the fairways presenting his Radio 5 Live breakfast show.
The nice girl who asked if I'd yomp alongside him said she's meet me in the Media Centre but when I got there, bleary-eyed and desperate for a heavy-duty coffee there was no-one there to meet me.
Instead my phone rang and a young bloke from the BBC asked if I was "okay, Billy?". I told him I was fine and then said that I preferred Bill to Billy. He seemed to ignore this, called me Billy again and asked if I was still up for a chat with Mr Campbell. Yes, I said. "Okay, but do you have access to a landline because you mobile is very crackly, " he said. I told him I didn't and he said that maybe they'd have to scratch the whole thing and rang off. I was quite irritated at this. Half-an-hour later the original BBC girl tapped me on the shoulder and asked if I was ready to join Campbell out by the first hole? I said I thought you'd scratched it? She looked at me blankly and then realised that the call I'd taken from her colleague had been meant for caddie Billy Foster who was indeed scheduled to speak on the phone later. Oh, how we laughed!
No, not a lot. Anyway, when I finally caught up with the presenter and his producer out on the course he chatted to me about Seve for five minutes and then moved on to an interview with Jeremy Hunt who happens to be my constituency MP although not a man I would ever for vote unless I was voting him out to get a proper job somewhere.
While they were prattling on I retired back to the Media HQ and another big coffee. Apparently Tiger Woods laughed a lot when he heard this story. As if. Onward and, inevitably, downward.
Bill has been part of the Golf Monthly woodwork for many years. A very respected Golf Journalist he has attended over 40 Open Championships. Bill was the Observer's golf correspondent. He spent 26 years as a sports writer for Express Newspapers and is a former Magazine Sportswriter of the Year. After 40 years on 'Fleet Street' starting with the Daily Express and finishing on The Observer and Guardian in 2010. Now semi-retired but still Editor at Large of Golf Monthly Magazine and regular broadcaster for BBC and Sky. Author of several golf-related books and a former chairman of the Association of Golf Writers. Experienced after dinner speaker.