The Pursuit Of Perfection - How Vessel Is Redefining The Golf Bag Business
Scott Kramer goes behind the scenes of this luxury golf bag company to uncover the secrets behind its success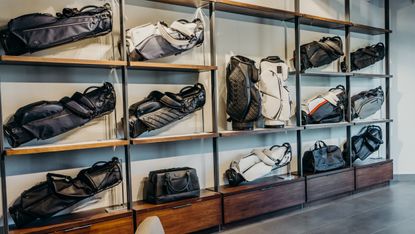 (Image credit: Vessel)
I often play a course near my Southern California home that's incredibly hilly – with terrain so severe that you rarely see walkers there. But I enjoy the extreme exercise – even though my shoulders and back often make me regret the decision to walk by the back nine. I recently switched bags to the Vessel VLX 2.0 Stand model, and beelined to the course to break in the bag. I experienced zero pain afterwards – which has never happened there before. The bag's a definite keeper.
To find out the secret to the bag, I went right to the source – the company's Carlsbad, Calif. headquarters. I was instantly struck by the upscale presentation. The front door leads directly into a showroom that features beautiful new cabinetry, a large halo light suspended from the ceiling, and a handful of the brand's latest products on display. The aura inspires visitors to want to use the bags.
Since 2013, founder and CEO Ronnie Shaw has applied what he learned from working for years at his father's golf bag company. "He was the first Taiwanese manufacturer of golf bags, and I grew up working in this space," says Shaw, who has a degree in electrical engineering. "I loved every minute of it. He ultimately asked me to take care of his U.S. operation." Then in 2013, well after he'd arrived in America, Shaw started Vessel with something he'd become familiar with – solely making high-end, custom bags for the likes of Nike Golf, including models for Tour pros like Tiger Woods. One at a time. And while that remains part of the Vessel business, Shaw broadened the company reach five years ago, to make high-end bags for the golf masses.
Although individual parts come from China, the bags are assembled and embroidered right on property in Carlsbad. And by the way, every bag the company makes can be embroidered in a very unique way. An assembled bag – and not just an individual panel – can be physically propped up to a sewing machine to get customized.
Vessel actually owns patents on several carefully-designed items, including a rotator bottom base on its golf bags. The entire base of its stand bags - including the new Sunday III DXR - stays on the ground when standing – providing extra stability. Then there's the equilibrium shoulder strap with an eight-point disc that pivots at the connection points, so that the bag always feels equally distributed across the shoulders and almost seems weightless when being carried. It automatically adjusts to your shoulder width and balances the bag to maximize comfort (the very reason I immediately fell for the bag). The third patent is on the top, which has a connection point at its top edge that prevents the bag from getting top heavy and having clubs fall out.
And although not patented, Vessel bags have no rivets on the top. Rivets tend to scratch clubs on the inside of the bag. Vessel also uses carbon fiber legs in all of its stand bags. They're tapered thick on top to thin on the bottom, making it lighter on the bottom so that the legs kick out faster and smoother. And the bags also feature magnetic pocket closures that are very powerful. They will stay closed until you physically open them.
All of these features, as you might guess, come at a slightly higher price to consumers. The best stand bags essentially use pricey staff bag materials that are highly durable and super lightweight. And it costs more to make because of this. "Our design philosophy is we want the best of the best on this bag," says Shaw. "That's why it's more expensive than most other bags out there, because we use the best materials, the best functionality, and proprietary tooling."
For its 10th anniversary bag series, Vessel is incorporating Carbitex – a carbon fiber material that's used in high-end luggage – into the panels of its bags. It shows off a very nice weave aesthetic, as well. "No one has ever done carbon on golf bags," says Shaw. "And to be the first to introduce it in a golf bag is exciting for us. We want it to push the envelope and push the boundaries. We've learned that carbon fiber is the start of our future bags – you will see a strip of carbon where it's needed most, where tensile strength is needed. That one piece of carbon fiber can replace essentially four layers of polyurethane backing and lining."
The company also makes tennis bags and backpacks – both very well-thought-out product lines. Shaw justifiably believes that Vessel's golf bags are like nothing else on the market, and claims the other categories are in similar positions. Like the golf bags, they feature magnetic closures, similar materials, and clever use of space. In fact, the company is exploring making travel bags – specifically hard cases – perhaps by the end of this year.
If all this isn't enough to veer you toward the brand, Shaw has always had what he calls "give-back DNA" in him. So with its backpacks, Vessel operates a "buy a bag, give a bag" program with World Vision, in which for every backpack it sells, it donates one to an underprivileged child. To see how many it has donated, a serial number inside the pocket of every backpack represents how many backpacks Vessel's given out.
Which naturally leads to why the company is named Vessel. The name was suggested by Shaw's friend. "The moment I saw it, I thought it was for me," says Shaw. "Faith is very important to me. Spiritually speaking, I am just a vessel. And a vessel carries something. It aligns with my life philosophy. We believe that everybody's a vessel because we carry something within. Like when you walk into a room, some people walk in with joy, love and energy. If you look at our logo, the bottom V represents a vessel because everybody's a vessel. The top V represents the blessings that flow into your life, and need to flow out. So life is not about you. It's about you being a blessing to other people."
And trust me, the Vessel bags are a blessing to any golfer lucky enough to use them.
Scott Kramer is a freelance writer based in Southern California. He carries a 5.2 index, along with a hacker's short game. Yet the former Senior Editor of GOLF Magazine always tries to bring his "A" game to his writing.
Here's what's in Scott's golf bag: Driver: Callaway Epic Speed driver Fairway wood: Titleist TSi2 4-wood Hybrid: Titleist H1 hybrid Irons: Titleist AP1 irons Wedges: Vokey wedges Putter: An old Odyssey Versa putter that's been refurbished twice!