Q&A with TaylorMade CEO David Abeles
TaylorMade CEO David Abeles tells us more about the sale of the brand, the signing of Rory, and the latest products to hit the shelves in 2017...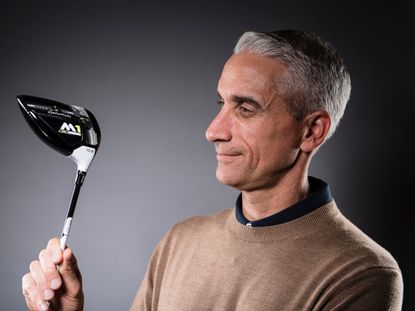 (Image credit: Tom Miles)
TaylorMade CEO David Abeles tells us more about the sale of the brand, the signing of Rory, and the latest products to hit the shelves in 2017...
Q&A with TaylorMade CEO David Abeles
Any golfer with more than a passing interest in the game can't have failed to notice that hugely successful golf equipment brand, TaylorMade, has been in the news a little more often than usual of late.
First, there was the sale of TaylorMade, Adams Golf and Ashworth Golf. After months of speculation, with even Tiger rumoured to be a potential buyer at one point, adidas sold the three brands to private New York equity firm, KPS Capital Partners LP on May 10 this year for $425 million.
Then there was Rory. From the moment Nike announced its departure from the golf hardware market, there had been huge competition to sign the four-time Major winner. In the end it was TaylorMade who won his signature, with Rory now playing a full complement of the brand's clubs, including the M2 driver and a 'Rors Proto' iron, plus the TP5x ball.
Finally, there has been a whole raft of new TaylorMade equipment hitting the shelves in recent months, including upgrades and extensions to the M Family metalwood range, and of course, those TP5 and TP5x balls that have been causing quite a stir.
It was time for Golf Monthly to speak to TaylorMade CEO David Abeles, to find out more…
GM: How does a hugely successful brand like TaylorMade end up for sale? David Abeles: About a year and a half ago we got together with our parent company, as adidas was resetting its business to focus on its core competencies, which are apparel and footwear.
The TaylorMade brand continues to focus on strength and innovation in equipment and golf balls, and we both felt that where the companies were, and given the strength of their respective positions, the best thing would be to explore potential interest in the sale of TaylorMade.
The decision to sell TaylorMade wasn't to do with anything other than the two organisations deciding to focus specifically on what they do best. Fortunately, although the process took quite some time, we ended up in the best possible place with our preferred buyer, which was KPS Capital Partners out of New York City.
What does it signify for the golf equipment market when huge brands like Nike and adidas decide to withdraw from the hardware side? I don't think it signifies anything. When you take a look at the positioning of the two examples that you're suggesting, one had an almost insignificant position in equipment and golf balls on a global basis, the other had a market leadership position that really would be better suited to an ownership structure that wants to continue to invest in the growth and strength of that leadership position.
Businesses are dynamic, holding companies are dynamic and at different points and times across the continuum, decisions are made.
How did you manage to keep the signing of Rory under your hat? Very quietly! We're very fortunate that since Nike exited equipment, roughly 25 players around the world who were not contracted opted for TaylorMade as their equipment and golf ball supplier.
It's an incredible time for us because Rory has access to every brand in every equipment and golf ball category, and he went through a very, very thoughtful process in determining what was the best-performing product for him over six months. He took a hard look at our driver and recognised that the M2 driver was a far superior technology for his game.
Then, more importantly than just being a strong driver company, which we are, he recognised that our golf ball – the TP5x – was the first five-piece construction golf ball that would enable him to do things in performance that he's not been able to do before.
We had a golf ball that, really, he felt could change the way he played the game in that he wouldn't compromise anything off the tee and could really optimise performance around the greens. That's why TP5x right now is one of the big stories in golf.
Were the new owners involved with the Rory deal? Yes, certainly we collaborated with our new ownership. In the end, it was a TaylorMade management decision and a Rory McIlroy decision, but we're thrilled that our new owners were very supportive of getting Rory McIlroy on board. How could you not be!
With regard to Rory's prototype iron, was nothing in the current line-up quite right for him, or were you looking to take a new 'Rory' product to market quickly? We have a muscleback iron called the Tour Preferred, but when we looked at what Rory's preferences were in terms of shape and size and certain mass properties, we decided to work in partnership with him to co-design this iron.
It's a beautiful product – a Rory Prototype right now – but we anticipate bringing it to market in early spring of 2018. It wouldn't surprise me to see other members of our tour staff move into that product too.
The new TP5 balls are making headlines. What's different about your five-piece ball this time? First of all, the core composition is different, and it's even different between the TP5 and TP5x – one has a slightly higher compression for slightly higher swing speeds, one is a slightly lower compression for slightly lower swing speeds. In the TP5, the mantle layers are a different composition, and even the cover formulation is different.
We believe the real key in the future of golf ball design is: how do you take a construction that optimises distance off the tee, like in a two-piece ionomer ball, yet enhances performance qualities around the green?
The amazing thing we're seeing is that the golf ball launches roughly two to three degrees higher than the standard tour ball right now, and the downward trajectory actually minimises spin, which means we're optimising distance.
However, when we get to the green, we optimise spin because of the softer outer layer and the mantle layers. It's changed the way golf balls are made – it's the first of its kind and that's why so many tour pros are switching.
What we're hearing from the broader base of golfers is that: one, they are willing to change; and two, they recognise that this is simply a better golf ball. We would encourage every golfer to simply go try it.
There's no doubt in my mind that they will see the difference and they will change. I absolutely believe that this is the most technically advanced golf ball in the world, and it is a ball that over time will challenge for market leadership.
TaylorMade product cycles have been a little longer of late. Has that gone down well with stockists and golfers? I think we did get a little bit quick with life cycles a few years back and we were bringing new technology to market probably faster than golfers were willing to adopt it.
But the one thing that we live by is that when we have a technology or product that is measurably better in total performance relative to a prior generation product, or the competitive set, we believe that golfers want that product.
Over the past couple of years we've brought some of what I believe to be the most advanced technologies in to golf: whether it's multi-material products like M1 and M2 metalwoods; distance, height and forgiveness products in our M1 and M2 irons; the TP5 and TP5x golf balls; or the Red Hot Spider putter, we're being very thoughtful to ensure that when we bring a product to market it is measurably better and that the golfer is ready to make a change.
Which products are currently the star performers at retail? I'm very humbled to say this, but through the first quarter, in every category from metalwoods to irons, wedges, putters and golf balls, we've seen global growth on a year-on-year basis.
Obviously the market leadership we have with the strength of the M1 and M2 metalwood franchise continues to go very, very well. In irons, our M2 is among the top-selling irons in the world, so we're excited about that.
The Tour Spider Red, Black and Silver putters have taken the worldwide tours by storm - our market share in Spider putters is now challenging for market leadership on the back of how strongly it performs. And we've already talked about the TP5 and TP5x golf balls.
The other product doing extremely well for us is the Milled Grind wedge, which is an entirely new technology bringing precision milling into the sole of a wedge.
Where do you see the next wave of major product improvements coming from? We think there's a lot of runway still available in the use of multi-material technology to optimise performance across all categories.
We believe that geometry will play a larger role in the continued development of metalwoods – you see the Geocoustic design in our M2 metalwood right now, which we believe is as industry-breaking as anything golf has ever seen.
And now that we've got a strong and growing position in golf balls, we'll continue to refine our approach to ensure that we have the appropriate aerodynamic package in and around future golf ball design and development. So we're very bullish about the future.
Some of the technologies we're working on already - we're just not in a place to manufacture them just yet. It takes a while – we've spent ten years working on the TP5 and TP5x golf ball to get it to this point; we also spent four or five years perfecting the M1 and M2 product that you see in market today.
Jeremy Ellwood has worked in the golf industry since 1993 and for Golf Monthly since 2002 when he started out as equipment editor. He is now a freelance journalist writing mainly for Golf Monthly across the whole spectrum from courses and Rules to equipment and instruction. He also edits The Golf Club Secretary Newsletter, a highly regarded trade publication for golf club secretaries and managers, and has authored or co-authored three books and written for a number of national papers including The Telegraph and The Independent. He is a senior panelist for Golf Monthly's Top 100 UK & Ireland Course Rankings and has played all of the Top 100 plus 91 of the Next 100, making him well-qualified when it comes to assessing and comparing our premier golf courses. He has now played well over 950 golf courses worldwide in 35 countries, right across the spectrum from the humblest of nine-holers in the Scottish Highlands to the very grandest of international golf resorts, but put him on a links course anywhere and he will be blissfully content.
Jezz can be contacted via Twitter - @JezzEllwoodGolf
Jeremy is currently playing...
Driver: Ping G425 LST 10.5˚ (draw setting), Mitsubishi Tensei AV Orange 55 S shaft
3 wood: Ping G425 Max 15˚ (set to flat +1), Mitsubishi Tensei AV Orange 65 S shaft
Hybrid: Ping G425 17˚, Mitsubishi Tensei CK Pro Orange 80 S shaft
Irons 3-PW: Ping i525, True Temper Dynamic Gold 105 R300 shafts
Wedges: Ping Glide 4.0 50˚ and 54˚, 12˚ bounce, True Temper Dynamic Gold 105 R300 shafts
Putter: Ping Fetch 2021 model, 33in shaft (set flat 2)
Ball: Varies but mostly now TaylorMade Tour Response