Mizuno MP-H5 irons launched
The new Mizuno MP-H5 iron is designed to combat modern courses launching the ball higher so it lands softer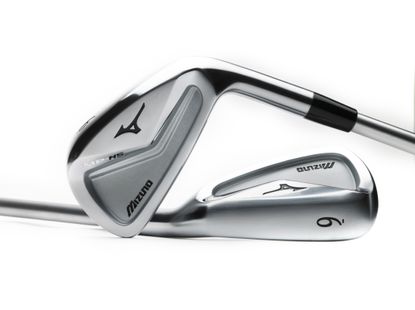 The new Mizuno MP-H5 iron is designed to combat modern course set-ups by launching the ball higher so it lands softer on firm greens
Mizuno is calling the MP-H5 a new type of players' iron for the tougher, modern golf course layout.
The Mizuno MP-H5 features a 'hollow flow' concept that launches the ball higher to encourage a steeper landing that should be beneficial when hitting longer approaches to tighter pin positions on firmer greens.
The Mizuno MP-H5 achieves its forgiving launch, crucially, without detracting from the top line look or adding lots of offset, making the scoring clubs relatively compact.
Replacing the popular MP-H4, the MP-H5 (£115 per iron) has hollow and part hollow offerings from 1-iron to PW. The split set sees the 1-6 irons take on a full hollow design with a forgiving high COR steel face, while the 7-PW are only part hollow with a Grain Flow Forged face, neck and body to offer more feel and workability.
"MP-H5 will suit players who have grown up on traditional irons, but don't want to be left behind on distance and stopping power," Chuck Couch, Mizuno's vice president of product management, told GM. "In another 10 years we think the majority of tour players will be using irons like this."
To find out more about the Mizuno MP-H5 irons, watch the video below that stars Mizuno staffer Luke Donald:
https://www.youtube.com/watch?v=--nJvmmPne0
Jake O'Reilly specilaises in equipment coverage, and joined the Golf Monthly team in 2013. Before this he graduated from the University of Huddersfield with a Sports Journalism and Media degree, and worked at a number of British golf magazines. Follow Jake on Twitter
@jake0reilly