Mizuno JPX EZ 2016 irons and JPX EZ Forged irons
Mizuno's new JPX EZ irons have been designed with distance in mind, even in the Forged model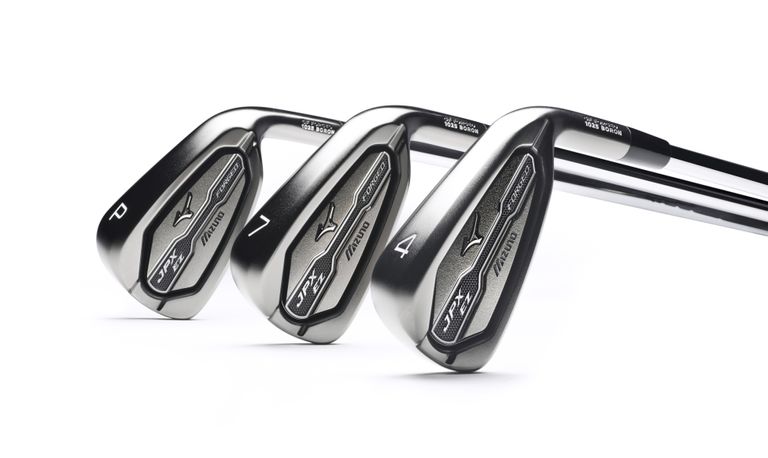 The two new Mizuno JPX EZ 2016 irons have been designed with distance in mind, even in the JPX EZ Forged model thanks to its injection of boron…
Mizuno knows that all golfers are after a little more distance, even those who crave the ultimate feel and workability of one of its classic forgings.
Video: watch our 60-second preview of both new Mizuno JPX EZ 2016 iron models...
The new JPX EZ Forged has been engineered to eliminate the need for a choice between the two, blending distance and feel like never before thanks to Boron-infused heads in the longer irons.
This addition to the metal mix allows a wider CNC pocket cavity, which creates a larger rebound area to keep ball speeds and clubhead stability up on mishits, while added forgiveness comes via extreme perimeter weighting and a softly bevelled leading edge.
The scoring clubs from 8-PW feature a more compact, one-piece design than in the previous model for enhanced ball control as you home in on the target.
The second model in the new Mizuno JPX EZ 2016 irons line-up seeks to fulfil similar aims but from a slightly different starting point – more of a distance iron, with feel then built back in.
CHECK OUT ALL THE MIZUNO JPX EZ 2016 RANGE
JPX EZ irons offer ultimate playability courtesy of 360˚ Dual Pockets and multi-thickness faces, so even the more challenging long and mid-irons are still exceptionally forgiving and easy to launch. This same design also opens the door to levels of feel normally only associated with forged irons.
Mizuno is proud of the fact that it hasn't gone down the extra distance route by simply giving its 7-iron, for example, a 6-iron loft, which would give you more yards but not the flight you're really after.
"Ball speed-wise and stability-wise, JPX EZ is a total game-changer, especially if you want your 7-iron to fly like a 7-iron," according to David Llewellyn, Mizuno head of design. "JPX EZ isn't for someone who wants to shape their shots, but it has a really surprising sensation that makes you feel as if you're playing a much more versatile iron."
Both new new JPX EZ models boast a beautiful anti-glare Black Nickel finish that will wear and soften over time. They will be available at retail from January 2016 with the JPX EZ priced at £85 per club for both steel and graphite, the first time Mizuno has offered graphite shafts for the same price as steel. The JPX EZ Forged will retail at £100 per club in steel and graphite.