Powakaddy Freeway II electric trolley review
Golf Monthly editor, Mike Harris takes the Powakaddy Freeway II electric trolley out for a test drive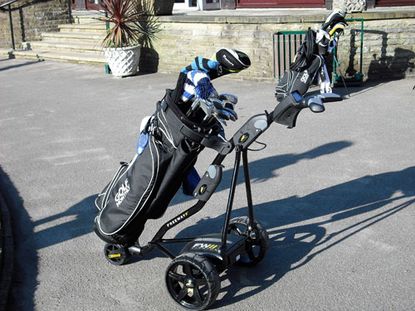 Powakaddy Freeway II review
As a long time Powakaddy electric trolley user I'm always keen to see what improvements have been introduced with each model. I got my first one about 8 years ago when they were considered only for older golfers and frankly haven't looked back. As someone who often plays 36 holes in day (especially in men's open comps) and likes to have the kitchen sink in my bag, a Powakaddy has always been a no-brainer.
In the intervening period more and more golfers have seen the benefit of them for not preventing injury and preserving energy. Indeed, these days, few serious elite golfers would step onto the course without one. So when the new Powakaddy Freeway II turned up in the Golf Monthly office I was particularly interested to try out what Powakaddy promised was a major upgrade on the previous Freeway.
Design wise the new Powakaddy Freeway II retains the understated, sporty looks of its predecessor with the major change being in the handle which is now much more sturdy and ergonomic than before. If I had a criticism of previous models it was that the handle never seemed to be hard wearing enough. I have had issues with my last two. The new version has well and truly sorted that issue.
The handle also incorporates an LCD screen, which shows the time, battery charge and the speed the Freeway II is travelling. The unit can also measure distance it has travelled between shots and show the total distance the Powakaddy has travelled. To ensure you don't break any rules in competitions where distance-measuring devices (DMDs) are not permitted, these two functions can be easily switched off by selecting Competition Mode when you turn the trolley power on.
When not in competition mode, the Freeway II has a Digital Distance Function that allows you send the trolley off for 10, 20 or 30 yards (or meters depending on what unit of distance how you have set) before it stops. I'd recommend you practice this on flattish bit of fairway with no hazards in view to get an idea of how far to send it off in more challenging terrain!
I found all of the above very simple to programme and a complete doddle to use on the course. A major bonus is that the instruction booklet is written in genuinely easy to understand language with clear how-to diagrams as support.
The Powkaddy Freeway II comes with either a lead acid or lightweight lithium battery. My test model had the later and I was seriously impressed with a) how much lighter it is than the lead acid models I have used before (75% lighter apparently) and b) that you can fold the trolley down without having to remove the battery which makes getitng it in and out of the car so much easier.
My first outing with the Freeway II was at Walton Heath (February 27) and it was performed faultlessly. The Freeway II manoeuvres well, the new functions are useful and easy to get to grips with and like all Powakaddies, its design is stylish and understated. My sole criticism of the lithium battery model is that it's only designed for 18 holes.
At £649 for the lithium model (£449 for the standard battery) it isn't cheap but quality costs and in my opinion this is the best electric trolley on the market.
Mike has been a journalist all his working life, starting out as a football writer with Goal magazine in the 1990s before moving into men's and women's lifestyle magazines including Men's Health, In 2003 he joined Golf Monthly and in 2006 he became only the eighth editor in Golf Monthly's 100-plus year history. His two main passions in golf are courses, having played over 400 courses worldwide, and shoes; he owns over 40 pairs.
Mike's handicap index hovers at around 10 and he is a member of four clubs: Hartley Wintney, Royal Liverpool, Royal North Devon and the Royal & Ancient Golf Club of St Andrews.