Wayne Riley on the anchored putter
The putter currently used by Adam Scott is on its way out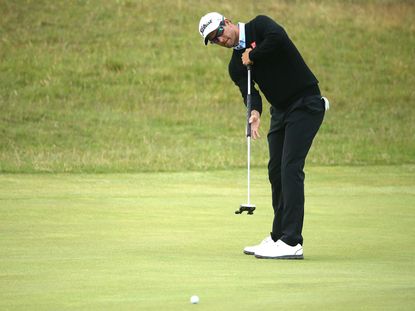 The rule-makers have made their decision, but anchored putter wielders should have been given longer to adapt, says Wayne Riley.
Have the powers that be, with their decision to ban the long putter, or should I say any anchored putter, gone too early? Some professional golfers dearly and desperately rely on this type of putter. Have The R&A and the USGA made a mistake? We all know that a couple of years ago, the soon-to-be forbidden anchored method was on fire.
Keegan Bradley won the 2011 USPGA Championship with the belly putter. Where has he gone? Webb Simpson won the 2012 US Open with the belly putter. Where has he gone? Adam Scott won the 2013 Masters with the long putter. Where has he gone?
There are a lot of players at the moment with a decision pending; a number who have the upcoming change of rule planted firmly in their brains; some who are asking themselves what on earth they are going to do because they simply can't putt with the short putter. It's as simple as that. They wouldn't have gone to the anchored putter if they could putt with the short one!
Watch our video on controlling your putting stroke
For me, the decision to ban the anchored putter was premature. It was coincidental it had a good run. How many times has it won since? Who can honestly remember the last tournament where the winner was wielding a putter connected in some way to their body? Since Scott won the Masters in 2013, it hasn't come close in a Major.
I feel sorry for my friend Scotty. He tried to reacquaint himself with the short putter earlier this year, but he found himself back with his trademark Masters winning long model soon after. And can you blame him?
In my golfing life I have never witnessed something like this before. Oh wait, I have, actually. Ping, many years ago, went head-to-head with the powers that be over the square grooves issue. No-one went up against the game's authorities over the anchored putter, and I think they probably should have. Great players will survive, average ones could struggle. Okay, these guys have plenty of dosh right now, but this could be the beginning of the end. I'm sure in 12 months Keegan, Adam and Webb will be some of the ones that we'll have under the microscope every time they have a smelly little four-footer.
Speaking of Keegan, the most noteworthy thing he's done this year is get into a spat with Miguel Angel Jimenez at the WGC-Cadillac Match Play. It was handbags at six paces! People will have looked at that and thought, "these things don't happen in professional golf." Oh yes they do! To be honest with you, little battles happen quite often.
I remember myself, playing up the mountain at Crans-sur-Sierre in the European Masters a few (okay, maybe slightly more than a few!) years ago with my Sky Sports colleague Richard Boxall and another fellow. This man believed he could move the ball with his mind. Going up the 2nd hole, this chap, who shall remain nameless, hits it into the trees on the left. He went in there, conjured up a swing and out came a little missile duckhook, straight at the flag.
I said, "great looking shot." Silly me! His ball then proceeded to tumble over the back of the green. Up he came, toe to toe with me, screaming: "Do not talk to my golf ball when it's still moving." Boxall was on the floor laughing, with tears rolling down his face, while us two were going at each other! For the next 16 holes, it was very quiet. I didn't have to listen to him, which was probably a good thing. So folks, it does happen on tour. It isn't always harmonious, like you might think. Ask yourself what percentage of the action you see in a televised golf tournament. More than before, but not anywhere close to all of it. But anyway, I digress…
I don't think they should have banned anchoring. Maybe you do, maybe you don't, but it definitely hasn't damaged the game. It's not as if these guys were holing everything they looked at. I feel sorry for them, I really do. Some of the guys who use these types of putters are genuinely concerned for their livelihoods.
And what about the guys on the Senior Tour? Ian Woosnam won with the anchored putter not too long ago to claim his first tournament on the Champions Tour. It's arguably worse for the older practitioners. Should we let them carry on anchoring? I don't know, but what I do know is that this situation is all a bit of a mess at the moment.
I think more attention should have been directed at the modern golf ball, which is like a missile and going too far, but that's a story for another day.
Will Medlock graduated from UEA with a degree in Film and Television before completing a Masters in Sports Journalism at St Mary's in London. Will has had work published by The Independent and the Rugby Paper.