Soren Kjeldsen: Playing To His Strengths
oren Kjeldsen tells Jeremy Ellwood why distance isn't the be all and end all...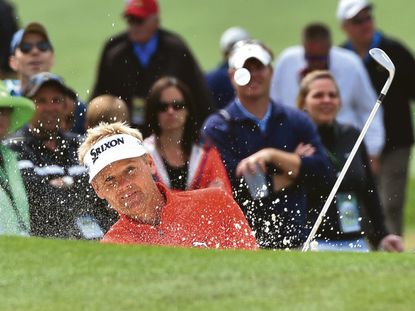 After his top ten at The Masters this year, Soren Kjeldsen tells Jeremy Ellwood about his improved fortunes and why distance isn't the be all and end all...
Tour golf – it's a power game these days, isn't it? If you're not young and tall, and don't bomb it 300-plus yards, leaving yourself wedge into every par 4 – and some par 5s! – you've got no chance. That's what popular consensus might have you believe, anyway.
So how did 40-something Dane Soren Kjeldsen – who stands under 5ft 8in tall and doesn't break the 280-yard barrier off the tee – reinvent himself to such a degree that he enjoyed his most lucrative season to date in 2015, when most thought his slide in form over the previous couple of years was a one-way ticket to tour oblivion?
Belief in himself, and a conviction that there is still more than one way to skin the proverbial cat in golf, it transpires. This was certainly evident at this year's Masters, when he finished in a tie for seventh at Augusta National on a golf course frequently touted as a long-hitter's paradise.
Before that, Kjeldsen enjoyed a remarkably resurgent 2015 campaign in which he bagged a hatful of top tens and his first victory for six years. That came when he mastered a windy Royal County Down in May, nervously negotiating little knee-tremblers on the final green, not once but twice, to claim the title in a play-off… just!
Related: Master the draw with Soren Kjeldsen
If the one in regulation didn't exactly go in the front door, you'll probably remember his ball deliberating for more than an agonising moment in the play-off before deciding to disappear below ground, rather than spin round and out.
"I was hugely relieved," Kjeldsen smiles when I ask about that moment of victory that could easily have gone the other way. "It all happened so fast that I never really had time to think about the consequences if I'd missed. Looking back now, it's like, 'Wow! I can't believe that went in', because it looked like it was coming out!
"I took my friend Jesper down to the 18th green afterwards when everybody had left, and he said, 'I can't believe you nearly missed from there – it was almost a gimme!' I said 'Yeah, but after six years and wanting it so badly, it wasn't that easy a putt!'"
Kjeldsen first hit the European Tour in 1998 after a short but successful amateur career. He decided at the age of 11 that he was going to be a golf professional, even though his handicap at the time was 32. Further evidence of that inner belief emerges later in our interview when we chat about the modern power game, and his seemingly unlikely renaissance having slipped to 103rd on the Race to Dubai in 2014 – his worst season since that inaugural 1998 campaign, when he did just enough to hold on to a card.
He talks fondly of all four tour wins to date, telling me that each was significant for a different reason. "When I won for the first time at Gleneagles in 2003, that was massive – just to be able to say that you've actually won on tour is huge," he reveals. "When I won at Valderrama in 2008, the Volvo Masters was a huge tournament, and that was the first time I got into the world top 50, so that was really big. Then I won in Spain three or four months later and that was great – to win twice in a short space of time. And then the Irish Open last year… to win after not doing so for six years and having a tough time, especially the season before, I was very proud of coming back and playing some of my best stuff again," he says.
I ask if he always felt he was destined to be a tour winner and enjoy long-term success when he joined the pro ranks at 19. Despite admitting he had no idea how well he might do, it seems he believed in himself more than others did. "I've always been really ambitious," he says. "I think for most people back home it was a big surprise that I made it to the tour. But I think what they thought I could achieve and what I thought I could were very different things."
He puts some of the woes of his 2014 campaign down to driving, but not distance so much as accuracy. "I got to some sort of 'conclusion' in about August 2014," he reflects, "and then it probably took me six or seven months before I really started trusting that it was the conclusion. But from August 2014, I felt like I had turned the corner."
There was a third-place finish in the Czech Masters around that time, but then little else to show in terms of results until a top ten in Spain last May. I ask if the lean times had left him feeling despondent, or inspired to work harder. "There's just no one answer to that question," he replies shrewdly. "Some days you think, 'I'm going to come back and be better than I've ever been', and other days you think, 'I've lost it – I can't do this any more'. I certainly went through all of that, but the main thing was that I kept working hard, and started working even harder than I'd ever done. So I still believed."
A difficult, windy Irish links may at first seem a slightly surprising venue for Kjeldsen to put the finishing touches to his golfing rebirth, but we sometimes forget that Scottish and Irish golfers don't have a monopoly on windy golf. "I've always enjoyed playing in the wind," he tells me. "I grew up on the western coast of Denmark, which is one of the windiest places in Europe. Yes, it was a battling week because of the conditions, but equally, I played well at the 2015 DP World Tour Championship in perfect conditions on a bomber's course, so I feel like if I'm playing well, I can compete on any course."
Ah yes, the bombers who have taken players like Kjeldsen out of the equation. Or not. The Dane is having none of that. "There have always been great drivers who hit the ball a long way," he points out. "Jack Nicklaus – they always said that he was the best driver of the ball, therefore he could dominate the game. They say the same thing about Rory now – when he drives it well, he can dominate the game. I'm never going to dominate the game like that," he admits. "But if you look at scoring average and things like that, the game is not that different. I think the guys are a little bit better today than when I started 18 years ago, but we're talking half a shot maybe. Sometimes it's a bit overplayed – people say, 'It's changing so rapidly, guys are getting so much better so quickly', but I don't believe that. I don't see that."
In 2014, Kjeldsen averaged under 270 yards off the tee, which put him in the bottom four, and although he found an extra ten yards last year, he still ranked 182nd. But the man who propped up the driving distance table on both occasions – SSP Chawrasia – won for the third time on home soil recently, which adds further clout to Kjeldsen's rationale when I ask if he's ever gone chasing extra distance like Luke Donald, or just accepted things as they are.
"I think I've always accepted it," he says. "I've never really worked hard at picking up yardage as I haven't got the speed, I haven't got the height. But I think a lot of people succeed despite something… you know, he was born in the wrong place at the wrong time, he's too short, he's too tall, he's got a bad back. People succeed because they want to and they work hard and commit themselves. I haven't spent that much time looking at how other people do it – for me, it has always been a battle with me."
In these 'power-game' times, this seems a wise approach for someone who is never going to be a bomber and must rely on other strengths to succeed. Kjeldsen's stats from the last two seasons suggest the key to his re-emergence as a contender has been vastly improved accuracy, both off the tee and into the greens. This suggests there is still a real premium on accuracy in world golf, despite what the bomb-it-and-find-it brigade would have you believe.
"Guys who believe that power is everything are having a good time at the moment because Jason Day is up there, Rory is up there. So they can say that you can't be World No.1 if you don't hit it 300-plus yards," Kjeldsen concedes, before adding: "But it's not many years ago that Luke Donald was No.1 and they weren't talking about it much at that time. Will there come a time again when a guy hitting it 280 is World No.1? Probably not, but maybe! You don't have to hit it 320 to win a Major. You've got Zach Johnson winning The Open and The Masters, and you've got Luke Donald being No.1 in the world."
Many will, of course, disagree, but if you give the 'power-is-all' mantra too much credence, players like Kjeldsen might as well pack up and go home. He, along with many others, has no intention of doing that. "Let me put it this way," he adds for emphasis. "If I were looking for a reason for not succeeding, I could find a million. But that's just wasting time. You could say I'm too small, that I don't hit it far enough, but for me, I love the challenge and I love being as good as I possibly can be. That's why I play."
And when you play as well as Kjeldsen did last year, that brings the spectre of the Ryder Cup at least vaguely into view. As we part, I ask if his experiences in the EurAsia Cup in January had given him a taste of what the Ryder Cup might be like, and if he ever allows himself to dream. "I certainly allow myself to dream, and it would be fantastic to play on that team," he responds enthusiastically. "Having said that, for a team with only 12 members, you have to play really well to get on it. So you can dream… but you should spend most of the time working hard to try to make that team."
Over the last 18 months, hard work has restored Kjeldsen to his former status as one of Europe's steadiest and most dogged campaigners. Could a few months' more hard work reward him with a spot on Darren's team at Hazeltine? He might not be a bad man to have on your side… after all, he's an old hand at holing clutch putts on the 18th green under pressure.
David joined Golf Monthly in 2015 as a content editor for the magazine and regularly contributes to the website. He has worked in magazine publishing and editing since 2003. He is a keen golfer and up until recently was a member of Blackmoor Golf Club in Hampshire. He has covered various big events and tournaments for GM, the highlight of which was witnessing Tiger Woods win his 15th Major at Augusta in 2019. Email: david.taylor@futurenet.com