Ping: keeping it in the family
Joel Tadman spoke to the father and son at the helm of Ping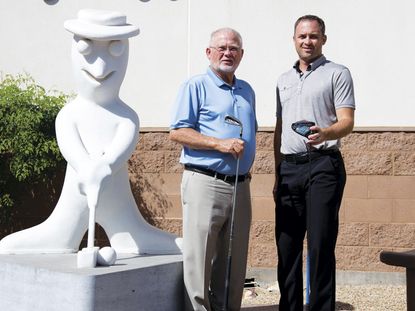 With Ping's G range being one of the most innovative launches of the decade, Joel Tadman spoke to the father and son at the helm to learn about the company's humble beginnings, pivotal moments and keys to success
Innovation is at the heart of everything Ping does as a company today, and this was no less the case back in the 1950s, when founder Karsten Solheim started creating golf clubs that would change design philosophy forever. To him, it didn't matter if clubs looked different or unusual, as long as they helped the golfer perform better.
This passion stemmed from when Karsten was aged 42, working as an engineer for an aircraft manufacturing company. Karsten loved planes; in fact, he owned one before he owned a house with his wife, Louise. He started to play golf and realised his putting was preventing him from improving upon his 5 handicap. Frustrated with the product, rather than the stroke he made with it, he decided to start designing putters of his own. That was the start of the Ping journey.
Karsten made his first flat sticks in the garage of his home in Redwood, California. He took what he learned from his job designing plane wings – specifically how the plane was more stable when the weight from the fuel was stored in the wings – and applied it to his putters.
And so the Anser putter was born. This heel-toe weighted model has stood the test of time, and been copied more times than you could count on both hands. While not golfers at the time, two of Karsten's sons, John and Alan, helped out where they could, drilling heads and applying grips. Putter design was in a very primitive stage, and Karsten would heat treat putters on his stove. But his product was better than anything around, something his sons have tried to replicate with Ping products to this day.
Related: Ping G driver review
The family then moved to Phoenix, Arizona, into a small apartment attached to a shoe shop. It was here that Ping the company began its transformation. As business boomed, Ping expanded, converting an old post office, bank and hardware store into the buildings the brand still calls home today. When Karsten's health began to deteriorate, and the company experienced its first period of decline, control began to pass to his eldest son, John, who became Ping's president.
Ping is one of the few family run golf businesses that exist today and it has a unique set of values. For example, all employees start in customer service (unless you're a Solheim family member) and then transfer to club fitting to gain a full appreciation and knowledge of the products. Ping rewards brand loyalty, and will always try to hire for new positions internally first. From one man, Ping now employs 950 people at the Phoenix HQ alone, assembling and shipping 5,000 clubs a day. The average employee tenure is a staggering 15 years, and different family members often work for Ping across generations.
We put the same set of questions to CEO John Solheim and his son John K to find out the advantages of a family run business for the club golfer, how their relationship has changed over the years and the back stories behind some of the most iconic golf products ever created.
What were your earliest memories of Ping, working with your dad and the products that he made?
JS: I had just turned 13 and my dad gave me and Alan a job to do in the garage. Alan was doing the grips and I was drilling putters. We weren't into golf at the time. My mother was pushing my dad to develop the putters.
JK: My earliest memories are walking into the assembly room. There used to be a big Ping man in the carpet and then my dad's office was nearby. I'd go there a decent amount as a young kid. I obviously grew up thinking Ping made the best golf clubs, and as I started to become a better golfer, I realised they actually were the best golf clubs. I was around it when I was so young, it was all I ever knew.
What are the advantages of a family run business?
JS: Most of the industry today is either owned by a large corporation or a publicly held company, which forces them to answer to stockholders and have to meet deadlines and goals. It allows us to have a bit of latitude, because a product we know will move, for instance, we don't try to price down so it sells in a particular quarter to meet goals. It's an advantage. Plus, you know how other brands are going to react to things and what they are going to do. We're a bit more unpredictable. It's an advantage not to be known.
JK: You can think more long term. If you want to make a decision that doesn't have a positive financial impact but you feel it's the right thing to do, it's much easier to make that when it's a family because there are no outside investors scrutinising your moves. I think it gives you more flexibility, but with that said, a little oversight might not be that bad at times. I would say it's not all positive, but for the most part it definitely is.
How does your approach to the business differ?
JS: My son John K is much more organised than I am, or my dad was, and he's the reason we get things out on time. For my dad and I, a club was ready when it was ready. We weren't trying to hit a deadline, we wanted the club to be right. We still want the clubs to be right, but we push a lot harder to get them there and we draw the line a lot quicker. Often, my dad would hold things up because he wanted to incorporate features that were on other products we were working on, without paying any attention to the timing of the marketplace. That organisational factor is huge, it keeps us improving. He's a good leader.
JK: I'm more organised, but I admire my dad's technique. His big thing is focusing on where improvements can be made. Even growing up as a kid and cleaning my room, it was never good enough. It was always "you didn't do this, you didn't do that", which would drive me crazy, even if I did the best job ever. But now I've learned that iterative process actually helps us to get better golf clubs designed. An engineer never brings a new design and says, "Here, I've got it, it's finished!" If they say that, dad will respond with: "No, because you haven't done this or that." He's more brash about it and I'm more constructive. He definitely gets improvements made with his technique, though.
Do you often have strong differences of opinion?
JS: Johnny and I hit heads a lot. A few years back he felt he should be running the company, so I sent him to Japan for two years to run our business. He stayed three-and-a-half years until I told him to come home. He understands now why I wanted him to come back when I did, because it was time for him to start running things more from here.
JK: We used to a lot more than we do now. To me, it's a little smoother sailing nowadays; not that we don't disagree, but I'd say we handle our disagreements better. I saw my time in Japan as a chance to experience a new culture. I had lived in Phoenix most of my life, so it was good to go and live somewhere else for a while. Plus it was a big challenge as our market share in Japan was very weak, but we're doing much better now. It was a big opportunity and the further away from Phoenix you are, the more autonomy you have.
What motivates you when you come to work?
JS: I like to do things well. I enjoy technology and I want to push things to the limit of what we can do.
JK: It's different for different days. Sometimes we've got a lot of testing going on, so it's just wanting to see how the latest test came in or working on finalising designs. My mind always reverts to golf if I'm not thinking about anything. I don't know why, but it just comes into my head.
Ping is well know for its two-year product cycles. Do you feel any pressure to make them shorter?
JS: We actually tried to move some of the product up to 18 months and we're backing down a little bit now. A product should have enough time to develop. The i2 ran for eight to nine years and didn't really develop in the marketplace until two years after it launched. It didn't start outselling the previous model until we priced both the same. Often, with the churning of the market, a good product doesn't have time to grow. We don't bring out something new unless it's different and improved.
JK: I feel like we're always making adjustments to that. There's definitely pressure to do more because you see that spike in sales, but, on the flip side, you see the previous product and all the inventory you have left over. I think the whole industry is starting to realise that more isn't necessarily more – it means more clubs, but not actually sold clubs or sold at a good value. I would say right now we feel the least pressure we have in a long time because our accounts aren't asking for it; the consumers aren't asking for it. They are asking for better, but to me, there's a benefit in a steady cadence to your product line.
Where does your inspiration come from?
JS: I'm good at relating things from different industries to golf. I enjoy seeing other factories and different businesses, especially car factories, analysing what they are doing and then asking "can that have an effect on the golf industry?" There are a lot of things that take time to develop that can't necessarily be seen or turned on instantly.
JK: In my head. I get a lot of good ideas just talking to the engineers here. I would say we've got a pretty good system of bringing the best ideas to the top. I'll have my ideas and a lot of the time they have already been thought about, but every once in a while I have one that no one's considered.
How significant a launch is the new G series?
JS: It's very significant. There's a lot of new technology. Besides the weight saving on the driver, we're really proud of the new heat treatment on the face of the G iron. It doesn't just create a hot spot in the middle, it makes the rest of the clubface hotter too, which golfers will appreciate.
JK: I'm really happy with it. We've got new technology and exponentially better performance in every category so I'm excited – especially coming from a high-performance range in G30, the number-one selling driver in the marketplace for the last year. We know we can't sell G30s forever. If we don't bring the next G to the marketplace, someone else will, so we want to stay ahead.
Have you considered selling the business?
JS: No, not really. My dad was always open to listening to people but not selling. We send a standard letter out to people to reply that we're not interested. I want to see the third generation have their opportunity, and hopefully hand it down to the fourth generation. We get a lot of offers, but I don't look at them that much.
JK: No. It's not something we've ever looked at. All the family members are shareholders, and some have decided to redeem shares so the company itself buys them back. That's the only type of selling, but I actually think that's healthy, because it gives the people involved in the business more ownership of the company.
How successful do you think Ping apparel can be and could it detract from the focus on the club business?
JS: That happened to us before and it's something we have to be careful about. Andy, my middle son, is in charge of apparel – his only other part is golf bags. Andy is a smart cookie and very mechanical as well. With him doing it, and not John, apparel will not detract from the golf club business. When I took over, there were several businesses that I had to either sell or close, and that was not fun. They were a vacuum-brazing facility, a powder-coating facility and a heat-treat facility. We were too diverse, I was taking too much time away from management to run those and we needed to get out. One of the only things I regret is how slow I was doing it. I should have moved a lot faster.
JK: The way we've got it set up, it's a totally different group working on it so I don't think it's a distraction. I'm excited, because we've improved the fit, the quality and the performance. It's great to play golf in and it's great to wear to work. I even wear Ping apparel at the weekend.
Where do you feel the biggest improvements can be made in terms of Ping's hardware?
JS: In terms of market share, wedges are a big growth opportunity. In putters, we've seen a steady decline, at least in the US, over the past couple of years, so we're doing things to help improve that.
JK: Since there's been a speciality wedge category, we've never been one of the top-three major brands. We'd like to get in there. The Glide is doing really well. Our tour players like it, it's just a matter of getting more people to try it and see the benefits.
What is the best product Ping has ever made?
JS: There's no question the Anser putter is still a dominating force in the business. The i2 iron would be a close second. Our drivers today are extremely strong, as well, and I've got to throw in the i2 wedges, too. It's hard to choose, there are so many!
JK: I guess I'd have to go with the Anser putter design, because it's coming up to 50 years since we got the patent and it's more relevant today than it was back then. That longevity is a pretty impressive feat in golf club design.
What qualities do you hope golfers associate with the Ping brand?
JS: To me, I hope it's the best performance, helping them play their best. They are not sacrificing anything on the golf course; they are not losing five yards to the other guy because they are gaining five yards on their competitors with Ping products.
JK: I would say innovation, design and quality. The fourth one is service – looking after people afterwards and making sure they get properly fitted. That's where I'd like to think our strengths lie, and we're always innovating to achieve that.
David joined Golf Monthly in 2015 as a content editor for the magazine and regularly contributes to the website. He has worked in magazine publishing and editing since 2003. He is a keen golfer and up until recently was a member of Blackmoor Golf Club in Hampshire. He has covered various big events and tournaments for GM, the highlight of which was witnessing Tiger Woods win his 15th Major at Augusta in 2019. Email: david.taylor@futurenet.com