Ping Glide ES wedge launched
Ping has launched the Ping Glide ES wedge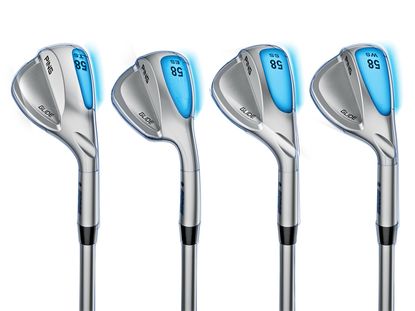 Ping has revealed the new Ping Glide ES wedge, a model with a smaller hosel, higher toe and scooped sole that was inspired by Ping's famous Eye2 wedge
Ping has unveiled the new Ping Glide ES wedge, a club inspired by its famous Eye2 wedge that will offer great performance out the sand.
The wedge is joined by the new better player Ping i irons, new game-improver Ping GMax irons and new Ping Cadence TR putters as part of a big summer launch.
The new Glide ES model will line-up alongside the other Ping Glide wedges, with its 56°, 58° and 60° lofts providing a range of options.
The Ping Glide ES wedge has a new tapered hosel (below right) that helps decrease drag through the sand, while its high toe gives you a larger hitting area when you open the face, which helps make bunker shots easier.
It's Eye2 style scooped sole (above left) also offers versatility on full and partial shots, especially from bunkers.
Like the other Glide wedges, the Ping Glide ES wedge features loft optimised grooves that have a steeper sidewall and tighter radius to increase spin on chips and pitches.
The new model also features the Dyla-wedge grip, which is 3/4" longer to encourage gripping down for a more controllable trajectory, with markings at 1 and 3/8" intervals to guide hand placement, and a softer grip tapering profile that improves feel.
A satin-chrome plated finish offers a classic look, with right and left handed models set to feature the steel Ping CFS wedge shaft.
The Ping Glide ES wedge will cost £110 per wedge, or £125 per wedge if you choose the graphite shafted Ping TFC 419i option.
Jake O'Reilly specilaises in equipment coverage, and joined the Golf Monthly team in 2013. Before this he graduated from the University of Huddersfield with a Sports Journalism and Media degree, and worked at a number of British golf magazines. Follow Jake on Twitter
@jake0reilly