Piers Morgan Exclusive Q&A: What Golf Could Do Better
Piers Morgan tells us, in his own words, why professional golfers need to show more personality and how to attract more youngsters to golf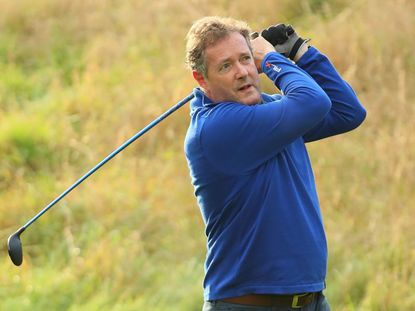 (Image credit: Getty Images)
Piers Morgan tells us, in his own words, why professional golfers need to show more personality and how to attract more youngsters to golf
Piers Morgan Exclusive Q&A: What Golf Could Do Better
Piers Morgan has never been afraid to speak his mind.
His forthright and sometimes controversial opinions have helped him develop a successful broadcasting career on both sides of the Atlantic.
There is no doubt Morgan clearly knows how to engage with audiences on a range of different topics.
As a big sports fan and a keen amateur golfer, we wanted to get his take on what our game needs to do to broaden its appeal and attract younger people in a modern world that seems to be increasingly dominated by computer games and social media.
We sat down with the 16-handicapper during the Alfred Dunhill Links Championship, where he was making his debut, to find out how golf can remain as relevant as possible.
Here's what he said...
How do you get young people to play golf? How do you expand the game? You do it through the biggest stars being personalities.
If you watched the Ryder Cup, you would have been enthralled by Molinari, Fleetwood and Poulter – it was fantastic.
They get it, but many of the world's best players feel slightly constrained.
They think, "We can't give too much to the media".
Come on, it's golf! You're not going to ruin the world. If your sponsors don't like it, get new sponsors!
Personalities
We had Thomas Bjorn on This Morning with the Ryder Cup and I was very interested in what they did with social media, especially with Fleetwood and Molinari in bed!
That is the way to bring golf to a mass audience. It's about not being 'boring golf people' to those who aren't involved with the game. It's about being interesting and creative and not necessarily perceived as a golfer.
As we saw with Tiger Woods' comeback, golf has been yearning for personalities.
I would say the same for any sport right now; the only enemy is being boring.
I think the main personalities in sport have had their character sucked out of them a bit by management teams and broadcasters. My message to them is be characters. Nothing is better than a very talented sportsperson who is a character. Everyone loved Seve. Everyone wanted to watch McEnroe play, not some dullard.
I think golf has gone through a tough period recently. Younger people don't have attention spans anymore.
Take cricket, for example – there has been a successful move over to T20. What can golf do to galvanise young people and get them to watch?
The key thing is characters.
In cricket, we've had great personalities over the years – Freddie Flintoff, Kevin Pietersen, Shane Warne and Sir Ian Botham. These are people who like to play hard, on and off the pitch. They're dynamic and controversial and that's what you need.
I think you need to talk to the players and ask them if they want to be conventional. If they do, that's fine. Or, do they want to be something more and transcend their sport? Do you want to be a Muhammad Ali or a Michael Jordan? Why wouldn't you want to be someone who does more than just smack a golf ball?
Tiger Woods transcends golf; he's just an extraordinary force. You need to be a character to do that.
I think Fleetwood is becoming a fantastic character, and Rory has something about him. I love players like that, Molinari too. They're not celebrities, they're stars. Golf needs to create a way to nurture some stars.
Figureheads
I would take Dustin Johnson down to Times Square in New York and keep him there for an hour. No one would know who he was.
I'd then tell him, "You're the number-one golfer in the world and there's the problem". Golf needs to get outside of its comfort zone. Johnson has everything. He's tall, handsome, articulate and the best golfer in the world, and yet he's not a forceful personality that's galvanising the world.
Why? He may not care, he may sit there saying I don't care, I'm racking up the cheques and I'm successful. He's such a brilliant player, yet when he played Poulter [at the Ryder Cup], who was everyone going mental for? The Postman!
A) because he has a nickname and B) because he played in such a brilliant, passionate, thunderous way!
It's down to people like Johnson, who are the figureheads for the sport.
I'd definitely urge him to have more of a personality.
Stop worrying about saying the wrong thing, or what a sponsor might do. Get another sponsor who likes that thing, who will back you up through thick and thin.
What's interesting to me is all the bag deals that are going on now.
As the players are earning so much money, they don't want to attach themselves to one manufacturer – they want to mix and match.
It's a new trend in golf. It's interesting, but what you really want is brand association with a character that lasts through good and bad times – where a sponsor believes that personality is a good thing and not a bad thing.
Continues below
Expand Miguel Angel Jimenez Q&A: On His Career, Love For Golf, Tiger Woods And More!
Miguel Angel Jimenez Q&A: On His Career, Love For Golf, Tiger Woods And More!
Miguel Angel Jimenez is currently competing in his 36th…
Expand Gary Player Exclusive Q&A: "Hogan Is Still The Best Golfer I Have Ever Seen"
Gary Player Exclusive Q&A: "Hogan Is Still The Best Golfer I Have Ever Seen"
Fergus Bisset speaks to golfing legend Gary Player…
Expand Wimbledon Park GC Agrees £65m Sale To All England Lawn Tennis Club
Wimbledon Park GC Agrees £65m Sale To All England Lawn Tennis Club
Wimbledon Park Golf Club members will each pocket
Formats
Golf has got to look at itself.
My three sons would all be tempted to play a shorter form of the game. They simply won't give up a day to play golf or cricket.
For children these days, it's all about time management.
You either resist that and pretend it's not the reality or you accept the situation as it is.
I love the ideas that golf is coming up with, preserving the sanctity of 18-hole competition – a bit like test cricket – but you have to bring in a shorter form of the game that can galvanise younger people and encourage them to play.
I always thought that 18 holes was too much, in any case!
I'm constantly knackered by the time I reach the 15th hole.
And the reality is that every golfer I know feels the same. For young people, we have to look at six- or nine-hole competitions and only take 90 minutes of their time to start with.
Quickfire questions
I love golf because... Rather like my family motto – one day you're the cock of the walk, the next you're the feather duster.
Favourite golf course? Trevose in north Cornwall. I go down there for three or four days every August and I love that classic links course. It's tricky one day and glorious the next. You never know what you're going to get and I love it!
Favourite golfer? Ian Poulter. Arsenal fan, passionate, demonic and probably a bit unstable but utterly magnificent.
Best ever round? I absolutely ripped it up once in Los Angeles, playing with an actor. I went round in about 13-over. That's as good as I have ever done but I can remember every shot!
Favourite club? It has to be my 7-iron – I can hit it about 170 yards on a good day!
Dream four-ball? Morgan, Poulter, Kevin Pietersen and… does Cindy Crawford play golf?
What don't you like about golf? Everyone agrees, it's so frustrating. Just when you think you've cracked it, it cracks you!
Best ever tip? My local pro at Wimbledon Park always says to me, "Smack it down the middle". You can't beat advice like that!
Expand Report: Eleven Sports UK Facing Closure
Report: Eleven Sports UK Facing Closure
The streaming service, which showed the 2018 USPGA…
Expand Is Sky Sports Losing The Golf?
Is Sky Sports Losing The Golf?
Discovery's new streaming service GOLF TV debuts in…
Expand Top 100 Golf Courses UK and Ireland 2021/22
Top 100 Golf Courses UK and Ireland 2021/22
Look at the new full list of Top…
For all the latest golf news, check the Golf Monthly website and follow our social media channels
In his current role, Neil is responsible for testing drivers and golf balls. Having been a part of the Golf Monthly team for over 15 years and playing off a handicap of 3, he has the experience to compare performance between models, brands and generations. For 2022 he thinks the main trend in drivers is: "In a word, consistency. Whilst all the brands are talking about ball speed (and the new drivers are certainly long), my biggest finding has been how much more consistent the ball flights are. Mishits don't seem to be causing the same level of drop-off or increase in the spin numbers. This means that more shots seem to be flying the way you want them to!" As far as golf balls are concerned the biggest development is in the, "three piece, non-Tour, urethane-covered section. For regular golfers, these models offer superb performance at both ends of the bag without denting your wallet quite as much as the premium Tour-played options."
Originally working with the best coaches in the UK to produce instruction content, he is now the brand's Digital Editor and covers everything from Tour player interviews to gear reviews. In his time at Golf Monthly, he has covered equipment launches that date back well over a decade. He clearly remembers the launch of the Callaway and Nike square drivers as well as the white TaylorMade driver families, such as the RocketBallz! If you take a look at the Golf Monthly YouTube channel, you'll see his equipment videos dating back over a decade! He has also conducted 'What's In The Bag' interviews with many of the game's best players like Rory McIlroy, Dustin Johnson and Jon Rahm. Over the years, Neil has tested a vast array of products in each category and at drastically different price-points.

Neil is currently playing: Driver: TaylorMade Stealth Plus Fairway Wood: Titleist TSR2 Hybrid: Titleist TS3 Irons (4-9): Mizuno JPX 919 Forged Wedges: Titleist Vokey SM7 46˚, 50˚, 54˚, 60˚ Putter: Odyssey Triple Track Ten Ball: Titleist Pro V1X