Long iron or hybrid? Which should I carry in my golf bag?
Should you carry a long iron or hybrid? It's a key question you need to consider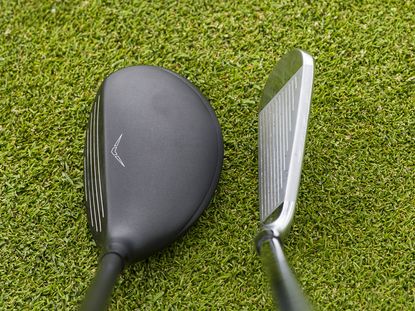 (Image credit: Tom Miles)
Should you carry a long iron or hybrid? It's a key question you need to consider before buying your next set of irons or woods, and one that shouldn't be too tricky to answer once you know what each can offer your game
There is a few key pointers you need to consider when choosing whether you should carry a long iron or hybrid.
Club design
For starters you should understand that the traditional 3-iron of days gone by, the one that looked like a butter knife, is no longer the intimidating prospect it once was.
Modern long irons now normally feature cavity backs and perimeter weighting to help you both launch them more easily and garner more forgiveness should you strike your shot from the toe or the heel.
Modern materials mean all this is possible without sacrificing the solid feel and extra workability the more compact shape of an iron provides, which is undoubtedly its biggest benefit over the hybrid.
Hybrids on the other hand, are designed with a lot more perimetre weighting, which is possible because the heads are so much bigger. The hollow design also allows for a lower and deeper centre of gravity that encourages a higher launch, making it much more versatile from tricky lies.
Therefore, for the average golfer liable to mishits and drives finding the rough, a hybrid can be handy for getting back into position.
Sole Design
Most long irons have slim soles so they can dig into the turf when swung properly, with the hands ahead of the club producing a downward strike that takes a proper divot and produces spin.
Unfortunately, the majority of us have a tough time replicating this technique with long irons because we tend to try and add more lift to the ball with a scooping motion that causes the slim sole to dig in too early and cause a fat.
A hybrid's sole is much wider, so will bounce off the turf to reduce the affects of this problem. The wider sole also caters for the lower center of gravity that promotes the higher, more forgiving launch.
Shaft type
Another factor to consider is what type of shaft you prefer. Long irons usually have steel shafts, while the majority of hybrids feature lighter graphite shafts.
The graphite shaft in the hybrid will help you swing the club faster and produce more club head speed and more spin for longer carries.
Because of this extra speed, you are likely to hit a 21° hybrid further than a 21° 3-iron, so it's well worth trying the club before you buy to make sure it doesn't leave you with an unwanted gap in your bag.
Long iron or hybrid? The verdict
In conclusion, if you like the look of a compact head, and the extra shot shaping ability it offers, a modern long iron isn't as tough to succeed with as it used to be.
However, for the masses who don't find the middle of the face regularly and who don't need to shape their shots that often, an easy-to-hit hybrid could be just the answer to a better long game.
Jake O'Reilly specilaises in equipment coverage, and joined the Golf Monthly team in 2013. Before this he graduated from the University of Huddersfield with a Sports Journalism and Media degree, and worked at a number of British golf magazines. Follow Jake on Twitter
@jake0reilly