Day In The Life Of The Open Greenkeepers
We reveal a typical day in the life of the Open greenskeepers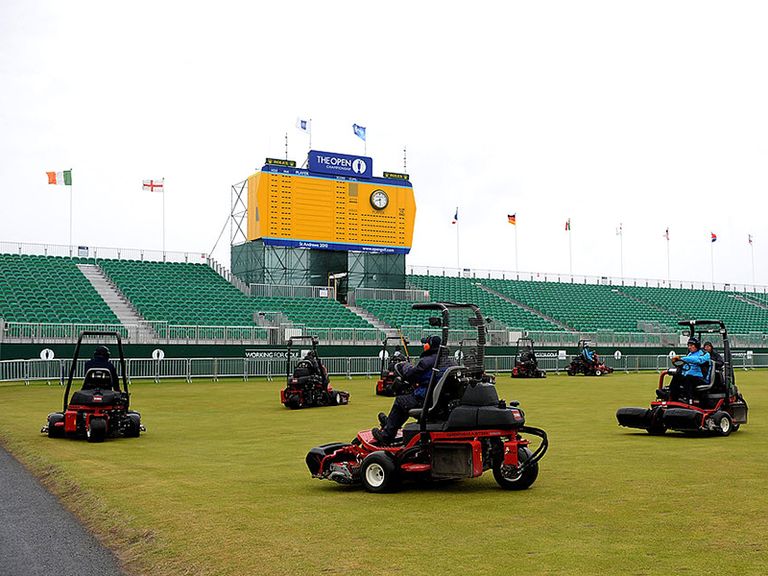 (Image credit: Getty Images)
From the 3:30am alarm to repairing divots past 9pm, we speak to Royal Troon's Course Manager, who describes a day in the life of the Open greenkeepers
Golf Monthly recently had the chance to sit down exclusively with Royal Troon's Course Manager, Billy McLachlan, during The Open, who told us all about a typical day in the life on the Open greenkeepers, among much more.
3:30-4:00am
During Open week I'm usually up at 3:30am, and at the course by 4am to open up all the sheds before the others arrive. We usually have 17 of us, but during Open week there will be double that many as we get help from all the other Open venues, and some of the local courses.
4:00-4:30am
After meeting the team we'll discuss what needs to be done to the course and by who. We know from experience what speed differences single cutting, double cutting, and rolling the greens will make, so we'll check the forecast and discuss with the championship committee if the original plan is still viable. Occasionally you'll have days like round three this year where you're forced into last minute changes because it's particularly windy and you don't want any balls moving on the greens.
4:30-7:00am
Our Open greenkeepers have six big fairway mowers, and usually take around 3 hours, or 10 minutes per hole, to cut the course, while other sub-teams prepare the tees, practice ground and repair divots across the course.
7:00am-4:00pm
Half the team carry on and look after the other course we have here at Royal Troon, and are on hand in case they're needed to repair the course during any weather delays.
4:00-9:00pm
The other half of our Open greenkeepers team then come back to start the preparation for the next day, which is mainly repairing divots in areas of heavy traffic.
9:00-10:30pm
More often than not we're done by 9pm, but if we get lots of rain like we have for round two and three this year, we'll be here a bit longer. That's because lots of the simple tasks take much longer in the rain. You have to try and keep the gear dry, and be slower and more careful on slopes, as the wheels on the mowers are less likely to grip as well as in the dry.
Jake O'Reilly specilaises in equipment coverage, and joined the Golf Monthly team in 2013. Before this he graduated from the University of Huddersfield with a Sports Journalism and Media degree, and worked at a number of British golf magazines. Follow Jake on Twitter @jake0reilly